Source: foxnews.com
Disney's parks transport families to fantasy worlds, and immerse them in idealized lands of adventure, the past, and tomorrow. But what about those who enjoy Disney, but are looking for something other than a theme park vacation? How about a behind-the-scenes look at the creation of the parks with a tour of Walt Disney Imagineering? Or a chance to see props and costumes from the films at the Walt Disney Archives?
There are plenty of alternate Disney-themed family vacation options through the brand's travel division, Disney Signature Experiences, and guests won't need to set foot in a theme park for any of them.
Makers of the Magic: Walt Disney Studios and Imagineering
Walt Disney is quoted saying, "It was all started by a mouse." But one could argue it really all started at the Studios and was designed by Walt Disney Imagineers. A tour of the Walt Disney Studios in Southern California takes groups behind the scenes at the studios and archives in Burbank, Calif. Guests learn the history of Disney animation and film, and find plenty of artifacts including scripts, props, costumes, and even Oscars. The Walt Disney Imagineering campus just down the road in Glendale is crammed with artwork, models, sculptures, and technical wizardry that go into the Disney parks, resorts, and more.
Hawaii: Aulani, a Disney Resort & Spa
Aulani, a Disney Resort & Spa on O'ahu, is their first hotel off the mainland U.S. not associated with a theme park, and it's rooted in Hawaiian culture. During conceptualization, Imagineers consulted with cultural advisors to create an authentic Hawaiian experience. Yes, there are Disney characters around, but even Mickey Mouse and his friends are on vacation to soak up Hawaii.
Alyssa-Lende Kane, Aulani's Disney ambassador, explained how each location in the resort was inspired by, and gives a sense of, Hawaiian culture.
For example, the 'Ōlelo Room (pronounced oh-LEH-low) is a lounge that celebrates Hawaiian language. 'Ōlelo is Hawaiian for "word" or "to converse," so guests won't find a TV here as the space is designed for families to gather around the table, share a meal, and learn a little of the Hawaiian language. The room is filled with carved wooden objects labeled with their Hawaiian names. There are even words on the walls, chairs, and the ground — such as "puka hale" (window), "noho" (sit), "papahele" (floor). Everyone who works in the 'Ōlelo Room must speak Hawaiian, too.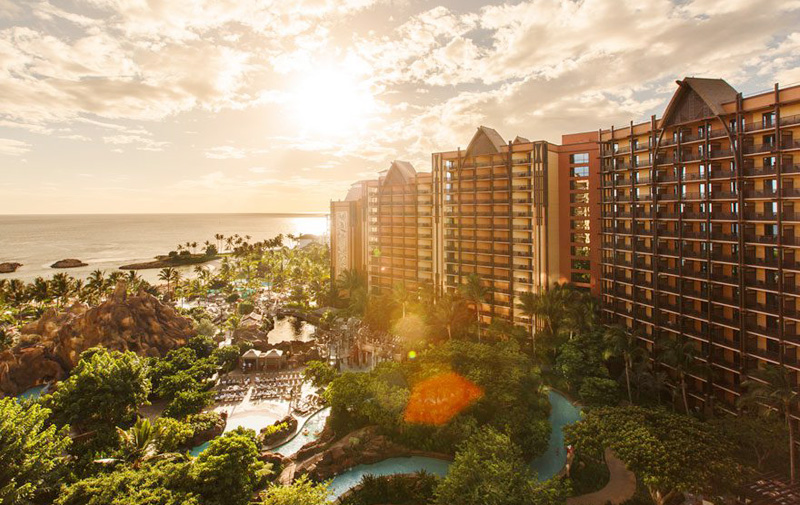 Of course, those traveling to this luxury resort development expect a pristine beach, serene swimming lagoon, and the beautiful landscapes associated with Hawaii. Aulani contains all that, and also includes spacious, Hawaiian-inspired rooms; a full-service spa with the only outdoor hydrotherapy garden on the island; multiple restaurants offering fine-dining to Disney character buffet options; an innovative high-tech kids club and an expansive water-play area surrounding a "volcano"; and the only private saltwater snorkeling lagoon on O'ahu.
Aulani, A Disney Resort & Spa
92-1185 Aliinui Dr., Kapolei, Oahu
Call: (808) 674-6300
Visit disneyaulani.com