Source: pursuitist.com
The Hawaiian luau at Disney's Aulani Resort & Spa is a magical experience that is both authentic and a vacation highlight for the whole family.
The KA WA'A luau is second-to-none and considered among the best luaus on the island. Located in Kapolei on the Ko Olina coastline of Oahu, Hawaii, the Aulani is a Disney Resort & Spa that opened in 2011. (see video below)
Pursuitist found Disney's Aulani Resort's luau to be authentic, professionally choreographed and an excellent example of a traditional Hawaiian feast. The entertainment is run by a local family-owned company and features hula dancers who perform a variety of traditional dances, while a brother and sister team serve as the narrators who share the fascinating story of the origins of Hawaii, beginning with the period when voyagers from Tahiti arrived by canoe to settle in Hawaii.
The storytellers spoke of farming and fishing practices, the plantation days and how family traditions are celebrated to the present day. We heard tales of Oahu and the resort's surrounding 'Ewa plains, as well as the legends of the demigod Maui. All of this was beautifully re-enacted by a large group of both male and female dancers who wore festive costume including traditional grass skirts.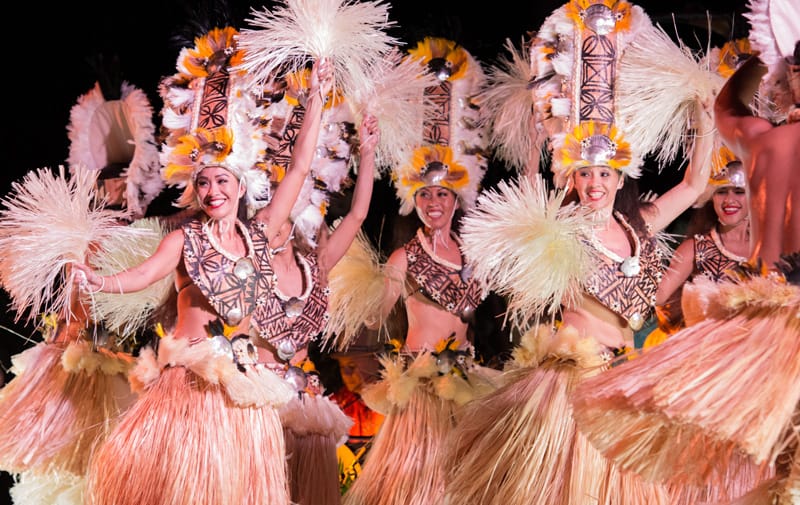 Upon arrival, guests are presented with a beaded necklace and a fruit punch (rum punch for adults) before entering an expansive grassy lawn on the grounds of the hotel where the luau and dinner take place. During a cocktail hour, which commences at 5pm, there are a variety of traditional Hawaiian activities for children and adults alike from which to choose, ranging from lei-making to taro pounding. Other activities include artists who draw temporary tattoos on guests and instruction on how to hula-dance.
For more information and reservations.
Aulani, A Disney Resort and Spa
92-1185 Aliinui Dr, Kapolei, Oahu, 96707
Call: (866) 443-4763, Visit disneyaulani.com