Source: bluezones.com
Luxury hotels spend millions improving their customer satisfaction, but Four Seasons in Oahu, Hawaii is investing in their employees' health and happiness as well.
We spend the majority of waking hours on the clock, so workplace environment plays a major role in overall health and happiness. Studies show satisfied, happy workers take fewer sick days, are more productive, and tend to treat customers and coworkers better. And it isn't just about employee happiness, either—employee satisfaction affects a company's bottom line. According to a 2015 Gallup study, businesses with "highly engaged" employees were 21 percent more profitable on average than those with "disengaged" ones.
Unfortunately, a 2011 survey conducted by the Conference Board reported that U.S. workers were the unhappiest they had been in 22 years of reporting on job satisfaction. It doesn't have to be this way, though. Simple, effective, and inexpensive changes to worksites (and having a best friend at work) are what impact employee well-being the most.
The cost of turnover
Luxury hotels, in particular, have a difficult time retaining happy, healthy, and engaged employees due to the long hours, high demand, high stress, and poor employee experience. According to the Bureau of Labor Statistics, annual employee turnover rates should be somewhere between 10-15 percent, whereas the hotel and hospitality industry experiences an employee turnover rate close to 75 percent. With a rate this high, hospitality companies can expect to pay anywhere from $3,000-213,000 to replace employees. In addition to paying a premium for employee turnover, companies with unsatisfied or "disengaged" employees tend to provide lower quality customer service, which will also impact the bottom line.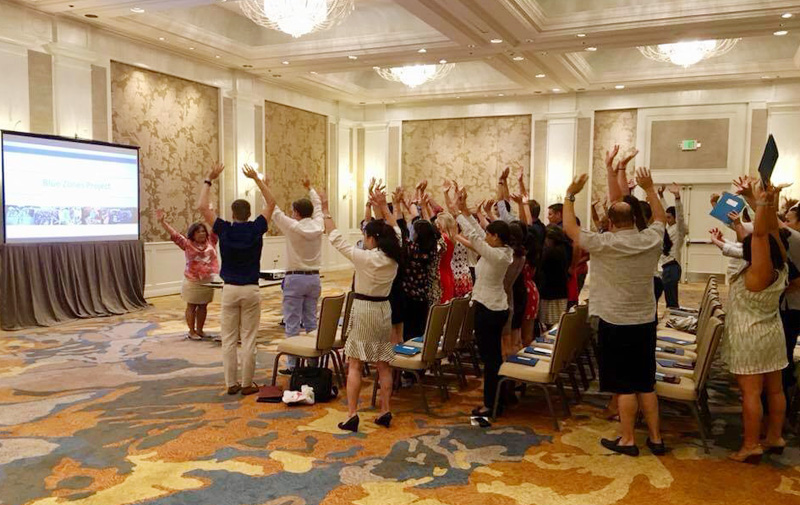 In Blue Zones Project® communities across the country, worksites and company leadership teams put the focus on employee well-being, physical work environment, social networks, policies and benefits, and well-being solutions.
The Four Seasons Resort Oahu at Ko Olina Hawaii is the first Blue Zones Project Approved® Four Seasons in the country. Charlie Parker, General Manager, said, "We try to offer a better quality of life to our employees so they can be happier—and that can start with the time they spend at work."
Business benefits to keeping employees healthy and happy
Excellent customer service is important in any industry, but paramount for hospitality employees. Guests at luxury hotels come to experience something special and step away from their normal, perhaps stressful, everyday lives. Employees may be the first interaction a guest has in a new place, and even the employees who may not have face-to-face interactions with clients (janitorial staff, housekeeping, etc.) have the opportunity to leave a lasting impression with guests. Healthy, happy employees are the driving force behind the success of a company. They feel more empowered, are more confident in making business decisions, take pride in their work, and show up ready to engage with customers. And according to a study conducted by a team of researchers at the University of Maryland, they found a significant interaction effect between customer empathy and customer satisfaction on customer loyalty, meaning that a positive experience could, in fact, produce a lifelong customer.
Four Seasons pledges to put employee well-being first
Search Four Seasons Resort Oahu jobs