Source: forbes.com
At Four Seasons Resort Oahu at Ko Olina, your eyes will fixate on the half-moon-shaped lagoon and the sandy beach lining it just outside. But give the art hanging next to the lobby a careful look, or you just might miss the next big artist and some of the hotel's best views.
If you happened to peruse the white walls back in late 2018, you would have gotten a sneak peek at fashion brand Guess' summer 2019 collection. The Forbes Travel Guide Four-Star hotel's artist-in-residence Eduardo Bolioli hung his Pop-influenced island paintings there. Guess took some of the vivid pieces bearing hammerhead sharks, malolos (Hawaiian for "flying fish") and honu (green sea turtles) and transformed them into fabric for a limited-edition line of men's bathing suits and T-shirts, which quickly sold out.
The environment features prominently in Bolioli's juxtaposition of bold nature prints and native silhouettes, so it makes sense that the theme carries over to the eye-catching board shorts — they are made of 100 percent recycled polyester from plastic bottles plucked from the ocean.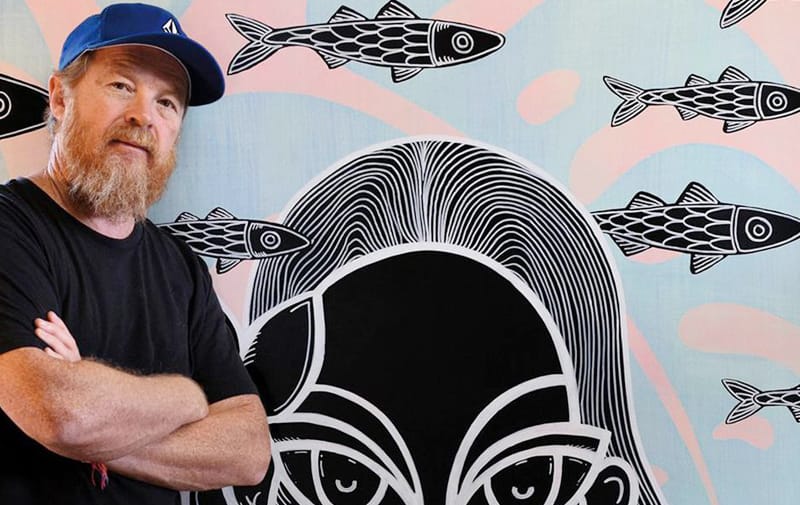 While Bolioli hails from South America, he feels drawn to Hawaii for one singular reason: "Freedom," says the artist, who lives in Makakilo on Oahu's west side about 10 minutes from the hotel. He spends around eight months of the year on the island and the rest of the time in his native Uruguay.
"I never felt more free than here in Hawaii," says Bolioli. "This place doesn't judge you like other places. This is a place I can be myself."
Bolioli moved to New York in the late '70s and attended the School of Visual Arts (SVA) in the early '80s alongside up-and-coming artists such as Keith Haring. Like his contemporary, Bolioli imbues his work with the colorful Pop and street art that was prevalent of the period. "I'm part of a generation who grew up in that time where graffiti became an art form," he says.
But he felt out of place in the United States' art capital. "Everyone back then wore black," says Bolioli, who had a royal blue baseball cap and a bushy light red beard with wisps of white when we chatted at the resort. "There I was, a skater/surfer with a different color palette."
In 1984, Bolioli decided to take a semester off, even though SVA professor Harvey Kurtzman (the prominent cartoonist who founded MAD) dangled a job offer at Playboy to entice him to finish school. On a whim, Bolioli went on a trip to Hawaii and found a home that inspired him to pursue his two passions: surfing and art. He began painting boards, becoming a pioneer in the art form by eschewing airbrushing in favor of Japanese water-based Posca markers.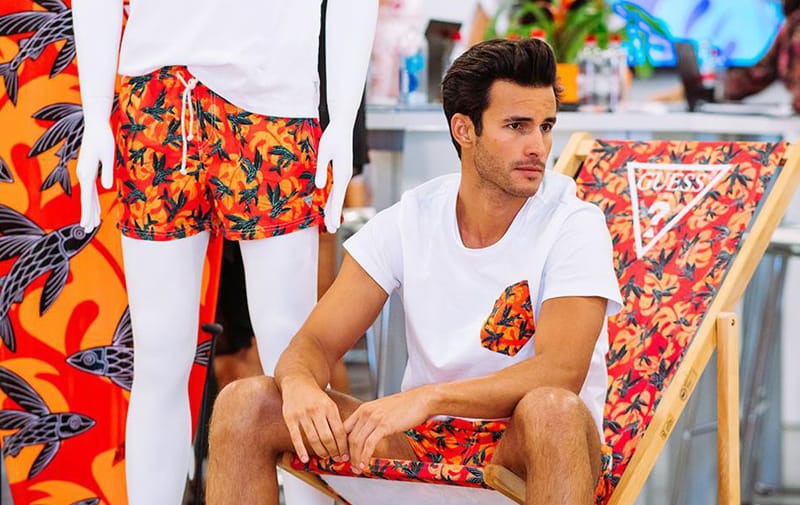 During this fruitful time on Oahu, he painted world champions' boards, designed for surf brands like Quiksilver and Billabong, landed a gig as Absolut Vodka's Hawaii artist, created animations for VH1 and did concert posters for Miles Davis, Aerosmith and UB40.
Then Bolioli signed an agreement with an art publishing company that brought him back to Uruguay. "Once I left Hawaii, things went really wrong for me," he says. The publishing company folded, taking all of Bolioli's art with it.
Left without a job, he had to find a way to support his family: "I traded my wetsuit for a suite and tie." He took a position with Seagram's and stayed there for 14 years.
Four Seasons Resort Oahu at Ko Olina
92-1001 Olani Street, Kapolei, Hawaii 96707
Call : (808) 679-0079
fourseasons.com/oahu/