Source: dining.staradvertiser.com
When it comes to upscale dining experiences, Roy's Ko Olina always delivers. Now, there's another feature that sets the restaurant, located off the 18th hole at Ko Olina Golf Club, apart from any other Roy's location in Hawaii: Lunch service. General manager Taisei Lee says it serves as the 19th hole for the club, but it's also an excellent choice for a midday meal.
"In addition to providing high-quality pupus after a round of golf, we also have an extensive lunch menu. Where else can you go and have the option of ordering blackened ahi, a Spanish-inspired seafood paella or a club sandwich?"
Chef Darryl Shinogi, who's been with Roy's Ko Olina for 14 years, says that his tastes are varied, which may have influenced the expansive menu.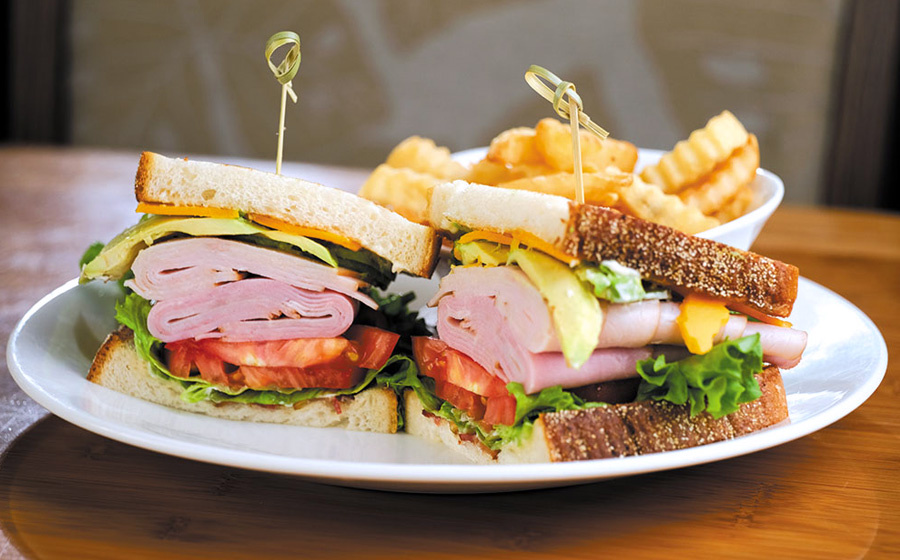 "I make the menu like how I like to eat, so I don't have a favorite — it all depends the mood."
According to Lee, patrons are also varied. "Typical lunch guests are locals that want to avoid Kapolei traffic, business diners or visitors that are staying across the street at Aulani, Marriott, The Villas or Four Seasons.
"Roy's is perfect for business lunches because of its close proximity to the Kapolei/ Campbell business district," adds Lee. "We are right on the outskirts. The best business is done hand-in-hand with quality cuisine. Roy's calming ambiance is a perfect setting … you almost feel like you're on an outer island, and our wonderful personalities are eager to serve. It's a no-brainer."
Reservations are highly recommended for lunch. Lee says that due to pandemic-related regulations, reservations fill up quickly, so it's best to book at least a week in advance. Don't have time to linger? Roy's Ko Olina also offers a robust takeout service.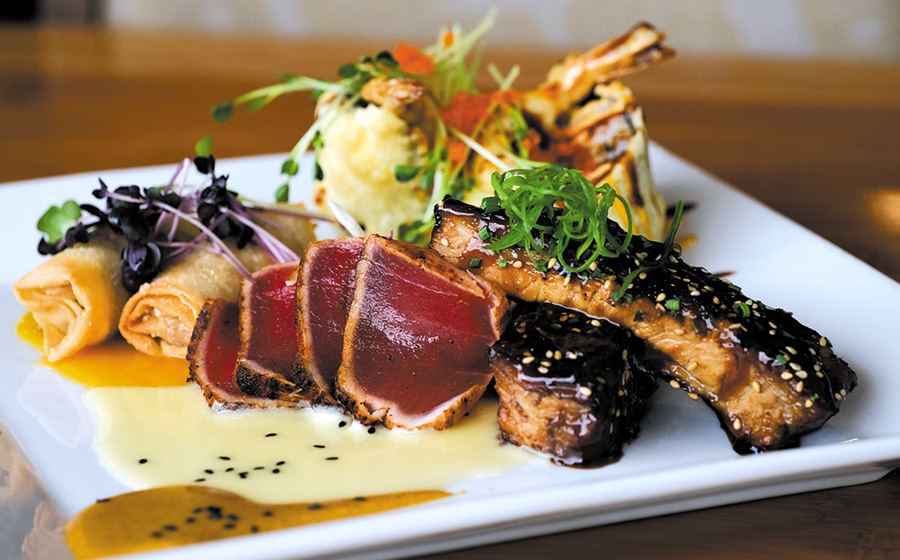 "Our takeout is stronger than its ever been. It actually kept our business afloat during total lockdown," Lee explains. As for the lunch menu, popular choices include the Roy's Canoe Two from the appetizer menu. It's a medley of bites made up of spicy ahi maki, shrimp tempura, blackened ahi, Mongolian ribs and Chinatown chicken spring rolls.
Another favorite, which Shinogi counts as a must-try on the appetizer menu, is the truffle-dusted crispy Brussels sprouts with Parmesan cream. "(It's) fried crisp, topped with Parmesan cream, truffle powder, prosciutto salt 'dust,' chopped chives and crispy garlic..," he states.
"One of the most popular items is the baked brie encroute for two," adds Lee. "This dish is reminiscent of something one would order at a street cafe in Paris. The soft, creamy brie cheese encased in a piping hot puff pastry is accompanied by candied macadamia nuts and thin slices of cabernet and cinnamon-poached Fuji apples." He adds that he'd recommend it be paired with an Oregon Viognier or Slovenien Red Blend.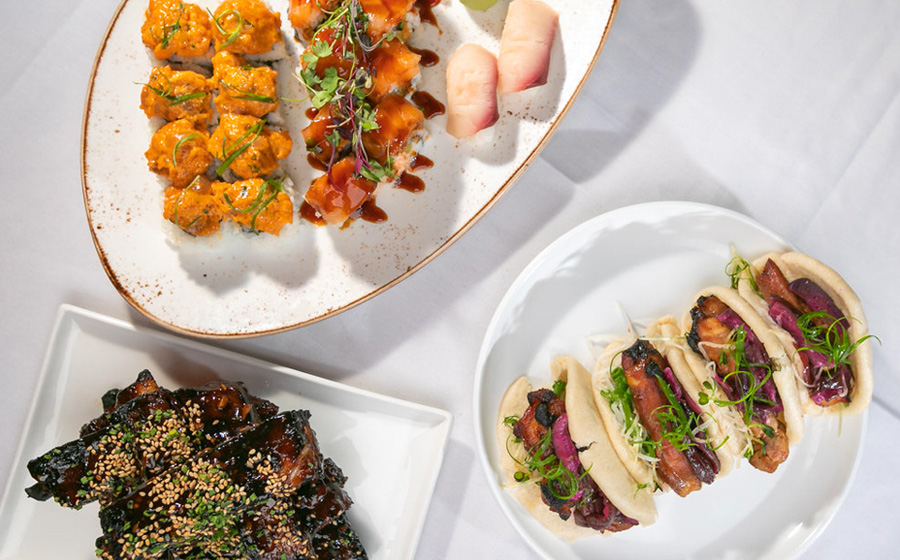 In addition to the aforementioned Ko Olina Club (a ham, turkey, bacon, white cheddar and avocado panini served with garlic french fries), other delectable entrées include the cleverly monikered Roy's Style Field Trip Lunch and the island fish and chips.
It's evident that Shinogi was feeling nostalgic when he envisioned the former entrée, which includes kalbi, crispy wings, yaki-style salmon, pickled vegetables and furikake rice. "Yes, (I was) the skinniest kid with the biggest lunch bag on every field trip," he says. As for the fish and chips, Lee believes that it encapsulates the essence of the menu.
Roy's Ko Olina
92-1220 Ali'inui Dr, Kapolei, HI 96707
Reservations: +1 (808) 676-7697
Visit: Roy's Ko Olina
Important Updates: Roy's Ko Olina: Know Before You Go