The Mākeke Market, a farmers market on the West Side, supplies the community with a healthier and happier diet.
"How can we be a food desert and be a food basket at the same time?" asks Alicia Higa.
In Wai'anae, getting access to fresh fruits and vegetables is difficult, and yet the region grows produce to feed the rest of the island. "It doesn't make sense for it to be that way. It's our job to figure out ways to keep more of our food out here and get our community healthier."
Higa is the director of health promotion and disease prevention at the nonprofit Waianae Coast Comprehensive Health Center. It's a daunting role. In the state, the Wai'anae population has one of the highest incidences of obesity, diabetes, and heart disease, all illnesses which can be partially attributed to a poor diet. Enter the Mākeke Market in Wai'anae, which WCCHC began in 2008 to feed the community better.
In the decade since its inception, the farmers market has grown from 12 vendors to almost 40. On a recent Saturday morning, the joyful strumming of an 'ukulele emanated from the heart of the market, set up in the parking lot of Waianae Mall. Locals, some with children in tow, gathered to shop and eat, picking up poi from Pomai Kūlolo, and locally made cheese from Wai'anae's Naked Cow Dairy, and lining up at Big Wave Dave's Quesadillas, which folds vegetables from the market and eggs from nearby Maili Moa farm into its tortillas. The venison steaks quickly disappeared from the cooler of Forage Hawaii, which sells fish and grass-fed meats, all locally sourced. A number of farmers offered produce harvested in Wai'anae, ranging from mangoes to salad greens.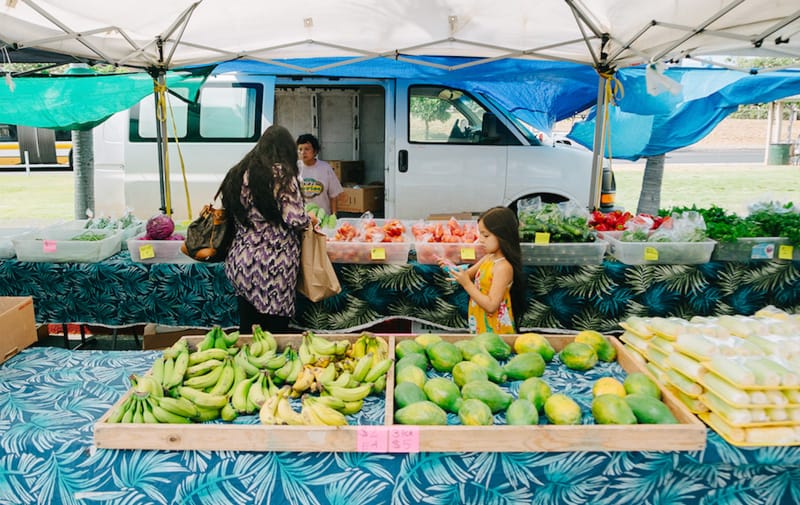 Locally grown food in Hawai'i is known to be more expensive than mainland imports because of economies of scale. But this Wai'anae market was the first farmers market on the island to accept SNAP/EBT (formerly known as food stamps), and it doubles people's EBT when they purchase fresh fruits, vegetables, meats, and poi, effectively making the purchase of such produce "buy one, get one free" while farmers get paid full price. This is a win-win for farmer and consumer, making healthy food more affordable for the economically disadvantaged while farmers still get a fair amount for their efforts.
There's a lot to be proud of in Wai'anae, and the markets are a showcase of this. Take MA'O Farms, a vendor here since the beginning, which sells salad greens and vegetables like fennel and Hakurei turnips. The farm is a nonprofit with an innovative model that offers high-schoolers college scholarships in exchange for on-the-farm training, simultaneously growing food, growing health, and growing youth.
Mākeke Wai'anae at Waianae Mall, Saturdays from 8 a.m. to noon. Mākeke Kapolei at Kapolei High School, Thursdays from 3 to 6:30 p.m.