At Ka'aha'aina Café, the recipe is simple: an ambience that invites peace and a menu of nourishing local favorites.
'O Ka'aha'aina Cafe, he hale 'aina nō ia ma ka Wai'anae Coast Comprehensive Health Center, nāna e 'imi nei i ala e hānai ai i kona po'e hoa kipa i ka mea 'ai pono. He wahi nō ia e 'ākoakoa ai ke kaiāulu.
The searing blue waters of Wai'anae blaze bright from the wraparound deck of Ka'aha'aina Café. Inside, high ceilings, tall, wooden beams and a skylight channel the earthy, open feeling of a mountainside summer lodge. This eatery at Waianae Coast Comprehensive Health Center, tucked into a high bluff along the leeward coast, feels special. "A lot of people, when they come in, feel that different feeling, because of the ocean and atmosphere," says chef Mark Ka'aha'aina, who took over the helm of the Center's café in 2009. "They feel it's a healing place."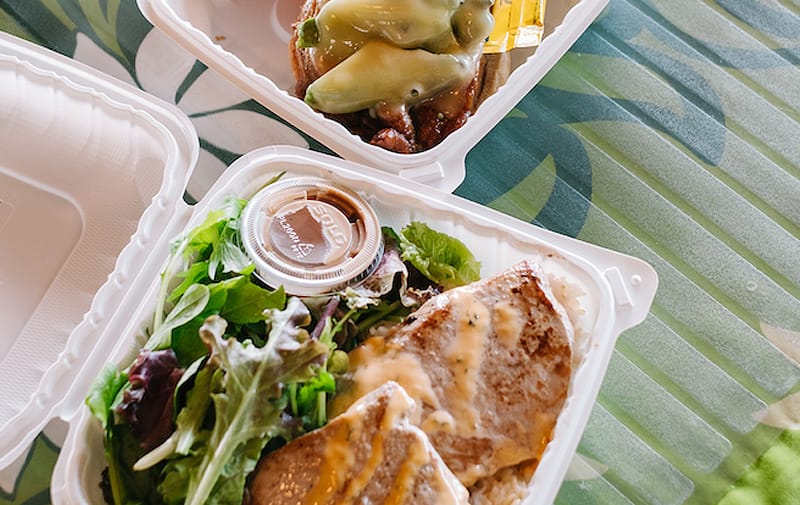 The café's vista is a stunning lunchtime view. If you don't know how to find the café, however, you could easily drive right on by. The café, which first opened in 2002, often serves as a gathering space for the community, a place where not only the Center's staff members and patients congregate for lunch, but also residents from the surrounding area and visitors to the West Side. They're either led to the café's halls by stellar online reviews, word of mouth, or national press highlights. Most recently, Bon Appétit featured the café in a video on Ma'o Farms, showcasing how the restaurant uses their local produce.
"Our vision is just to reach our community and give them good local food," Ka'aha'aina says. "And to be a support to them."
Ka'aha'aina works with the Waianae Coast Comprehensive Health Center and community vendors to offer healthy eating choices by providing vegetarian options, offering brown rice, sourcing veggies from neighboring farms (or the Center's grounds itself) and using island ingredients such as 'ahi (tuna) or 'ulu (breadfruit). He tries to get creative with dishes that appeal to local palates, but are still wholesome, like pastele stew or a loco moco.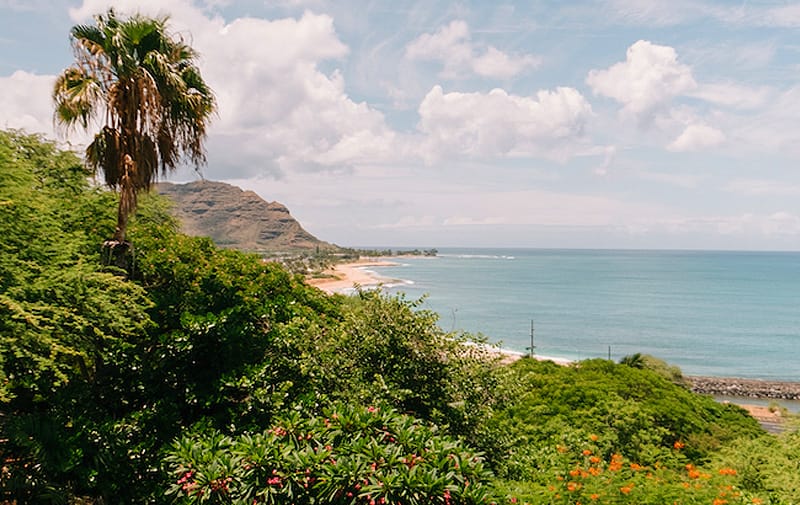 Other ways Ka'aha'aina highlights the nourishing fare of the café's menu is by including generous sides of greens and sweet potato, or whipping up poke bowls featuring spicy eggplant or zucchini instead of fish. Ka'aha'aina also stays away from deepfrying. Instead of offering fried chicken, for example, he will do a roast chicken that's been marinated for extra flavor. It all goes back to the Waianae Coast Comprehensive Health Center's mission to heal the community, one meal at a time.
For more, visit: http://www.wcchc.com/