With one of hula's most athletic and ancient dances, the men of Ke Kai O Kahiki excavate the fundamentals of the form's multi-layered tradition.
A hand slices through the air. In concert with the foot, leg extended and parallel to the arm, it thrusts forward in a precise, singular movement. Matching the hollow thud of a wooden gourd, hands and feet travel to the absolute reaches of their limbs, return to center across the mouth and groin, then repeat. Suddenly, the hula dancers, all men and all in recline, rise from the ground in a single sweeping motion, bodies hovering and balanced on a single arm and foot. Uprooted, they sway, accelerating to a crescendo of eruptive backbends, as their sculpted bodies quake like mountains of their own making.
This is hula 'ōhelo, a brisk and energetic dance that is rarely seen today.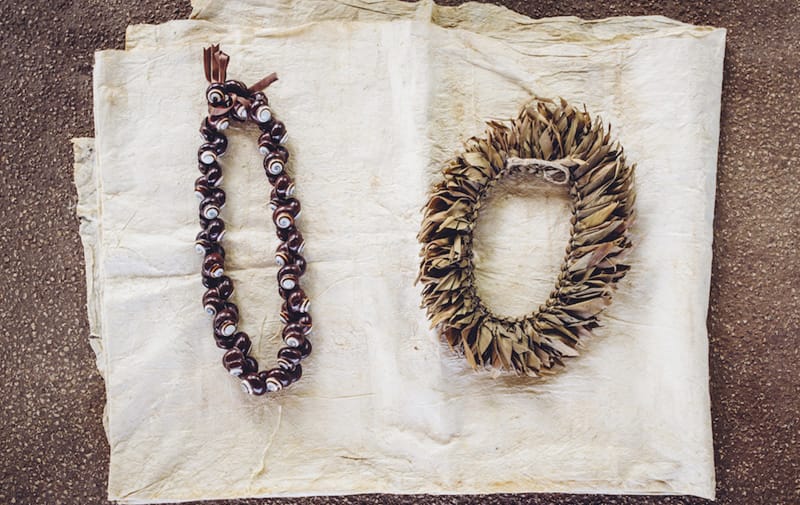 At Lanikūhonua, a parcel of land on O'ahu's West Side where Ke Kai O Kahiki trains, the male hālau performs its impressive and peculiar movements to the percussive chant "Tū 'Oe." The kāne aim to perfect the pulsing rhythm of this 'ōhelo, the distinctive "seesaw" of the dance (also the meaning of the word, 'ōhelo), before progressing into more complex floor work. One doesn't have to be fluent in hula's nuances to gather that it is an especially difficult and disciplined dance.
When Ke Kai O Kahiki first performed "Tū 'Oe," for the kahiko night of the Merrie Monarch Festival, the famed hula competition held annually on Hawai'i Island, in 2009, it blew open casual notions about what hula is and what it looks like by employing explicitly athletic, masculine motions. With it, the hālau swept the competition, winning the year's overall title and becoming an instant Merrie Monarch classic. It is watched and rewatched by hula enthusiasts the world over to this day—an online search for it is easy to find (it's the video with more than 1.5 million views on YouTube). More notable, though, is how it reveals an excavation of dance movements many spectators had not even known existed in the canon of hula.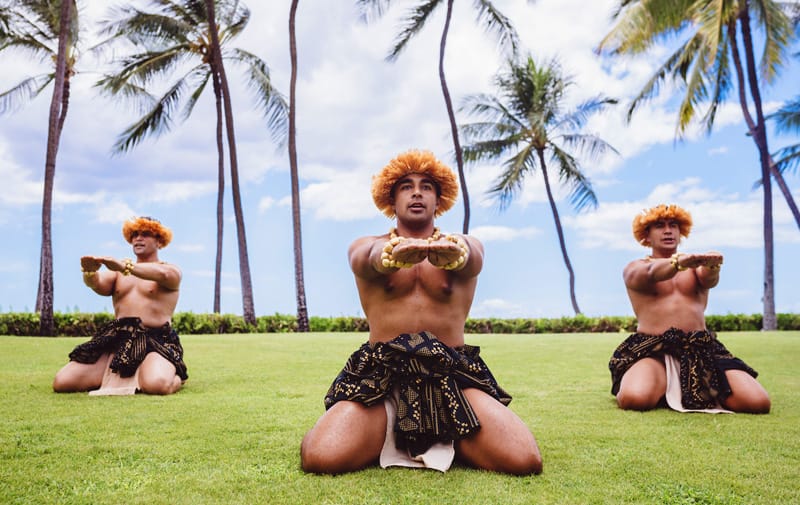 "The motions were so unusual, learning it for the first time was like wiping the slate clean," says La'akea Perry, who was the lead dancer during that performance nine years ago. Even with two decades of hula experience to his name, all spent under the tutelage of Ke Kai O Kahiki and the late O'Brian Eselu, its founding kumu hula, Perry initially found the 'ōhelo strange and uncomfortable. The unfamiliar steps, strung into exacting sequences and requiring constant refinement, test both agility and strength. "We trained one year for that 'ōhelo," Perry remembers. "In all my hula learning, the dance and its movements were something I'd never done before, and now I'll never forget how to do." Prior to its Merrie Monarch debut, the last documented public performance of hula 'ōhelo may have been more than 150 years prior. In a brief chapter in Unwritten Literature of Hawaii, historian Nathaniel B. Emerson describes a vague account of its display to the year 1856 in 'Ewa. It is accompanied by a mele ma'i, or a procreation chant, which celebrates the proliferation of future generations of ali'i. But, even without this awareness, the viewer is coaxed toward the dance's fertility themes by the gestures themselves: the men, minimally clothed, are in recline; the leaned body pushes, prods, thrusts; the finale peaks with a tantric climax.
Reawakened is perhaps a more suitable word than rediscovered when tracing hula 'ōhelo's trajectory. Like many Hawaiian customs suppressed under missionary authority, hula continued to persist secretively through unwavering practitioners. Its spiritual and ritualistic nature, incongruent with the conservatism of the century's new societal influence, left hula at constant risk of erasure. Because of its strong sexual connotations, the genus of hula 'ōhelo was even more vulnerable. With each passing generation, its movements grew increasingly austere.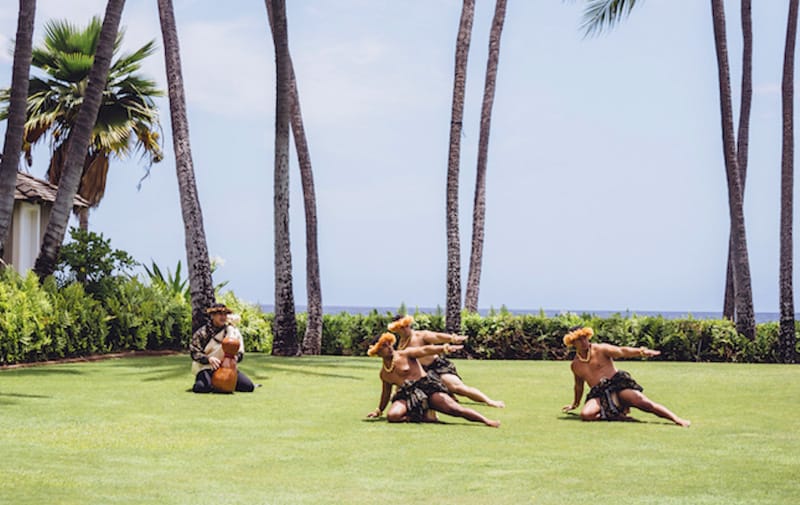 When Eselu first heard of hula 'ōhelo, he was determined to learn it, then teach it. His guiding vision for his all-male troupe was to push the boundaries and biases about men who practice hula—a sentiment that culminates in the hālau's hula 'ōhelo, which emphasizes fluid hip movements combined with 'ai ha'a, an emphatic style that involves dancing very low to the floor, often in a fullsquat position. "Our style is often described as bombastic," says Perry, now the kumu hula of Ke Kai O Kahiki. "Very warrior-like."