The Hawaiian Railway Society maintains a piece of Hawaiʻi history, stokes a love for trains on O'ahu, and provides sightseeing tours of the island's West Side.
There's something satisfying about a train leaving its station—the sound of the wheels slowly ka-chunking over the track before picking up speed, the passengers looking out in rising anticipation, the decrescendo of the departure that ushers in quiet reflection.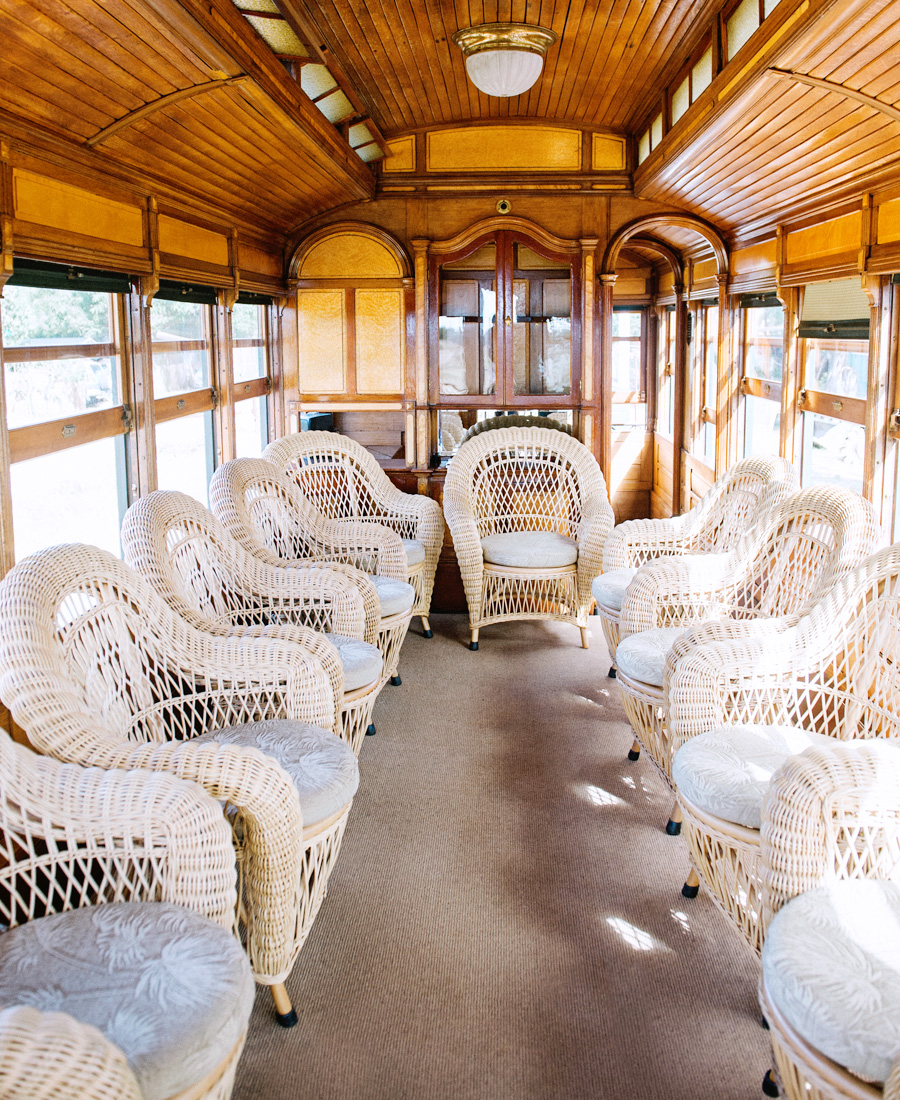 On a Wednesday in September, I stood at the Hawaiian Railway Society's railyard looking up at six open-air passenger train cars lined up behind a restored 1944 Whitcomb diesel locomotive. Operations manager Steven Vendt had hollered "Aaaaall aboard!," the horn had sounded, the paper tickets had been punched, and the passengers had boarded the openair cars. My 18-month-old and I waved alongside Vendt and other staff as the train left on its two-hour, 13-mile tour of the West Side of O'ahu, from ʻEwa through Ko Olina to Electric Beach and back. After it departed, we onlookers slowly headed separate ways—Vendt to the office-slash-gift shop to eat lunch and I to the shade to say goodbyes and then to chat with Evonne Kihapaauau, who sells refreshments to awaiting and returned passengers. She tells me she learned of the Hawaiian Railway years ago while working at a day care and saw an opportunity to become its snack lady upon bringing her grandsons for rides during the pandemic.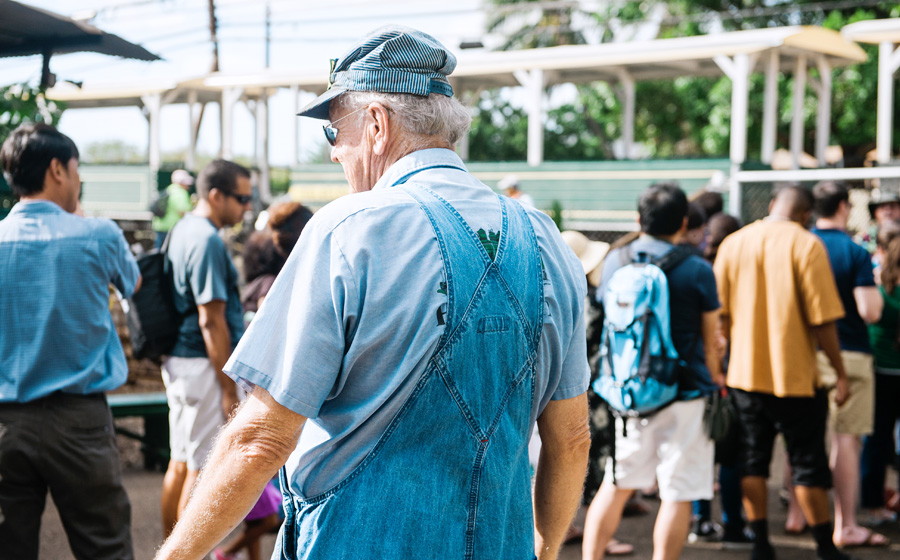 In 1975, the Hawaiian Railway Society got the train tracks from Fort Weaver Road in ʻEwa to Lualualei Naval Road in Nānākuli on the Hawaiʻi State and National Registers of Historic Places. Originally part of the O'ahu Railway and Land Company system, which ran from Honolulu to Kahuku and carried passengers and freight, the track debuted in 1889 on King Kalākaua's birthday, having been envisioned by Benjamin Dillingham, an entrepreneurial settler, and chartered by the king. Later, other tracks were built for use by the U.S. military and sugar plantations. (In 1950, OR&L's track from Pearl Harbor to Lualualei Naval Ammunition Depot was passed to the Navy for $1.) These histories are intertwined with Hawaiian Railway's origin story: WACo 6, which is featured in its logo, was a sugar plantation engine built from spare parts in 1919. Decades later it was retired at a park in Waialua, where kids played on it until Waialua Agricultural Co. deemed it unsafe. "A bunch of train guys got together" to save the engine, Vendt says. In turn they created the Hawaiian Railway Society in 1971. Today, at its home base in ʻEwa, Hawaiian Railway has a range of engines and cars in various states, from a retired black steam engine to Dillingham's fully restored parlor car built in 1910 to several small cars from Red Hill, where similar ones still run underground.
A few days later, I returned for my own train ride. On our journey we passed towering sisal plants, a cluster of tents among the brush, Costco's busy parking lot, backyards of suburban homes, the Honolulu Star-Advertiser building in Kapolei. The view transitioned from quiet, dry landscapes to the lush lawns of Ko Olina Resort to the expanse of ocean at Kahe Point, where the train rattled gaspingly close to the shoreline. We came to a stop at Electric Beach, where brakemen boarded the back car that was to head up the train for the return trip. On the way back we stopped in Ko Olina, where most passengers departed for ice cream and the train team lingered beneath the shade of monkeypod trees. The ride, to me, felt like an honest experience of the scenery of O'ahu's West Side.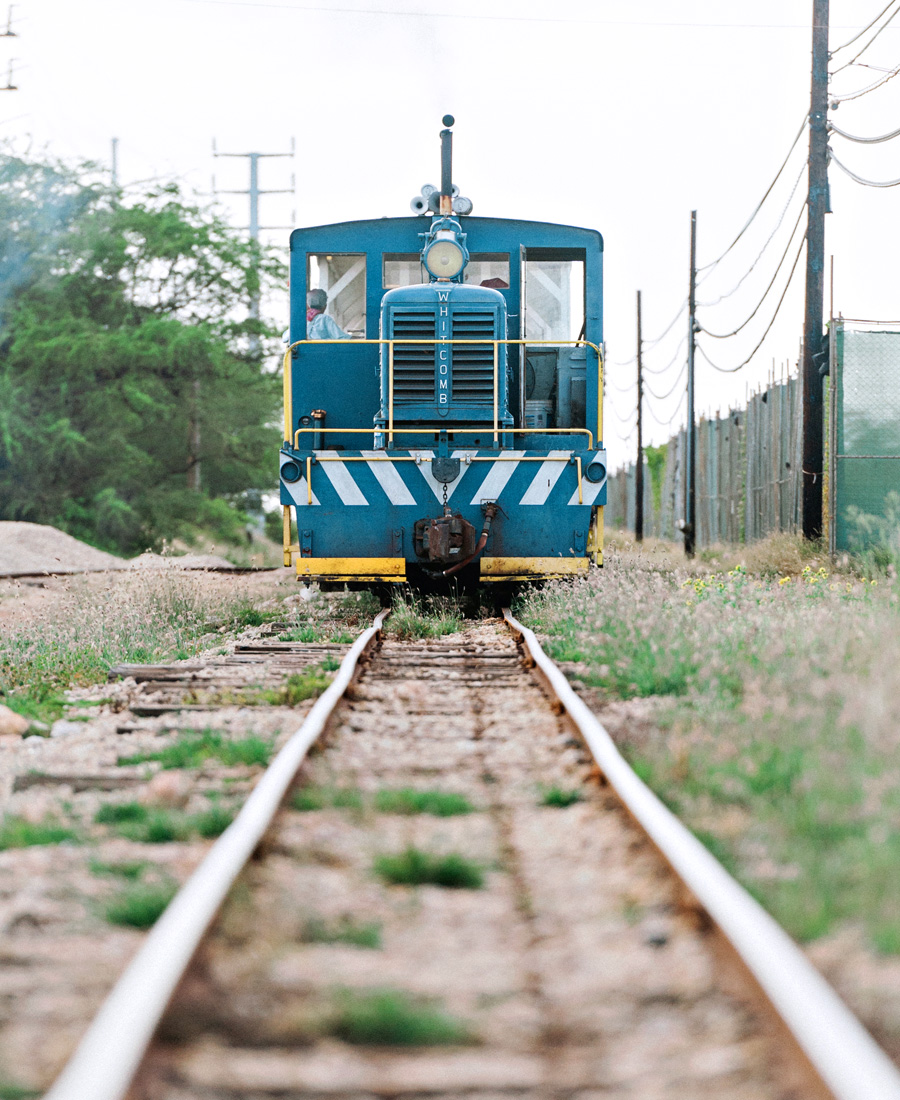 The narrator on our journey was 19-year-old Lorna Dela Cruz, who has been telling the train's tale for about six years. She pointed out landmarks, shared the track's history, encouraged passengers to give shakas to waiting cars at train crossings, and held pop quizzes. (She is studying to be an elementary school teacher.) Indeed, what keeps the train running—along with the engineer and Vendt and the nonprofit board and volunteers and the contributions of donors and ticket buyers—is the Dela Cruz family. Lorna's father, Ben, started volunteering at Hawaiian Railway nearly 10 years ago at the suggestion of his hanai mother, who knew he liked working on classic cars. Today, he is its head mechanic and caretaker. Her mother, Selina, is the office manager, overseeing the railyard and working the gift shop. Her brother, Justis, is a brakeman.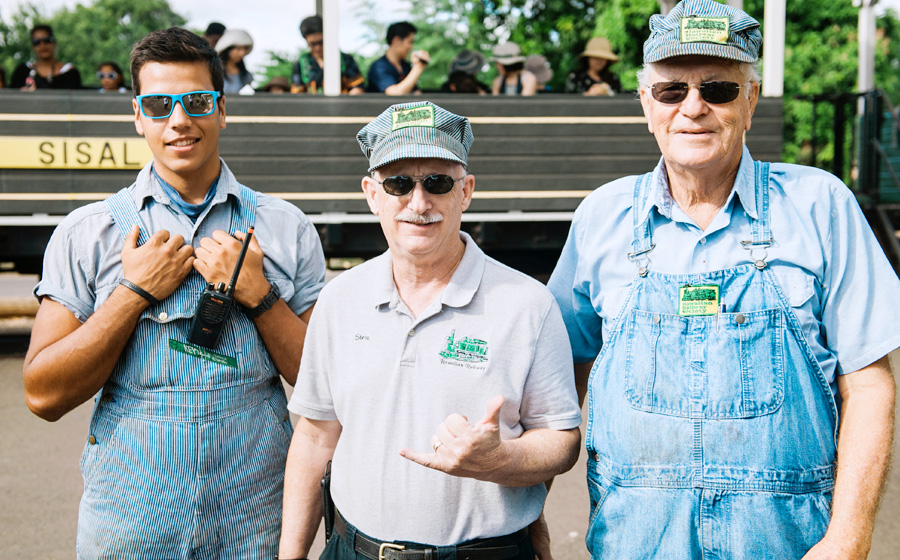 It seems everyone at Hawaiian Railway Society has a connection to trains. Ben Dela Cruz didn't envision becoming a train mechanic, but he shares with pride that his grandfather, who raised him, worked on trains at Pearl Harbor. Kihapaauau's 12-year-old grandson, who frequents the railyard with her, is now "250 percent into trains," she says. Vendt remembers playing with toy trains as a child more than half a century ago. His newest dream is to see a real train station at the trainyard, which has been in the works for years and will likely be in the works for years to come. "I love this little railroad," he says, shrugging. For Vendt and so many others who have worked or volunteered or gone for a ride with the Hawaiian Railway Society, there is just something about trains.
To learn more about the Hawaiian Railway Society, visit: hawaiianrailway.com