Artist and U.S. Marine Rhema Kishida finds his flow through the creation of unpretentious, Art Deco-inspired digital illustrations that radiate local-boy pride.
Throughout his grade school days in ʻEwa and high school in Kapolei, Rhema Kishida often found himself putting pencil to paper to reframe his teachers' lectures in a visual context. "They'd be talking about the American Civil War and I'd be doodling canons," Kishida says. Not only did drawing help him connect with the world and process information, it stirred his competitive spirit. Each blank page offered an open invitation to outdo himself.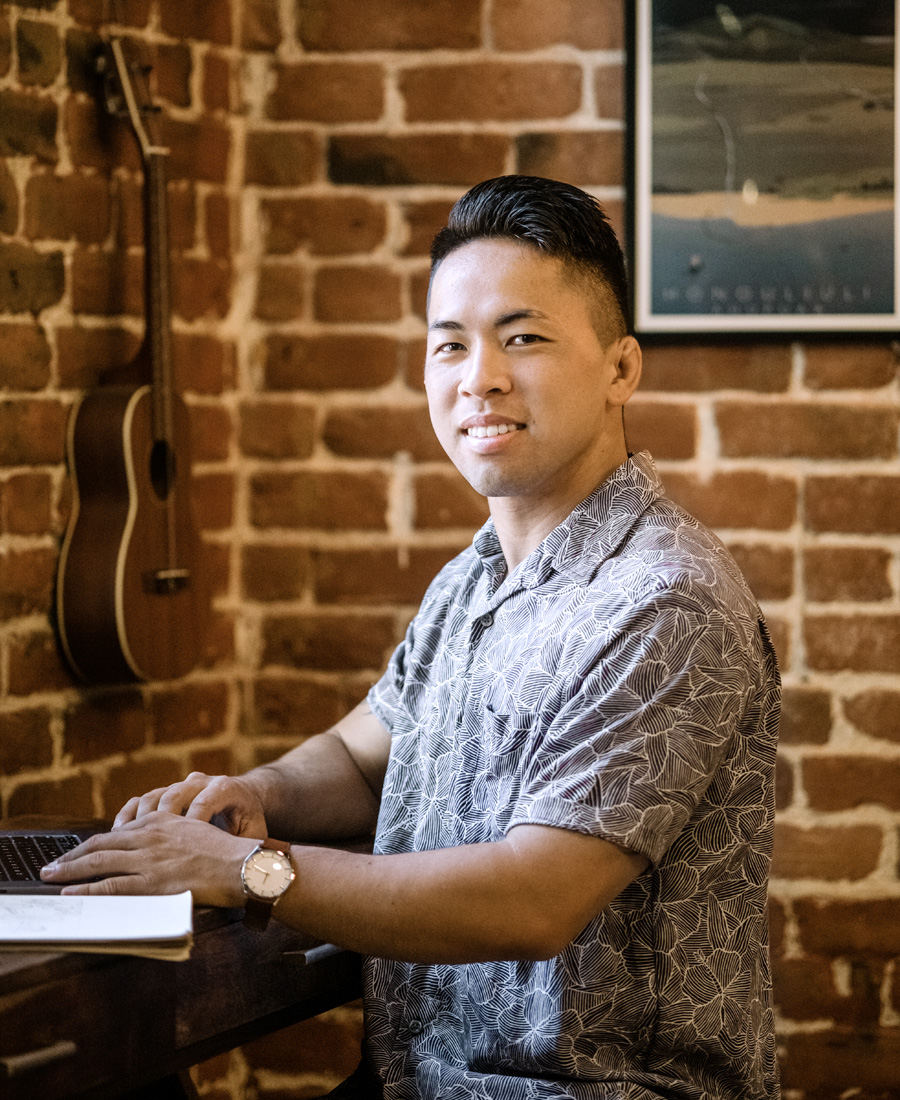 Over years of practice, Kishida's rough drawings evolved into more intentional linework, then three-dimensional scenes. At Hawaiʻi Pacific University, he experimented with digital art tools, relishing the synchronicity of precision and possibility that Adobe Illustrator provided. "Illustrator was a game changer for me," he says. "Suddenly, my lines were always straight, and my circles were perfect circles."
In his mid-20s, Kishida settled into a more serious relationship with digital art. His signature style took shape—muted earthy tones and a minimalist aesthetic with an Art Deco tilt. After accepting a commission in the U.S. Marine Corps in 2020, Kishida leaned on his art practice to balance out the structure and rigidity of military life. Today as an operations officer, he's doubled down on his digital art, cozying up to his computer whenever a window of time opens. "In my day job of planning, training, and leading the battalion in unit exercises and events, I have to be so serious and analytical. Art feeds that other side, the free spirit that's playful and creative," he says.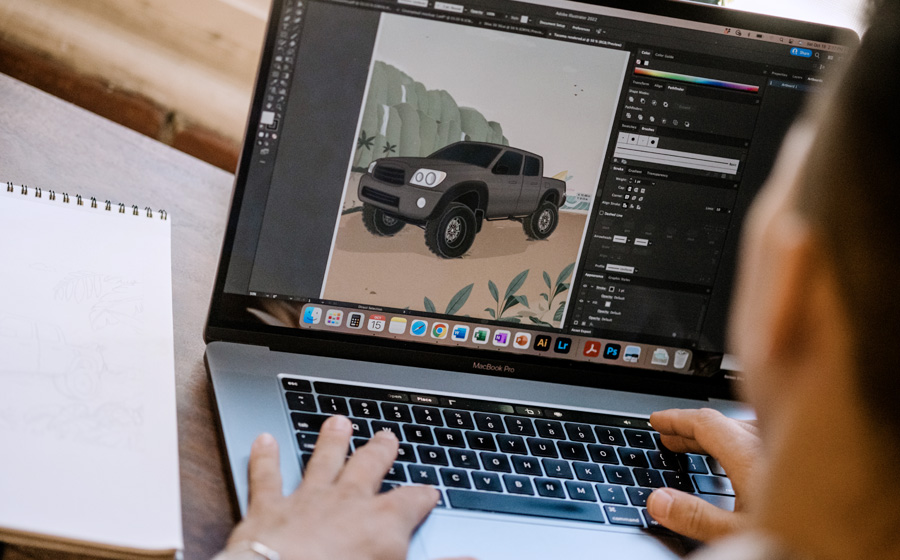 Kishida's artwork is influenced by scenes and images that move him: surfing and surf art, tropical landscapes, military graphics from history books, exotic locales he's visited. His ability to evoke simplicity— by drawing the eyes toward ripples in the ocean or the texture of leaves, for instance—give viewers a visual timeout from what he calls "all the noise and distractions of life."
When an idea hits, Kishida assembles a collection of images in a digital vision board, then hand-sketches the composition in his mind's eye. He opens a blank page in Illustrator and starts to play, aiming for a finished product that will uplift viewers as much as it entertains them. "I want people to feel inspired to produce whatever their craft is, and to add value to their spaces," Kishida says.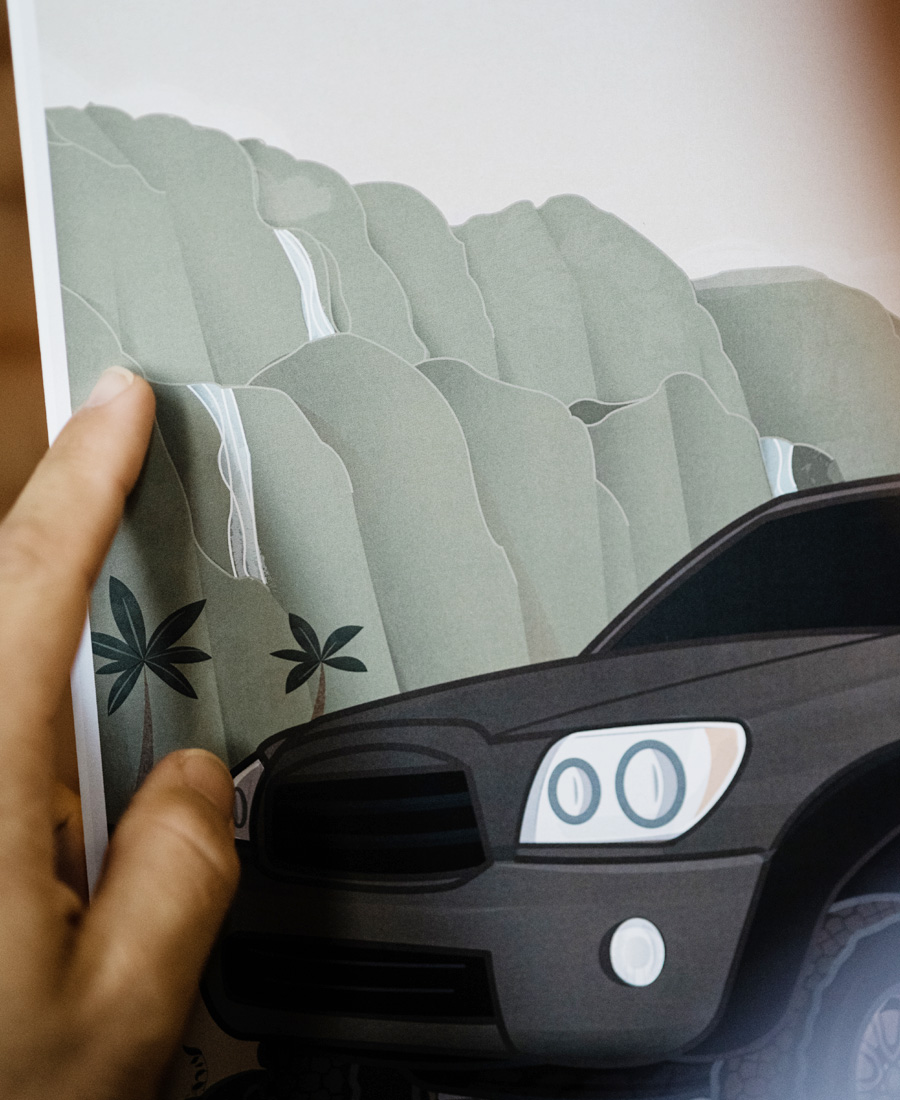 In perhaps Kishida's most recognizable work of art, "Toyota Tacoma," we get a glimpse of the local boy underneath the dress blues. A tribute to what he's nicknamed "Hawaiʻi's unofficial state vehicle," a lifted Tacoma—complete with surfboard in the cab—sits parked in front of waves and waterfalls, framed by a line of perfectly aligned typography that reads, "You had me at Howzit."
Rhema Kishida's ability to evoke simplicity gives viewers a visual timeout from what he calls "all the noise and distractions of life."
To learn more about the artist and his work, visit: rkishida.com