Ka'ala Farm digs deep to reconnect with land and community.
Eric Enos is shin-deep in a taro patch. From my spot across the field, I watch as he marches alone through the bed of thick mud. A rich layer of clay coats his legs and hands, his face bronzed from hours working under the Waiʻanae sun.
Before Enos found this stretch of ancient taro patches in 1976, he had little experience with farming. Today, he oversees the more than 100 acres in Waiʻanae Valley occupied by Kaʻala Farm as its co-founder and director. "I gardened, but never taro," he says as he washes off the mud with a makeshift faucet. "But we had to learn, especially if we wanted to restore this place." He nods toward the rolling hills that surround us.
In 1976, Enos was working at the Rap Center, a substance-abuse rehabilitation program for students from Wai'anae and Nānākuli high schools. The program's ethos was to reconnect the youth to the 'āina (land). "It was the '70s, you know," Enos says. "There were all of these indigenous peoples' movements saying that we need to get back to the traditional practices that are taking care of the land."
In Hawaiʻi, it was the height of the second Hawaiian renaissance, a period of Native Hawaiian activism and renewed interest in Hawaiian culture. The crew of Hōkūleʻa, a traditional Polynesian voyaging vessel, completed its first voyage without Western sailing instruments. The Kahoʻolawe Nine landed on Kahoʻolawe in protest of the U.S. Navy's use of the island as a bombing range. And deep in Waiʻanae Valley, Enos was bringing a band of youths to the land that their ancestors lived off of centuries before.
It was on a group camping trip on Mount Kaʻala that Enos and the students stumbled upon stonework reminiscent of ancient kalo loʻi systems. "We discovered all of these walls underneath all the grass," he says. They were rock terraces that once functioned as irrigation systems for fields of kalo, also known as taro, a primary source of food for Native Hawaiians.
It turned out to be possibly the most intact agricultural system on Oʻahu, Enos believes, though far from its former glory. According to Enos, Waiʻanae was once the poi bowl of the Leeward side, yielding more taro—which would go on to be pounded into the staple Hawaiian starch poi among other preparations—than what is produced in all of Hawaiʻi today. From our vantage point at the edge of the farm, he gestures toward the hundreds of acres of wilderness beyond. "This whole valley," he marvels. "Bishop Museum showed us a map—it used to be all taro production."
For decades, Western colonization disrupted traditional Native Hawaiian ways of living, including the maintenance of the loʻi. Waiʻanae was one of the last strongholds of taro farming, due in large part to its robust Native Hawaiian community, but in the 1800s, a burgeoning cattle industry cleared the valley, turning taro patches into pastureland. Sugar plantations dealt a final, devastating blow, diverting streams that had fed the loʻi systems to water fields of sugarcane. With its lifesource cut off, the valley dried up. The remaining taro patches that hadn't been bulldozed sat fallow, and the surrounding forest crept in.
By the time Enos discovered the system, it was nothing more than stones buried under a thick bramble of haole koa trees. Yet he couldn't ignore its cultural significance. Taro was among the first plants brought by the Polynesians who settled in the islands. For Native Hawaiians, taro is also more than just a plant. Hawaiian mythology tells of how Wākea (sky father) and Papahānaumoku (earth mother) planted the body of their stillborn first son in the earth, and it grew into the first taro plant. Taro is seen as a direct ancestral connection to the divine powers of nature.
Enos and his group hiked into the valley in search of water to feed the land and discovered some trickling from a leak in a pipe that been built to feed the now-defunct Waiʻanae Sugar Plantation but was now being used as a general conduit by the Honoulu Board of Water Supply. The rivulets weren't to be used as a public water supply, since they were already escaping into the open environment. Enos applied for a permit to irrigate the taro using this source but was denied.
Enos decided to use the water anyway. In the summer of 1978, Enos, with the help of Waiʻanae community members, built a PVC pipe system from the leak to where Kaʻala Farm stands about one mile away. When charged by the state for illegal water diversion six months later, Enos appeared before the Board of Land and Natural Resources to make his case. He brought all of the research he used for his original permit application as well as binders of paperwork outlining the area's cultural legacy and the work the youth had been doing in restoring it. In the end, Enos explains, the board decided that the water "was outside of the state's jurisdiction." He pauses for dramatic effect: "But they didn't say no!" The board allowed the water to flow, and it hasn't stopped since.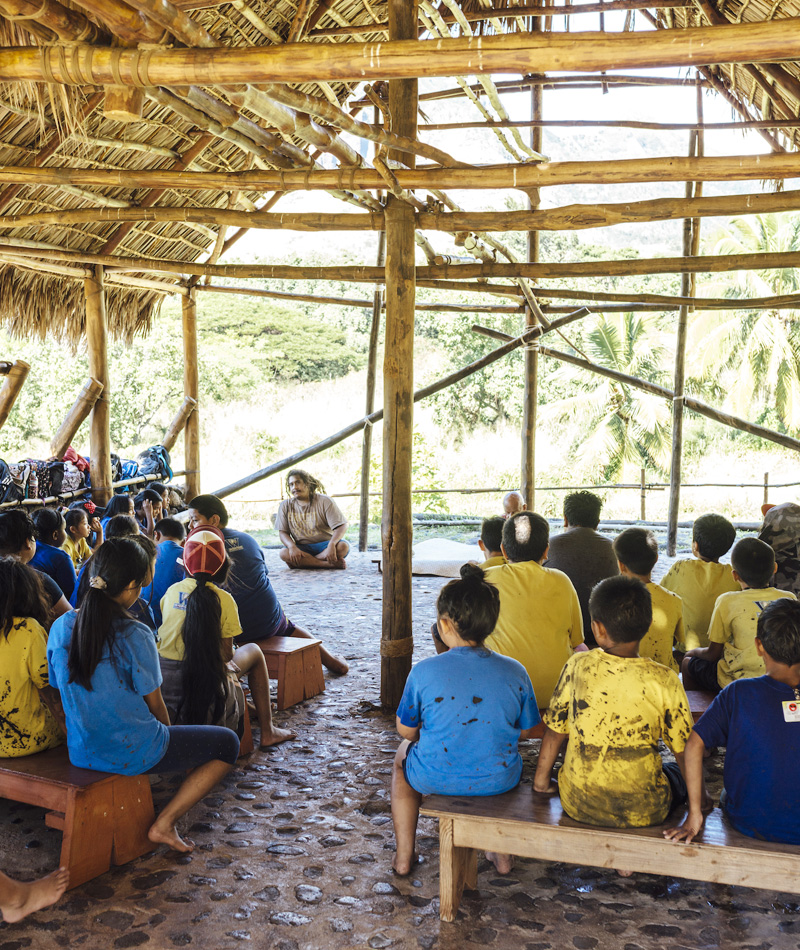 In the four decades since Enos and his group planted the first taro root, Kaʻala Farm has become a pillar of the Waiʻanae community. Schools throughout Oʻahu take their students to the farm. Some, like Nānākuli High and Intermediate School, have incorporated it into curriculae. The school's ʻAʻaliʻi program allows struggling students to make up credits by learning how to grow Hawaiian staples such as 'ulu (breadfruit) and taro on their own plots of land. Program directors Kathryn Fisher and Jewelynn Kirkland take students to the farm every week. "We're learning to take more care of our ʻāina," said program participant Kam Arrington. "When we came here, it changed us a lot."
Enos believes that Kaʻala Farm can act as a model for systemic change for other organizations (its success inspired Ka Papa Loʻi ʻo Kānewai at the University of Hawaiʻi at Mānoa) and the Waiʻanae community itself.
"He wasnʻt just trying to reclaim ability to grow food," Enos' son Kamuela Enos recalled of his father's efforts in a 2018 PBS Hawaiʻi interview. "He was trying to reclaim the ability to grow people, and therefore, the ability to regrow community."
Get involved. Visit KaʻalaFarm.org