The colorful murals of the West Side help the community envision a stronger pride for culture and history through its own eyes.
He mau mea kaha ki'i kama'āina e ho'ohiehie aku nei iā Wai'anae mā ma ke kaha ki'i 'ana ma nā paia e ho'omā'ike'ike aku ai i nā mo'olelo a hō'ailona ho'i e pili ana i nā mo'olelo o ke au kahiko a me ke au hou. Na kekahi paia pena ma Nānākuli Super, kekahi o nā paia pena mua loa, i waele aku ke ala e loa'a mai ai ka pāheona noa i ka lehulehu, hana 'ia no ke kaiāulu, e ke kaiāulu.
As the community considered options on how to "fix the wall"— increasing police presence or posting no-loitering signs—a more creative, if not unconventional solution arose: paint a mural. The key to the wall's success, proponents believed, would be ownership— the mural serving as a tangible collaboration between the community and the artists. Skeptics said the wall wouldn't stay clean, and that outsiders who came to help might not be welcome. But the Okimoto family, who had been planning to repaint the entire wall anyway, figured it was worth a shot. Although the costs for a mural would be higher, the possibility that it might help the community resonated with them.
Ken Nishimura, a longtime O'ahu artist, art advocate and, the founder of Keep It Flowing, a Honolulubased organization with a mission to use art as vehicle for social and environmental awareness and youth empowerment, agreed to head the project. Having painted dozens of murals from Honolulu to Las Vegas to Abu Dhabi, Nishimura was no stranger to large-scale projects. But the Nānākuli Super mural site would be the largest by far—so much so, Nishimura says he had to walk across the street to capture a picture for the mock-up sketch. Its size wasn't a deterrent. Instead, it provided a larger canvas for homegrown inspiration. "I wanted to create something calm and soothing so the community could connect with it right away," Nishimura says, "something detailed when you come up close, but from afar it's very easy on the eyes."
He sketched a mountain to ocean scene, or ahupua'a, the traditional Hawaiian division of land based on concepts of sustainability. The proposed mural featured bright scenes of sea life and white, sandy shores that wrapped around the building's corner into lush fields and deep green mountains. Organizers felt anxious about having enough volunteers, even with storefront signage promoting the community paint day, social media outreach, word of mouth, and inviting school groups to participate. But when the day arrived in February 2016, nearly 100 people came, including young children and adults from around the corner and as far away as Kailua.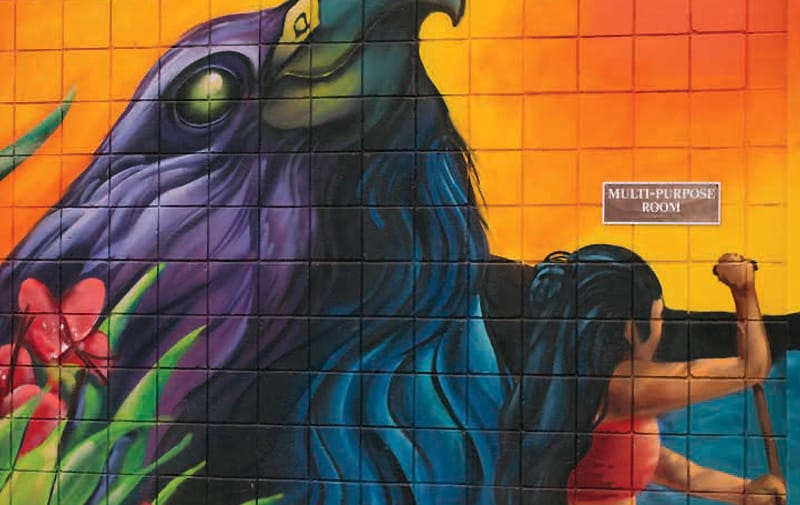 "It was the flash mob of volunteers," says Nishimura, who divided everyone into four sections, in what he termed a "color-by-number" type of approach. The kids were assigned to paint the lower wall areas while the more skilled adult painters—some of whom were professional painters and equipped with extension poles—tackled the areas that would become sky.
Over the next 10 days, local artists rotated with smaller volunteer groups, painting to an audience of store-goers and drivers-by. They would shout, flashing shakas and honking horns. Some even dropped off snacks and cold water to show their appreciation. For Nicole Kealoha, the executive director of Diverse Art, a youth driven organization and co-organizer of the Community Mural Paint Day, the support received from community members was humbling and encouraging. "The look on their faces was, wow this is beautiful, this is so great," she says.
But there was pressure, too—not only tight timelines, but also to perform. "Nānākuli is so beautiful, with its sunsets and beaches, that we wanted to make the mural as real as possible," Kealoha says. After more than 150 hours of painting, 70 gallons of hardware store paint, and 250 cans of aerosol, the mural was complete. The mural sparked excitement among the community's children. Elementary schools including Makaha and Nānākuli added murals to their campuses. The public charter school, Ka Waihona o ka Na'auao, even spearheaded a mural at Nānākuli Beach Park that depicts a golden sunset and silhouetted 'io (Hawaiian hawk), among other significant cultural symbols.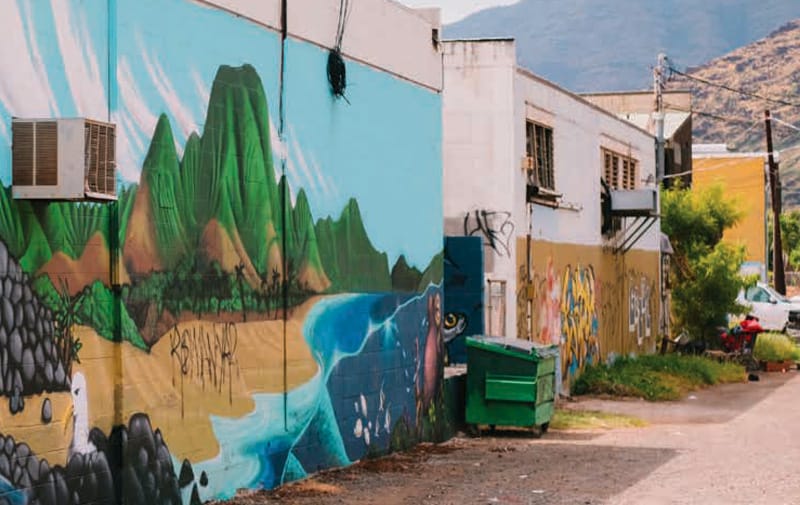 As for the wall at Nānākuli Super, in the three and a half years since the mural went up, it has hardly been touched. "It's welcoming," says Nalani Aipoalani-Tuaoi- To'oto'o, who was born and raised in Nānākuli and brought seven of her children to the community paint day. "It's telling people, come," she says, "this is actually a good place to be, a good place to shop, and we have good people on this side."
The mural is also a reminder about how art can bond communities, engender pride, and convey valuable lessons to children. "When you put the work in," Aipoalani- Tuaoi-To'oto'o says, "you've got to take care of it and you don't want anybody ruining it. It taught them to be respectful and to mālama."