At the heart of Jordan Pezel's Variable Hawaiʻi vintage collection is a love for family, culture, and style.
Jordan Pezel's home is an exercise in visual, tactile delight. In a room adjacent to the foyer, rows of garment racks hold clothes of every texture, style, and hue: bright silks and soft velvets, poplin and palaka. Vinyl records, Walkmans, and VHS tapes form a musical mise-en-scene atop a table, while a mannequin sporting a blue Western hat stands guard over Hawaiian activist newsletters and a pair of Yeezy Boost 350 Zebras. Colorful maps and posters line the walls; along the perimeter, splashy concert T-shirts share shelf space with demure cardigans. Peeking out from a far corner, stacked boxes rise to the ceiling, their contents a mystery within.
This eclectic space full of eclectic things is dedicated to Variable Hawaiʻi, Pezel's personal collection of clothing, curios, and memorabilia of bygone eras. Entering this private repository is akin to walking into a life-size kaleidoscope, each item a unique component in a vibrant, ever-shifting pattern, with Pezel at its center.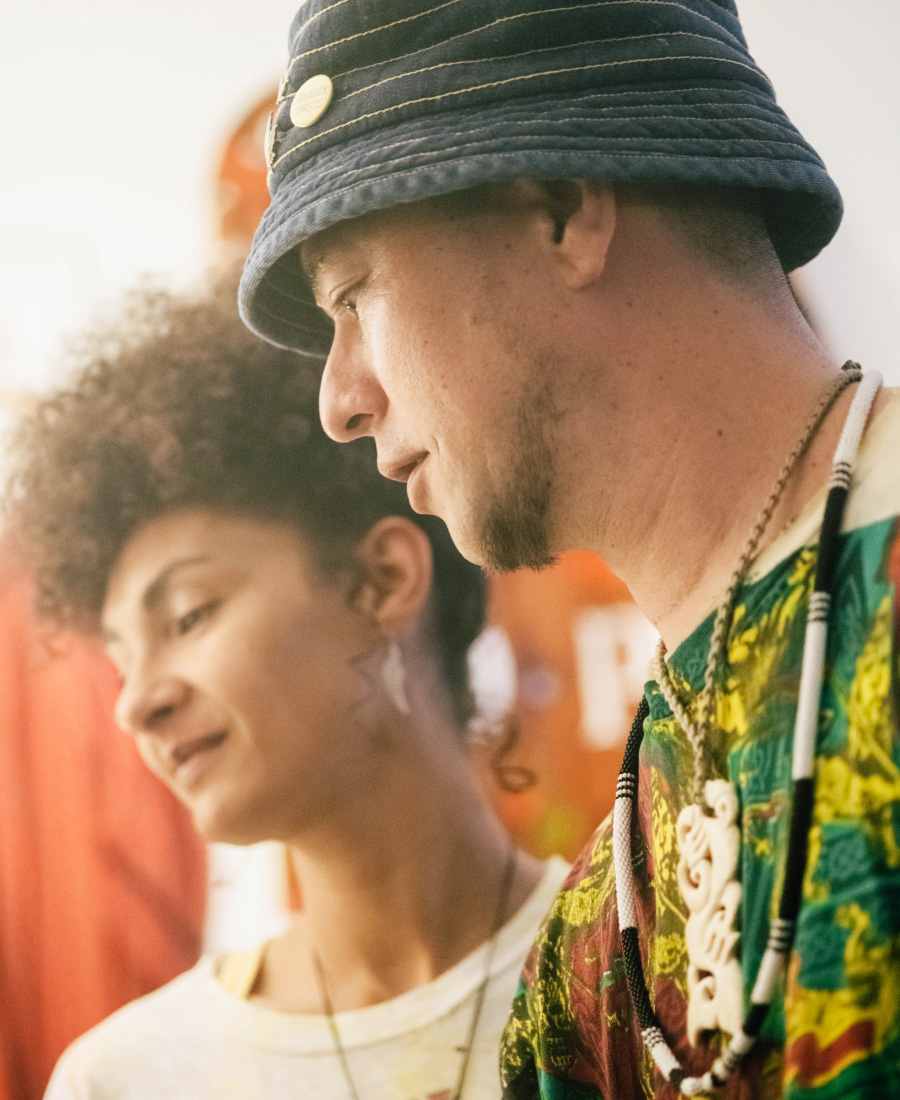 A self-described "awkward kanaka" kid growing up, Pezel developed his keen eye for fashion, art, and music through his brother, Ian. Pezel admired his big brother's aesthetic sensibilities. "He loved me, but I was probably a thorn in his side," Pezel laughs. Ian, who worked at GEM, a local department store, often brought home fashion magazines and music cassettes, introducing Pezel to a world beyond Waipahu, where they lived. The young Pezel pored through the glossy mags and whetted his musical savvy with everything from Anthrax and Fleetwood Mac to Mötley Crüe and Run-DMC. "His room was like a library—art and music were my afterschool program," Pezel says. "It kept me out of heavy gang stuff."
But growing up in public housing made adolescence particularly cruel. "You were poor, but you didn't want to look like you were poor," Pezel says, recalling the pressure he felt as a teen to dress well. It was the '90s, and by this point, Pezel was deep into hip-hop music. "We didn't have money to get the hip-hop look I wanted," he says, pauses and offering a rueful smile. "I did the five-finger discount."
Too many close calls with the law, however, prompted Pezel to abandon his shoplifting tactics. He began frequenting second-hand clothing stores and thrift shops and discovered he could accomplish the same soughtafter looks for a fraction of the cost. A knack for recognizing unique pieces soon expanded his hunt beyond hip-hop attire. Over time, he honed his "picking" skills further through meticulous research of each of his hauls. Fascinated by the influence of history and culture on fashion and art, he eschewed superficial finds for pieces that captured the zeitgeist of previous eras. "I nerded out on that kind of stuff," says Pezel, who has been thrifting for nearly 25 years. "I still do."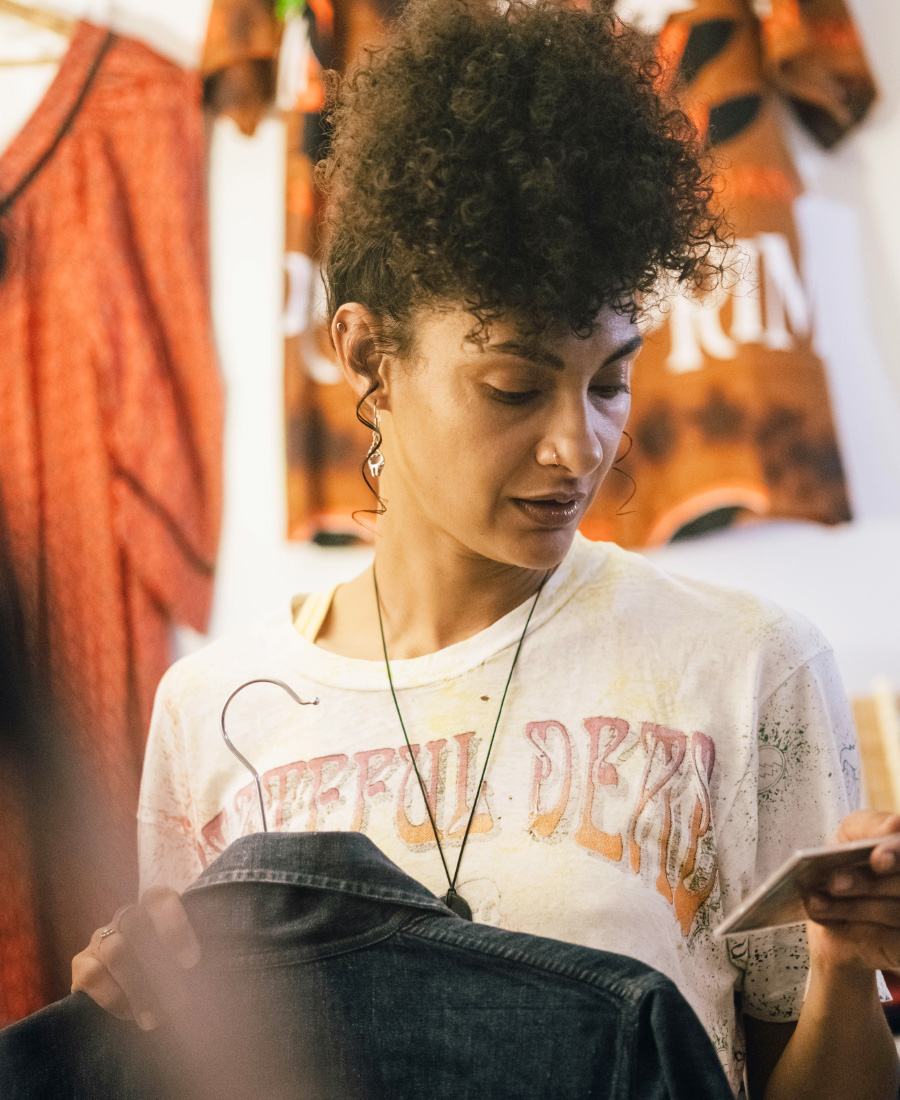 During a recent tour of his collection, Pezel navigates the space with ease, giving tidbits of history and lore as he moves through the various sections. He selects a dress shirt and points to the stitching around the button holes. "You don't see this kind of work anymore," he says, shaking his head. A moment later, he produces a Levi's denim jacket and offers a short lesson on the jacket's design provenance. Pezel's expertise has made him a respected figure in the picking world, his passion and knowledge garnering a growing fanbase of collectors, creatives, and celebrity stylists here in Hawaiʻi and beyond.
Variable Hawaiʻi feels like a living museum of sorts, its name a nod to the myriad elements that make up culture. Pezel, a curator who lives among its pieces, explains that curating the collection is a never-ending affair. "I'm constantly adding to the database," he says. "I'm always learning." For clients, especially, this is a boon when looking for something special to wear. Clothing, Pezel explains, is an extension of your internal expression.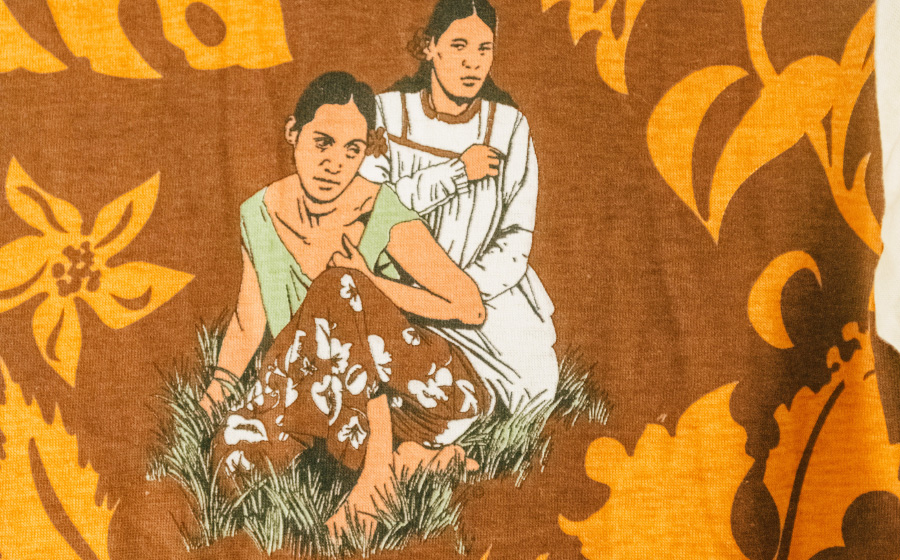 Toward the end of the showing, Pezel motions to an old photograph affixed to the wall. In the photo, a young man with long, feathered hair and wearing a black collared shirt, is looking directly at the camera, his smile breezy and infectious. When Ian unexpectedly passed away in the winter of 2001, it delivered a devastating blow to Pezel. He recalls their last conversation—Ian had called him from the swap meet, excited about a pair of vintage jeans he had found. In the wake of his grief, Pezel finds ways to honor him, looking for items his brother used to own ("or things I stole from him," Pezel chuckles) and items he might enjoy today. "He gave me this gift," Pezel says. "I feel my brother is still here guiding me."
Follow @VariableHawaiʻi on Instagram.