Miss Aloha Hula Taizha Keakealani Hughes-Kaluhiokalani and her kumu hula reflect on her triumphant journey.
As she dances along the shoreline of Diamond Head Beach, her pleated skirt dipping in the water and her hair catching the light like spun gold, hula dancer Taizha Keakealani Hughes-Kaluhiokalani radiates strength and grace. She moves under the watchful eyes of one of her kumu hula (hula teachers), Ke'ano Ka'upu, who stands nearby in the strong setting sun. He and his partner, Lono Padilla, lead Hālau Hiʻiakaināmakalehua, the hula troupe Hughes-Kaluhiokalani has been a member of since 2016.
"I'm surprised he's lasted this long," Hughes-Kaluhiokalani says about Ka'upu, giggling conspiratorially. "He hates being in the sun." It is clear the three have a familial bond, the result of years dancing together and intense hours spent preparing Hughes-Kaluhiokalani for her debut solo act at the 2019 Merrie Monarch Festival, a week-long competition that celebrates Hawaiian art, music, culture and dance. Held annually in Hilo since 1971, the competition is considered paramount in the hula world. Only the most elite hālau (hula schools) from Hawai'i and beyond are invited compete. Each halau spends months preparing to perform the requisite kahiko, a solemn, traditional dance performed to a chant and percussive beat, and 'auana, a charming, modern dance performed to a song accompanied by contemporary instruments like steel guitar and 'ukulele. It was here, too, that Hughes-Kaluhiokalani was crowned Miss Aloha Hula.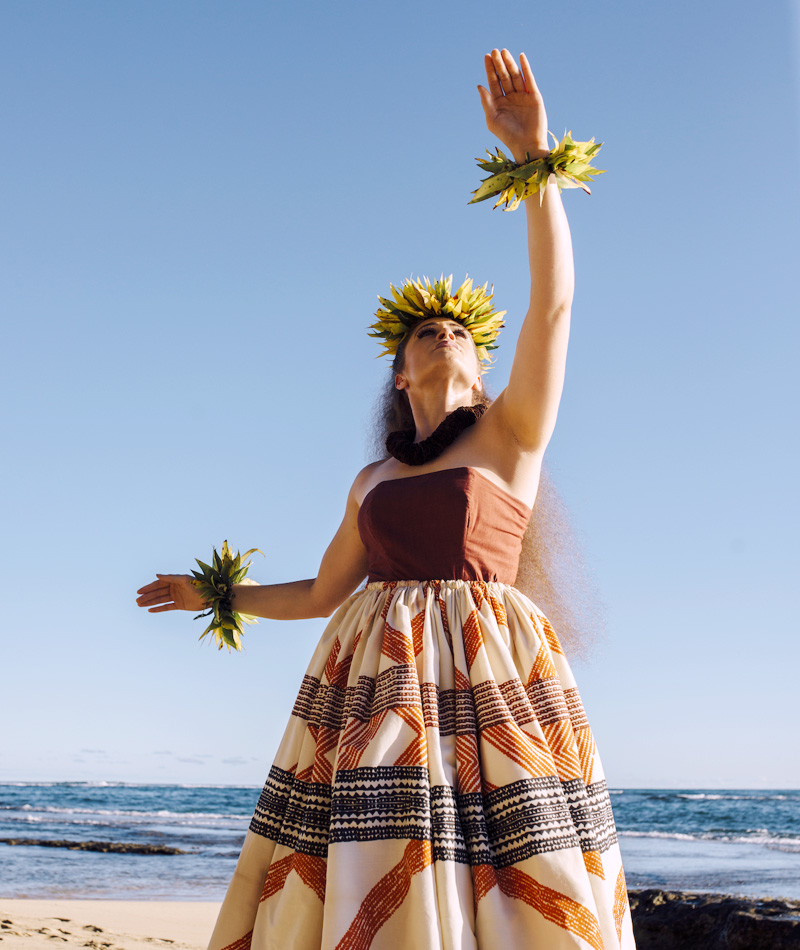 "I like to say that hula is a part of me, because that's where I found my identity," says Hughes-Kaluhiokalani, who grew up in Wai'anae. When Hughes-Kahuhiokalani was three, her mother enrolled her in Tahitian dance lessons as a means to focus the toddler's energy while she cared for Hughes-Kaluhiokalani's younger brother, who was born with special needs. By 8 years old, Hughes-Kaluhiokalani had turned her focus to hula.
Although winning the title of Miss Aloha is a great honor, it was never Hughes-Kaluhiokalani's primary intention. Instead, it was about learning as much as she could from her kumu hula, who both come from strong hula traditions. Ka'upu danced from a young age on Hawai'i Island, and Padilla grew up in a family of kumu hula on Maui. In 2008, the pair completed their 'ūniki (graduation) ceremonies to become kumu hula under Padilla's mother, Hōkūlani Holt. That same year, the duo started Hālau Hiʻiakaināmakalehua, which means "Hi'iaka in the eyes of the lehua," with just four girls. Today, the hālau has around 250 members in Hawaiʻi and 125 members in Japan.
In readying the hālau for Merrie Monarch, both Kaʻupu and Padilla believe that an alignment of purpose and values is paramount. The kumu hula help the haumana (student) with music, choreography, and costume design. All decisions are made by the kumu, as each dancer "is the vehicle to carry forth the vision of the kumu," Ka'upu says. They also aren't driven by a need to win: "We don't train for competition, we train to be a good hula dancers," Padilla says. Adds Ka'upu, "We look at training as 24-7, year-round, from the time you start your hula journey to the time you end."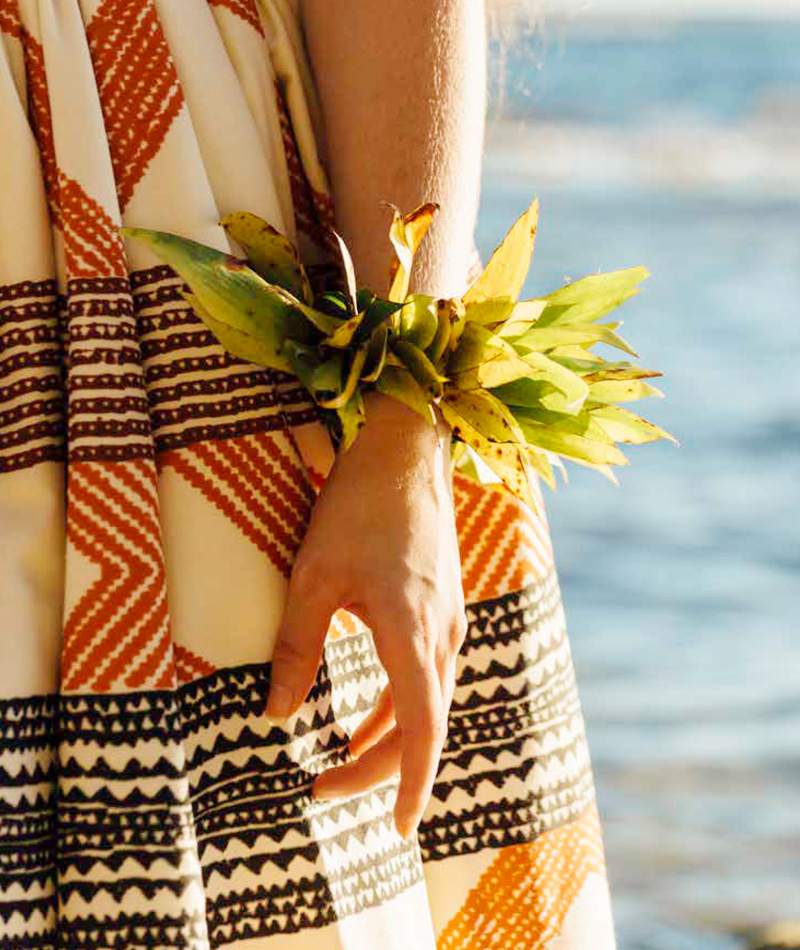 Months earlier, while choreographing the dances that would serve as Hughes-Kaluhiokalaniʻs solo performances, Kaʻupu and Padilla had asked about her native lineage. They were impressed by her family's ample documentation and the importance of the people mentioned. Though her family knew about their royal ancestry, they were protective of the information and hadn't taught Hughes-Kaluhiokalani about it while she was growing up. For Hughes-Kaluhiokalani, the opportunity to learn about her heritage through her kumu was a blessing. "I've learned a lot about those people in my documents. They are in my chant, in my mele, and being able to dance about them and present about them on that stage was a magical thing to do," she says. "For the first time it felt like I know who I am not just as a Hawaiian but as a descendent of them."
On the night of the soloists' competition in April, Hughes-Kaluhiokalani carried the weight of her ancestors' stories with her. She introduced her kahiko performance with an oli (chant) about the royal lineage of Līloa, an ancestor of hers from Waipi'o Valley on Hawai'i Island. Her 'auana was danced to a mele (song) about the love story between Līloa and 'Akahikuleana, a woman of a much lower status, and the son, 'Umialīloa, who was a product of their love. Hughes-Kaluhiokalani's presence during those performances filled the stage and and reached 5,000 people in that stadium—a talent, explains her kumu, that takes "a special kind of dancer."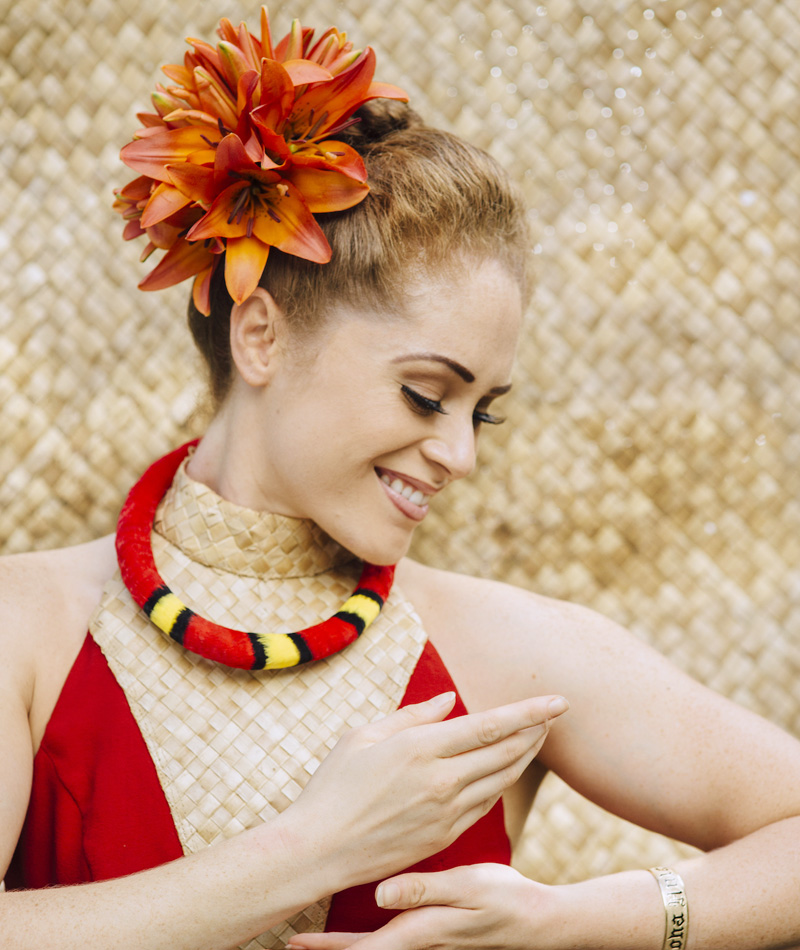 To know she had a purpose beyond winning is music to her teachers' ears, because, as Ka'upu points out, winning Miss Aloha Hula is a lot about luck, as all contestants at that level are exemplary. But he is quick to define the most noteworthy characteristic of Hughes-Kaluhiokalani's dancing. "The thing that grabs me is that she's expressive," he says. "Hula is nothing if there is no emotion."
Hughes-Kaluhiokalani listens attentively when her kumu speak. When she speaks, she's measured and eloquent. Contrary to what her emotional stage presence may imply, in person, she's a "shy violet," as her kumu say. As Miss Aloha Hula, she serves as an ambassador for Merrie Monarch for the year, a challenge for such a private person. "I realized that everyone was watching and I am constantly under a microscope," she says. "I hope to inspire not just with my dancing but in life as a person. I think there is so much more to being Miss Aloha Hula than being a dancer. It starts with who you are as a person and what your outlook is on life and what your purpose is."
More about MerrieMonarch.com