I've always been bound to the water. When I was about 3 years old, my mom strapped a leash on my hand from a boogie board and let me play in the shorebreak at Mākaha. Right around then, I also got my first surfboard. A year later, I did my first surf contest, Aunty Rell Sunn's Menehune Surf Contest in Hale'iwa. Finally, at 8 years old, I was allowed to ride my bicycle to the beach to surf on my own.
"The ocean became my sanctuary. It became a place to run away from life, to just live in the moment and in that element—that was a hugely positive thing for me."
At 16 years old, I started doing pro events in longboarding. At the time, my mom didn't want me to be a professional surfer; she wanted me to go to college and everything else. It was a big weight on my shoulders, but it motivated me: I said I was going to be a pro surfer, and I became one.
Over time, I had seven children. All I want for them to be is one with the ocean. I want them to know it and to have it as part of their life as they age—turn to it as a source of wellbeing that helps them mentally, physically, and spiritually. To be one with the ocean means to have your eyes and ears open, waiting to hear and see and feel what it wants to tell you that day. When you're out there in the water, the rest of the world is irrelevant. When you're in the water, you spend most of your time being in the moment, because the ocean fully surrounds you. The ocean is this big equalizing moment. Your body goes into a state of clarity. You're now seeing and hearing things that you'd normally be distracted from on land. I've been in the ocean for 36 years, but every time I get in it, I still learn something new, notice a detail I didn't see before, picking up more knowledge. Collecting, collecting, collecting.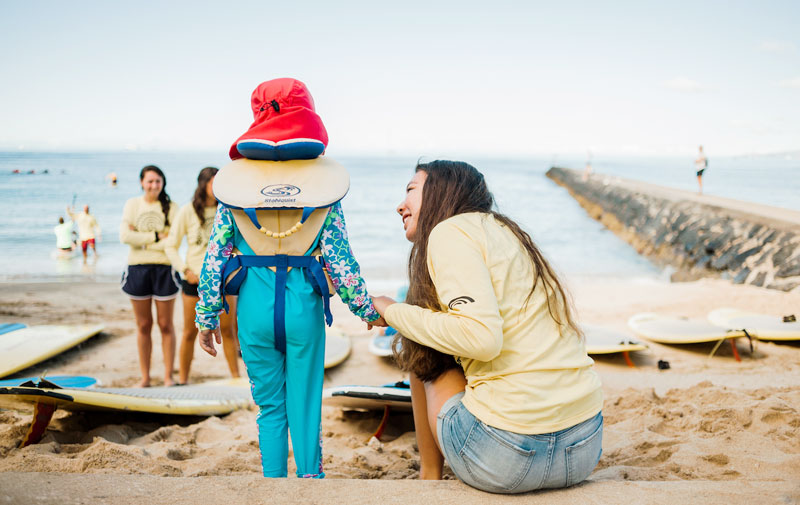 My kids have all been raised in Nā Kama Kai, a nonprofit organization I started six years ago. It was important for me to create islandwide programming for underserved keiki because, after traveling all over the world for surfing since I was 16 and seeing all these great places, I began to realize a lot of our community members don't leave their own little towns. They remain isolated to where they are, sometimes fearful of people from other parts of the island. And our children are not getting the privilege of living beside the ocean that people from around the world think they do. Everyone thinks everyone from Hawai'i is a good surfer or a good swimmer, but the truth is less than 40 percent of children here know how to swim, and less than that know how to be in the ocean safely.
We've grown so much. It's amazing. Last year alone we worked with more than 4,100 children and accumulated more than $115,000 worth of volunteer service. We've expanded to bringing our free ocean clinics to all six moku, the traditional subdivisions of O'ahu—Hale'iwa, Waikīkī, Kāhana, Pōka'i, 'Ewa, Waimānalo—twice a year. A big focus for us is helping keiki understand they're from this bigger island, not just their own backyard. It's important for them to realize that bigger picture at a young age, and the kuleana, or responsibility, we all have to each other and these places. At Nā Kama Kai, it's holistic. You learn about culture and ocean safety, and have actual hands-on experience of both. But you also learn about your responsibilities to the ocean, how to take care of it. You don't just get to play in the ocean and not understand your responsibility to it, yourself, and the environment. It's full circle.
A professional surfer from Mākaha, Duane DeSoto is the founder and CEO of Nā Kama Kai, a nonprofit organization that brings ocean-based safety and conservation programs to Hawai'i's youth.
Learn more about their ocean clinics at nakamakai.org.