The student-run Scrappahz Union 96792 finds purpose in repurposing through bokashi composting and cardboard reuse.
On O'ahu's West Side, a group of eco-minded high school students are bucking the long-running local stereotype that teenagers from this part of the island just want to "scrap," or start fights. Guided by Michelle Pieper, Nānākuli High School's Hawaiian language teacher, Scrappahz Union 96792 is not only diverting cardboard from landfills and leading the first community compost effort on the West Side, but also teaching wastediversion techniques to others. "Yeah, we do wanna scrap," Pieper says. "We want your food scraps, your cardboard scraps, whatever you got."
It all began with an idea to do something useful with school lunch leftovers. During the early days of the COVID-19 shutdown in 2020, Pieper started researching the rubbish-toresource benefits of bokashi, an efficient compost method that uses anaerobic bacteria to break down organic matter, including meats, dairy, and fats. Unlike other composting styles, bokashi needs no aeration or water, doesn't release carbon dioxide and methane, and is relatively odor free. After discovering that all the food waste from the school's cafeteria had been going straight into the trash prior to the shutdown, Pieper recruited other educators who saw composting as an extension of the school's aim to foster stewardship and service-learning opportunities rooted in Hawaiian values.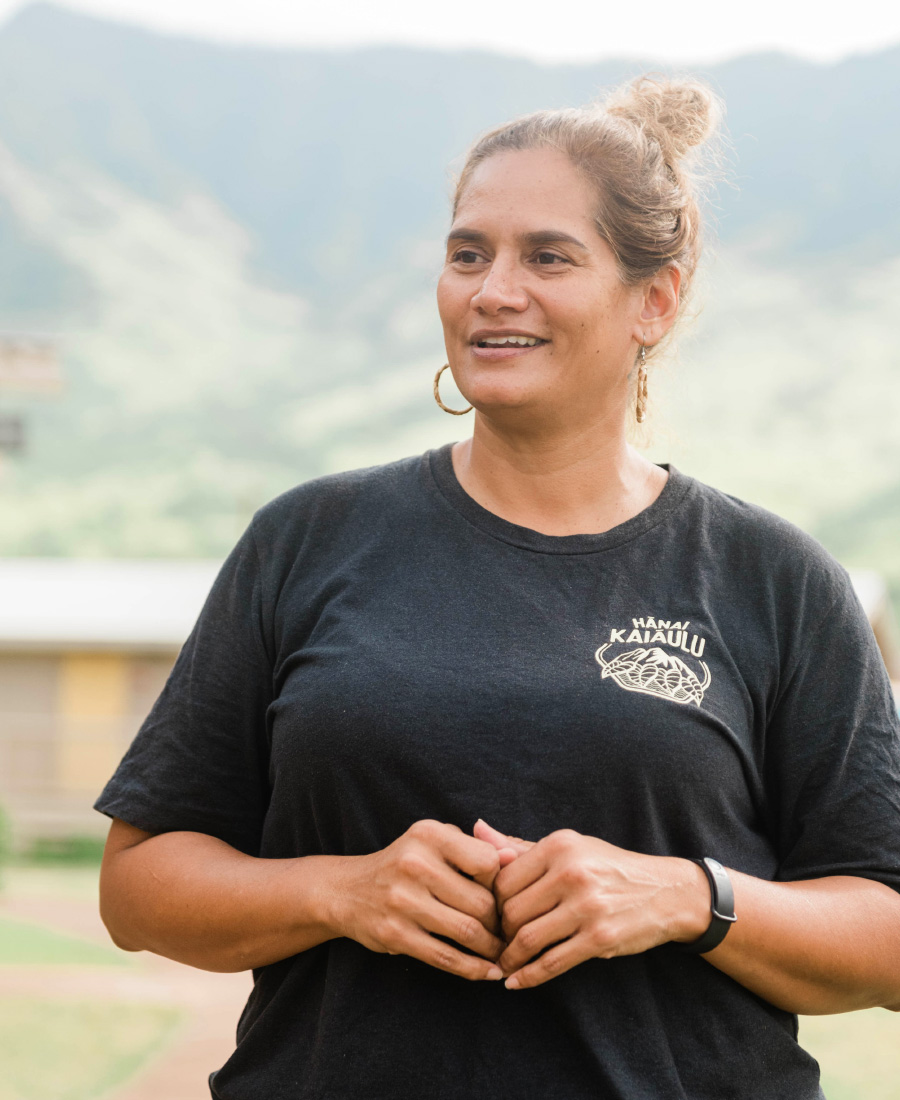 Pieper got a crash course in bokashi bucket-making from founders of the North Shore Community Compost Movement and reached out to Circlepack Hawaiʻi, a Hawaiʻi Island business that turns cardboard into compostable packaging, for mentorship on how to integrate cardboard recycling into the classroom. She created a nonprofit, Hānai Kaiāulu—Hawaiian for "caring for community"—to fund the in-class bokashi work, cardboard shredding, and extracurricular outreach, and began to fold bokashi lessons into her online classes. Through the spring and summer of 2020, Pieper took curious students to farms and community gardens to glean the intricacies of composting and cardboard recycling. When COVID restrictions loosened in 2021, Nānākuli's young eco-warriors started sharing what they had learned by giving presentations at schools and community spaces like Ho'omalu o Na Kamali'i youth shelter.
Today, all Nānākuli High School students who enroll in the Hawaiian language elective—around 120 students currently—make bokashi compost, repurpose cardboard, and study zero-waste practices. The kids take turns collecting food scraps from the cafeteria during their lunch breaks and add the scraps to bokashi buckets back in the classroom. They sprinkle the bokashi mixture—water, molasses, wheat bran, and microorganisms— between two-inch layers of food, which incites fermentation. Then, the buckets full of nutrient-dense compost are transferred to the outdoor compost bin or given away to students of Ho'opulapula Academy, an 'āinabased (land-based) education program on the shared campus of Nānākuli High and Intermediate School. When there's cardboard on hand, students strip any tape and staples, feed the scraps into the shredder, and fashion biodegradable planters and packing materials from the resulting corrugated sheets.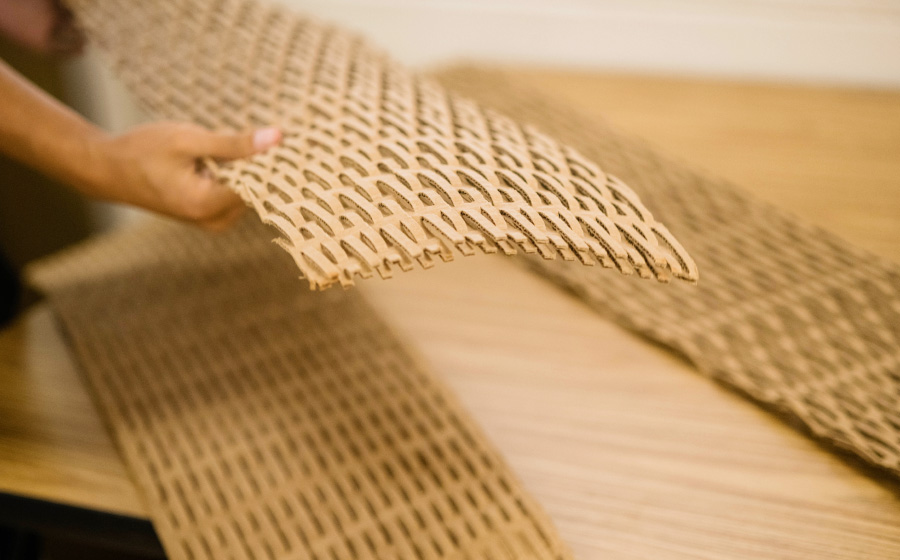 Scrappahz Union 96792 evolved from a small cohort of Pieper's students who dedicated their free time to growing the compost and recycling movement in the larger community. As more kids began to embrace the zero-waste mission, they took the reins for organizing events, forming partnerships, and sharing their message with more schools and clubs around the island. The members chose a name that fit their fierce devotion to protecting the 'āina (land) and added their ZIP code to let all West Side students know they are welcome to join.
One weekend each month, Scrappahz Union 96792 hosts Sustʻāinable Saturdays, a cardboard-shredding day held on Nānākuli High School's campus, where the public can exchange cardboard scraps for CSA (Community Supported Agriculture) boxes. Farmers donate fresh produce and other food items for the boxes and, in turn, receive cardboard sheeting—useful for trapping moisture under plants and fruit trees and lining rabbit and chicken beds. In December 2022, Scrappahz Union 96792 won $25,000 in the American Savings Bank KeikiCo business plan contest, enabling the crew to expand their outreach efforts—and help other schools, including Nānākuli Elementary, Kapolei High School's Ho'ola Leadership Academy, and Hawaiʻi School for the Deaf and the Blind, start their own zero-waste programs.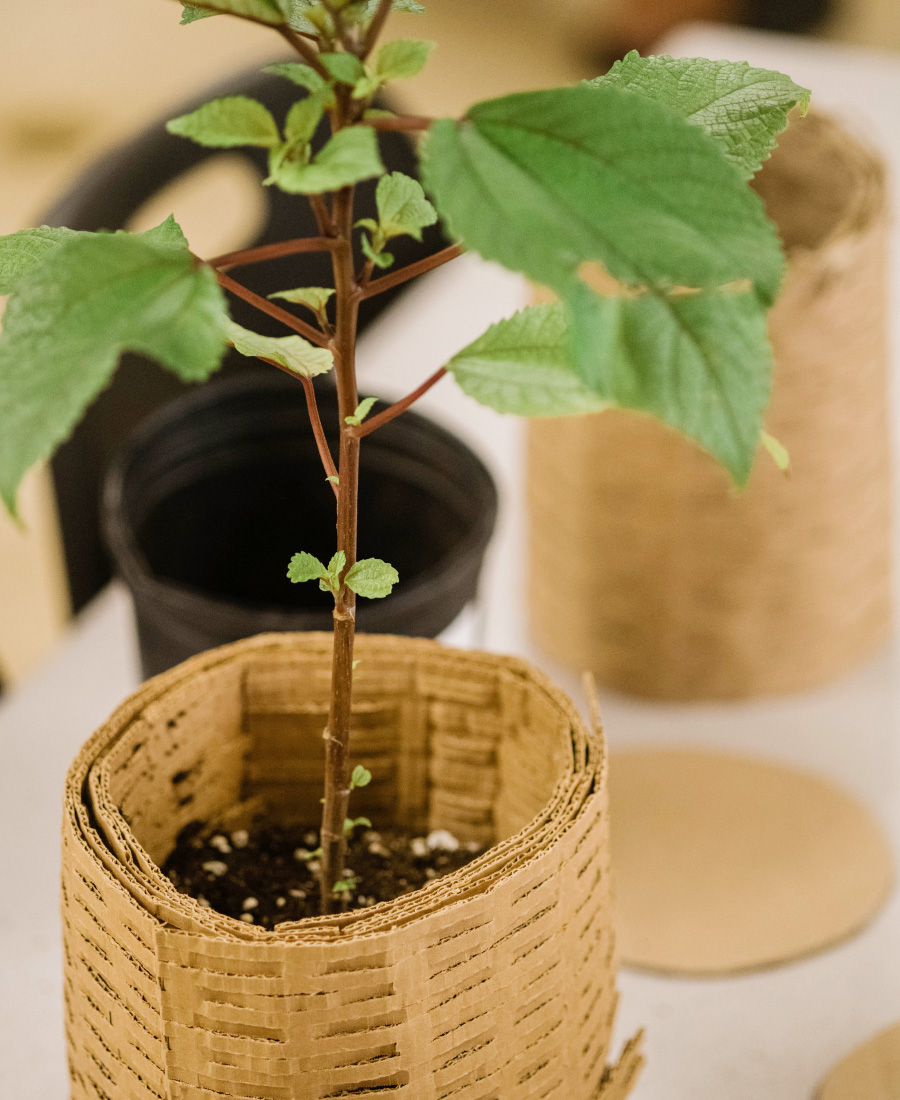 Together, the sustʻāinabilityfocused curriculum and the actions of Scrappahz Union 96792 are creating momentum in normalizing composting and cardboard recycling on the West Side—and helping the high school's predominantly Native Hawaiian students connect with their roots. "I tell my kids, 'Your greatest kuleana (reciprocal responsibility) is to be a good kupuna (ancestor),'" Pieper says. "The fact that you are sitting in my classroom means your kūpuna (ancestors) survived many obstacles, and there's an expectation to care for the 'āina … so we are all going to leave some cookie crumbs behind for the next generation."
Get involved, follow @Hānai Kaiāulu and @Scrappahz Union 96792 on Instagram.