"We are still evolving the role."
Every fisherman has an epic tale of a fish they've landed. But for Jared Chang and Ryan Houser, landing epic jobs have been the best stories yet. Both men are Mina's Fish House's fish sommeliers—the first two in Hawai'i and perhaps the world—known to hold this title.
Fishing and diving have long been defining features in the lives of Jared Chang and Ryan Houser. In elementary school, Chang squirreled away his lunch money in order to buy lures and poles; as a high schooler looking for a first job, Houser set his sights on Hana Pa'a, a local fish and dive shop. When the two met as teens, their shared thrill for fishing made for an easy connection.
With decades of fishing experience between them and a friendship that began in the water and now continues to the restaurant floor, Chang and Houser use their expertise to teach guests the difference between a moi (Pacific threadfin) and a kampachi and help guests select fish best suited to their palates. On a recent afternoon, the two sat down before the dinner rush to talk story about what it is like to be Hawai'i's first fish sommeliers.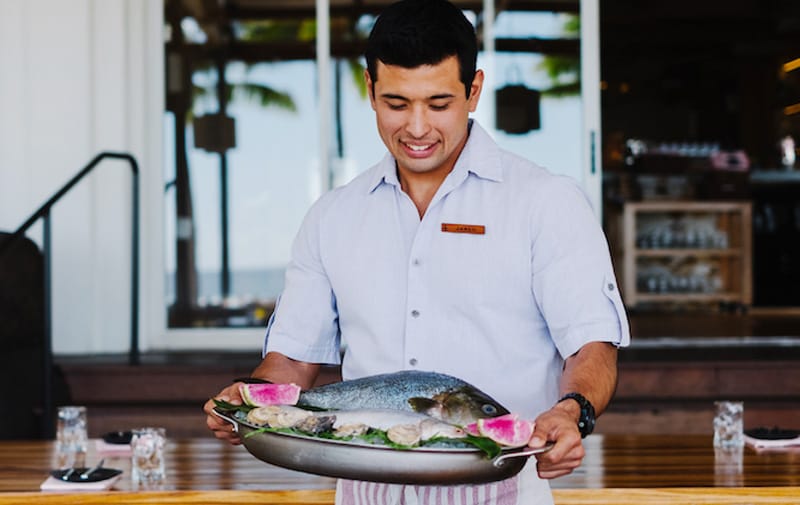 What was your initial take on Chef Mina's idea of a fish sommelier?

JARED: I thought it was unique, but weird. I didn't think it was going to work. But in watching chef [Michael] Mina and his passion for fish, I knew there was a future. This was an opportunity to create something out of nothing, something that no one else had done before.

RYAN: At first, I thought it was absurd. For wine sommeliers, you have to have a lot of training and go to school. But, a fish sommelier? So then I thought, OK, I know a lot about fish—I don't know everything about fish—but I do know a lot. Because I'm so passionate about fish, the job seemed perfect.
What is the reaction you receive when you say that you are a fish sommelier?

JARED: A lot of confused looks. Especially my family, they had no clue what I was talking about. They found it kind of funny. I always have to explain in detail what I do in the restaurant and how we are still evolving the role.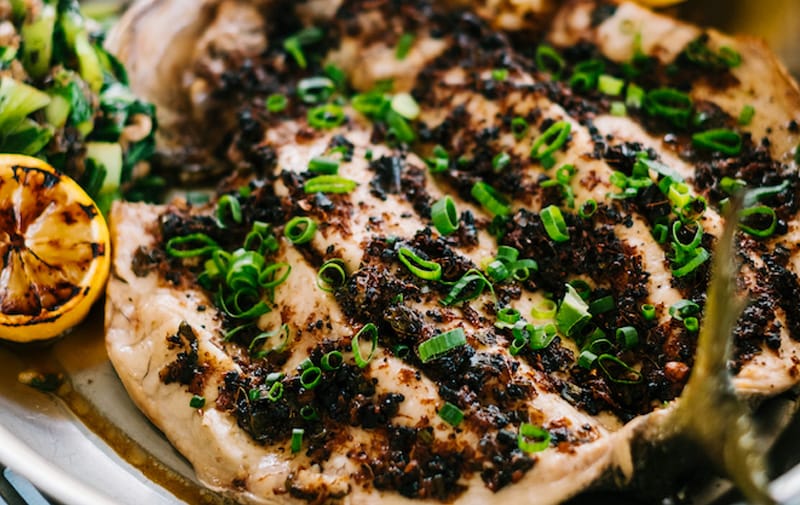 Is "sommelier" the correct term to describe what you both do?

JARED: As a role, I think it's very comparable. Wine is a key part of culture. People have different palates, and a wine sommelier wants to give that ultimate experience of having that beautiful bottle of chardonnay, for example, paired with something the guest enjoys. It's the same thing with fish. People taste fish differently. In this idea, as fish sommeliers, we're on the floor trying to provide guests with the greatest experience with fish.
Wine sommeliers are known for their extensive, beautiful vocabulary. What kind of descriptors do you use?

RYAN: It depends on what type of fish you are going for and what type of preparation—raw versus cooked. Hamachi, for example, has a slight crunch to it, but still melts in your mouth.

JARED: I try not to say "fishy." Instead I'll use descriptors like "sea-forward," "sea-driven," "briny-flavored." Texture-wise, I'll say "softer," or for larger fishes, like tuna and swordfish, "dense." I try to avoid "firm" because people get driven away from that.
What do you most respect about each other?

JARED: Ryan is knowledgeable and someone who cares about the details. Aside from all the knowledge—the flavors, the textures, the way fish is prepared—Ryan has a personality where he treats the guests as friends and tries to get to know them on a personal level. When I first met him, we were joking and laughing at each other hours after we met.

RYAN: His passion for fishing. A lot of people are still trying to find out what their passion is and Jared already knows exactly what he wants to do for the rest of his life. And he excels at it. I don't see a lot of people his age catching ulua the way that he does. When the fish are going to hit, the bait he needs to use, it's all in his head.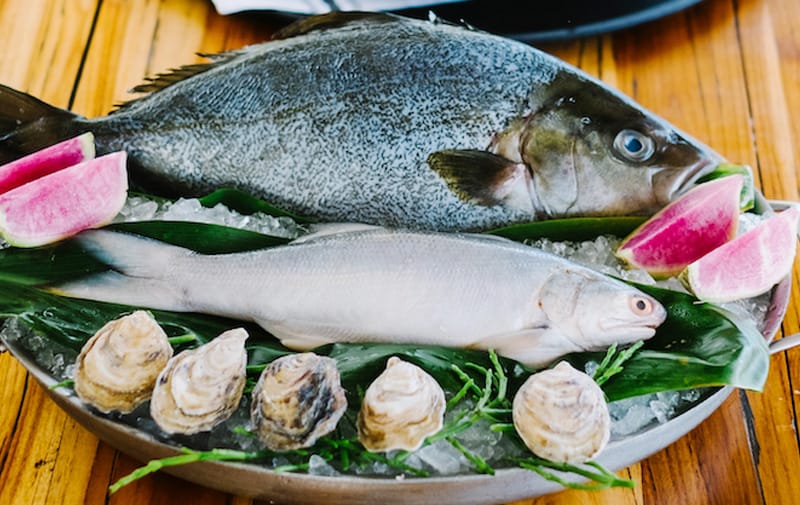 Who have been influential forces in your lives?

JARED: My uncle was an avid fisherman who would always take me fishing and diving. He was definitely a resource.

RYAN: I never knew my Japanese grandfather well, but I found out that he was a really good fisherman. He was unique. I keep putting pieces of his life together little by little. Fishing helps me to connect to him.
Let's say you are going to a party. What is the other person bringing?

RYAN: Jared's good at catching any kind of fish he wants to go for. If he's going from shore, he's really good at catching 'ō'io (bonefish) for making fishcake or lomi 'ō'io (mashed preparation). Or he'll bring fried menpachi and pickled onions. Oh, pickled onions. I get so excited every Christmas when I go over to his house.

JARED: Ryan's famous for his poke— uku (Hawai'i blue-green snapper) or yellow-spot pāpio (an ulua that weighs under 10 pounds), or maybe a kūmū (goatfish) steamed Chinesestyle over the hibachi. He's always experimenting. In his spicy poke, he only uses chili pepper.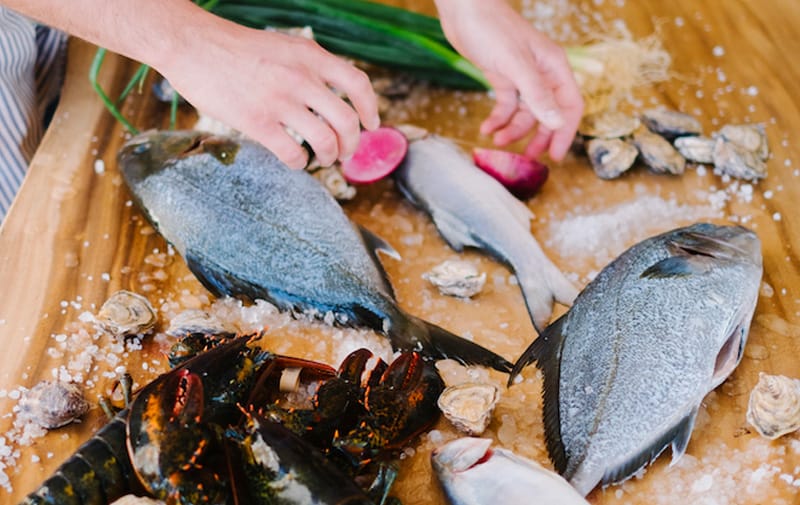 What are highlights of this job?

RYAN: Jared's the first fish sommelier in the world. I'm the second. What a better place for this than Hawai'i, where we're surrounded by water? Our daily lives are in the water, fishing and diving on days off, or even having our gear packed so we can go before work or after. It's a unique position in the sense that it is so oriented to our daily lives. Don't get me wrong, I'm not saying that it is not hard work. But to me, it is not even a job, it is a passion.

JARED: Every day in the hospitality industry, there's always something new. You get to see people from a different side of the world and place yourself in their shoes and see what it is like to be in their culture or get to know their perspective on life. My favorite part of this job is to get into their world and get to know them well and then give them my best Hawaiian experience. Some people have never seen the ocean or been in the water, and just being able to meet people like that gives me a drive to give them that best experience. Even though it's a dining experience, it's so much more than that. It's showing them what we're are all about here in Hawai'i.
Let's test out your sommelier skills. Jared, the special tonight is....frozen fish sticks. Can you upsell it?

JARED: (Groans, then laughs) I'm sorry, chef, I respect you as my own manager. However, I cannot lie to a guest about what this fish is. Even if they loved it, that's not the point. The point is I can't sell something I don't even know.
Ryan, we just flew in something special: Swedish fish...the candy.

RYAN: Well, today we have our Swedish fish, it is a delicious prize and treat that you've never tasted before. It's one of my favorites. There's a nice gummy texture to it— but please don't be thrown off by it. The sweet and tart taste at the end will make you want more and more. You're not going to want to stop. You're going to have this whole bowl and it's not going to be enough.

JARED: Sold!