Meet the West Side wāhine who seek the sea for sustenance, camaraderie, and self-worth.
In this photo essay, follow the daily adventures of these faithful fishers, from sunrise to sunset.
In Hawai'i, fisherwomen are a small demographic, representing 17 percent of ocean recreationists holding boat safety certifications. They encounter the same trials and triumphs out on the ocean, and like their male counterparts, are eager to test their mettle. Gender stereotypes quickly sink in the midst of Jess Rohr, Tasha Ferriman-Denison, and Rhonda Ferriman. "There are a lot of strong women out there leading the way, but we still get messages from society that women aren't capable," says Rohr, one of the captains for Boom Boom Sportfishing, a deep-sea fishing charter based out of Wai'anae Harbor. "It's nice to shut that idea down and believe in yourself. It's empowering.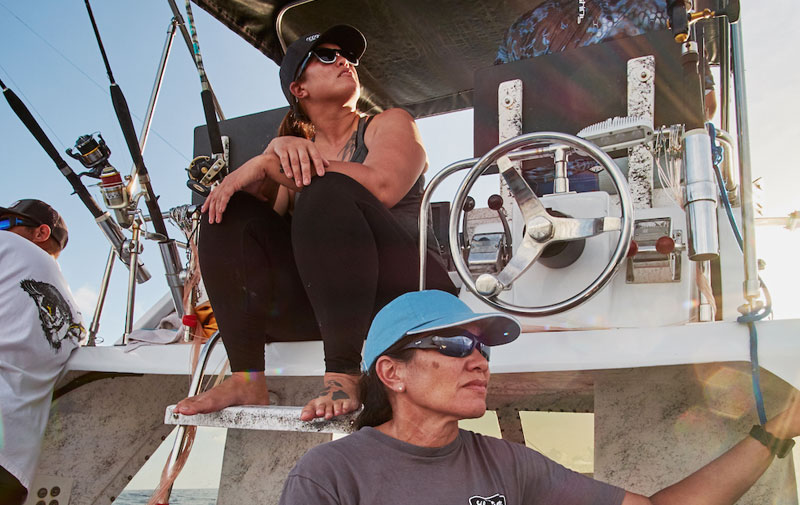 From sea, the Wai'anae Mountains cut a striking line of green and gold against the sky. "The West Side's bathymetry, or underwater topography, is steeper and drops off more rapidly than other locations around O'ahu," explains Jamison Gove, a NOAA oceanographer. "This allows for fishers to trawl for pelagic fish, such as tuna and marlin, much closer to shore." Weather also plays an important role. Windy, choppy conditions are a bane of fishing, but since the dominant winds here in Hawai'i are Northeast trades, the Wai'anae Range blocks much of the wind. The result? Brilliant blue waters and boast-worthy fishing grounds.
Long known for its plentiful waters, Wai'anae means "waters of the mullet" in the Hawaiian language, and fishing remains a rich tradition for many who live there. Here, Hawai'i fishers are blessed with year-round action. Each fish species has a generalized season influenced by spawning, moon cycles, and migratory patterns. Winter months typically see fishers angling for shibi (small tuna), while spring brings striped marlin, mahimahi, and ono, and summer marks the arrival of 'ahi, the locally prized fish that can weigh hundreds of pounds. The luckiest of fishers can catch all of these fish in one day.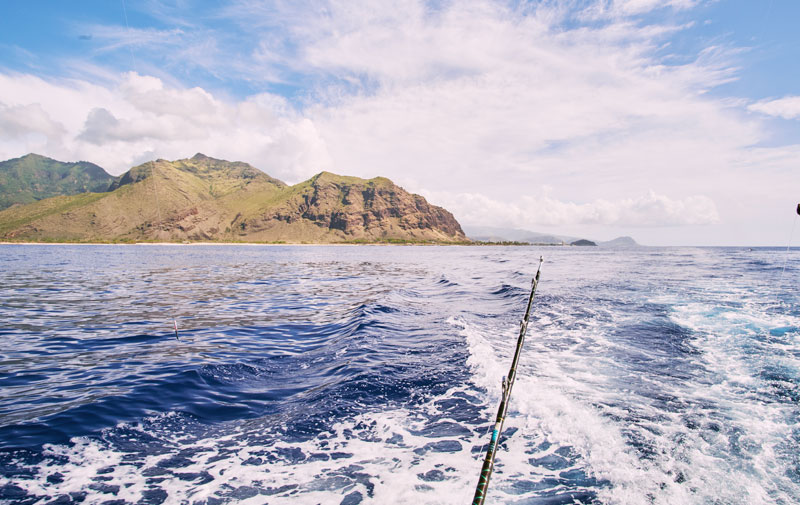 Fishing runs in the family for Ferriman-Denison: Her father taught her how to fish the shoreline, crab, and troll when she was a child. "I loved trolling—when we hooked up, I would jump in the captain's chair and drive the boat while my dad would fight, gaff, and land the fish," she recalls. Despite the brutal task of delivering the final killing blow, young Ferriman-Denison was thrilled by the palpable action and excitement of fishing. Years later, her daughter, Tasha, shown above, heeded the sea's siren call, and today, mother and daughter fish together. "I love to fish with Tasha. She's the captain, and I go where the captain goes," Ferriman-Denison says.
Every fisher has an epic tale of the one that got away. For Rohr and Ferriman-Denison, however, it's the one that didn't. Launching out from the harbor one fall morning, the two friends set lines and settled in for a day at sea. They kept themselves busy prepping bait and rigging lures. Suddenly, a reel zinged: It was a blue marlin. The women sprang into action. For the next two hours, a battle ensued. Determined to land the fish, the two worked together and prevailed. It was a veritable leviathan, a 400-pounder. "We both discovered strength we never knew we had," says Ferriman-Denison, who later commemorated the experience with a tattoo of a jumping marlin.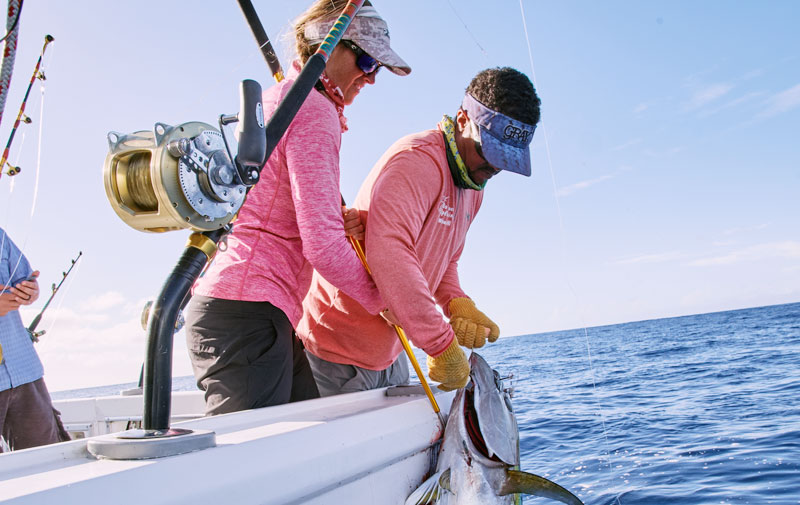 The night before a dawn patrol excursion, Ferriman-Denison has a standard routine: Weather forecasts are scrutinized, poles and reels greased, lures and hooks readied, and ice—a minimum of 200 pounds worth—is packed onto the boat. The following morning sees a quick fuel-up at the gas station before launch. By sunrise, Ferriman-Denison and her crew may have already motored 25 miles towards the horizon, ready for any and all action.
Fishing is a study in patience and perseverance, punctuated by bouts of frenzied activity. Though the thrill of cranking poles and landing big fish fuels the passion, it's the long spells of sea-based solitude that soothe the soul. "Being on the water gives me the sense of being one with the water," Ferriman-Denison says. "It's my happy place, whether I am catching fish or not." Echoes Rohr, "I can leave the worries of land behind."