Source: press.fourseasons.com
'Tis the season to celebrate the holidays in Hawaiʻi with unique programming the entire family will enjoy – from skateboarding camp to guided meditations, stargazing and culinary experiences.
Four Seasons Resort Oʻahu at Ko Olina, an award-winning oceanfront resort on Oʻahu's tranquil western coast, announces a festive lineup of bespoke special events and activities to celebrate the holiday season. Between December 22, 2023 and January 7, 2024, guests are invited to celebrate holiday traditions and immerse themselves in the magic of the season, featuring an array of experiences ranging from Polynesian hula performances and guided healing meditations to kid-friendly skateboarding camp and movies under the stars. 'Tis the season – and time, to embrace a warm escape to paradise this year.
Nestled in the breath-taking surroundings of Ko Olina, Four Seasons Resort Oʻahu offers an idyllic backdrop for a tropical holiday retreat. Whether for a family adventure, romantic escape or friends-giving, the Resort's seasonal offerings are designed to create unforgettable memories. Highlights include:
Special Events
Poke Culinary Demonstration
• December 21 and December 28; 2:00-3:00 pm
Join Chef Michael Arnot as he demonstrates how to make poke, a staple in Hawaiʻi, using a variety of fresh catch. Poke, which means "to slice or cut" in Hawaiian, refers to cubes of raw, marinated fish, which is then tossed over rice and topped with vegetables and umami-packed sauces.
Noe Mixology Class
• December 21, December 28 and January 4; 3:00-4:00 pm
Sip, shake and stir things up with an engaging mixology class at Noe bar. From gin, bourbon and rum to mescal and tequila, the experienced Noe bartenders explore different ways to prepare various spirits during the intimate one-hour lesson.
Story Time with Mrs. Claus
• December 24; 7:00-8:00 pm
On Christmas Eve, join Mrs. Claus under a starry sky on the Hokulea lanai for an evening of hot chocolate and holiday stories.
Santa's Visit and Keiki Party
• December 25; 9:45 am – 12:00 noon
Santa's stopping by paradise after a long journey around the world. Join him for family-friendly activities, including hot chocolate, holiday crafts, jumping castles, and more will be offered at the keiki holiday event.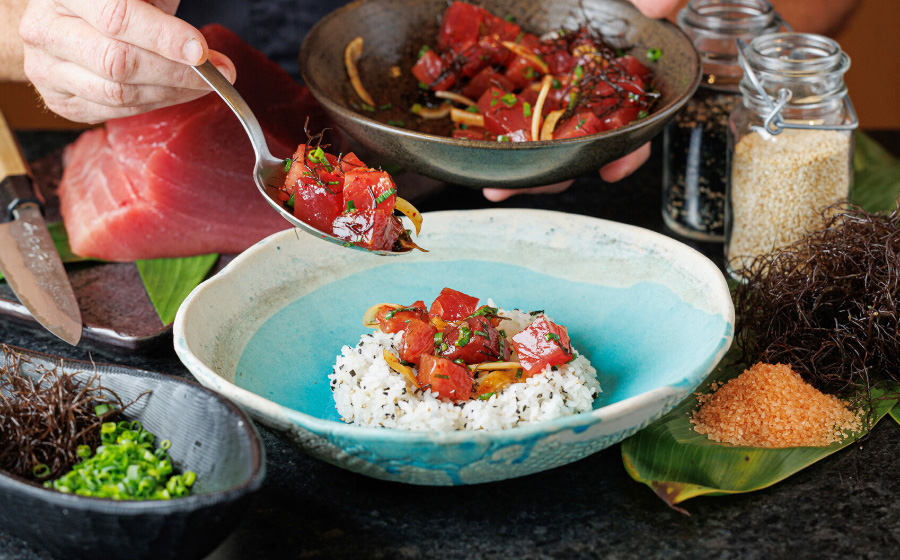 Movies Under the Stars
• December 26, and January 2; 6:00 pm
Under a starry Hawaiian sky, sit back, relax and enjoy a movie under the stars on the Ocean Lawn.
Hula Performance by Ke Kai O Kahiki
• December 28 and January 4; 5:30-6:30 pm
With a stunning backdrop of the Pacific Ocean, join Kumu Hula La`akea Perry and Hālau Ke Kai O Kahiki, an award-winning hula hālau based in Waiʻanae from the west side of Oʻahu. Enjoy live music, hula, fire knife dancing, and much more.
All Aboard! The Ko Olina Express
• December 29; 1:00-2:00 pm
All aboard the Ko Olina Express! Join Four Seasons for a scenic and festive train ride with Hawaiian Railway Society. Learn about the history of the railways in Hawaiʻi, including the sugar trains during the sugar plantation days, while taking in the beautiful ocean views. There will be plenty of holiday cheer and a sweet surprise. The ride is complimentary.
Artist in Residence: Art Demonstration with Nick Kuchar
•December 29; 10:00 am - 1:00 pm
Join Nick Kuchar, Four Seasons Artist in Residence, for an open-house style artist demonstration and meet-and-greet.
New Year's Eve Celebration
• December 31; 9:00 pm – 12:00 midnight
Ring in the New Year in paradise. Enjoy musical entertainment at the Ohana Pool and countdown to 2024 with family and friends. Cheers to a happy and healthy year ahead.
In addition to the Resort's special holiday programming, the ongoing weekly workshop series, #FSWAYFINDERS, is also available for guests to experience. The program includes a collection of on-site artisan-guided workshops to allow guests to discover first-hand the culture, art, and experiences that make Hawaiʻi unique. Offerings include lauhala weaving, hula lessons, astronomy and stargazing, haku flower crown making, and more.
View Four Sesons O'ahu Festive Brochure


Four Seasons Resort O'ahu at Ko Olina
92-1001 Olani St, Kapolei, HI 96707
For Reservations Contact +1 (808) 679-0079
Visit: fourseasons.com/oahu/
View All Room Offers