Drawn to the spiritual and elemental energy of Hawai'i, a copper artist sculpts large scale pieces with peaceful messages
Far back in Wai'anae Valley lies an oasis of calm and abundance that copper sculptor Muthukumaru Sooriyakumar calls home. The largest stalks of apple bananas I have ever seen bow low to the ground next to mango trees bursting with deep-purple fruit. Young, seasonal farmhands wade through waist-high kale, collecting food for the communal dinner. Sooriya, as he is called by those who know him, walks barefoot among the foliage. He leads me through the maze of his farm, Mouna Farm Arts and Cultural Village, tending to small altars tucked under the trees as we pass, until we reach his workshop. Sheets of copper and rolls of sketches stand next to photos of the gurus, yogis, and family members who have led him through life.
"Before any work, I bless the piece of copper," Sooriya says. "While I work, I chant mantras. Spirituality and art are inexplicably linked, and my work is intended to inspire the divine in people's hearts."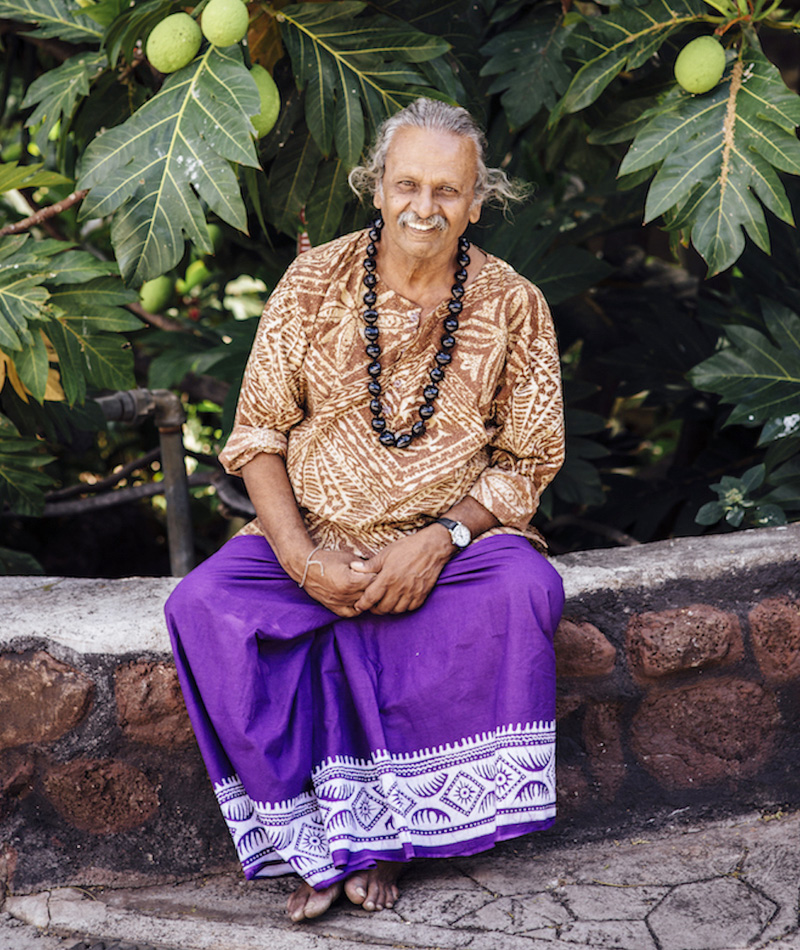 Sooriya grew up in a prominent, academic Tamil family that lived in a tiny village on Mannar Island off the northwest coast of Sri Lanka. As a young boy, he was more interested in art than academic studies, fascinated by the rhythmic sounds of sculptors chipping at stones at the local Shiva temple. Later, he studied various artistic mediums in India under a guru who came from a long lineage of sculptors. From there, he traveled to Europe by land, which brought him into contact with Hindu, Persian, and European art.
Over the years, Sooriya has made custom artwork depicting tropical plants, sea life, and religious iconography for clients all over the world, from Europe to the Pacific, India to Canada. He works in wood, stone, steel, and casting, but copper remains his favorite medium. "It gives light and brightness," he explains. "Copper is very healing."
The artist has lived in Wai'anae for 35 years and feels a great affinity for Hawai'i and its people. As he shows me around the Native Hawaiian Traditional Healing Center at Waianae Coast Comprehensive Health Center, everyone greets him by name. He leads me to his latest works, two prominent copper pieces hanging on the outside walls of the clinic. One depicts a ho'okupu, a Hawaiian tī leaf offering, and the other tells the Hawaiian legend of the naupaka plant that grows in the mountains and by the sea.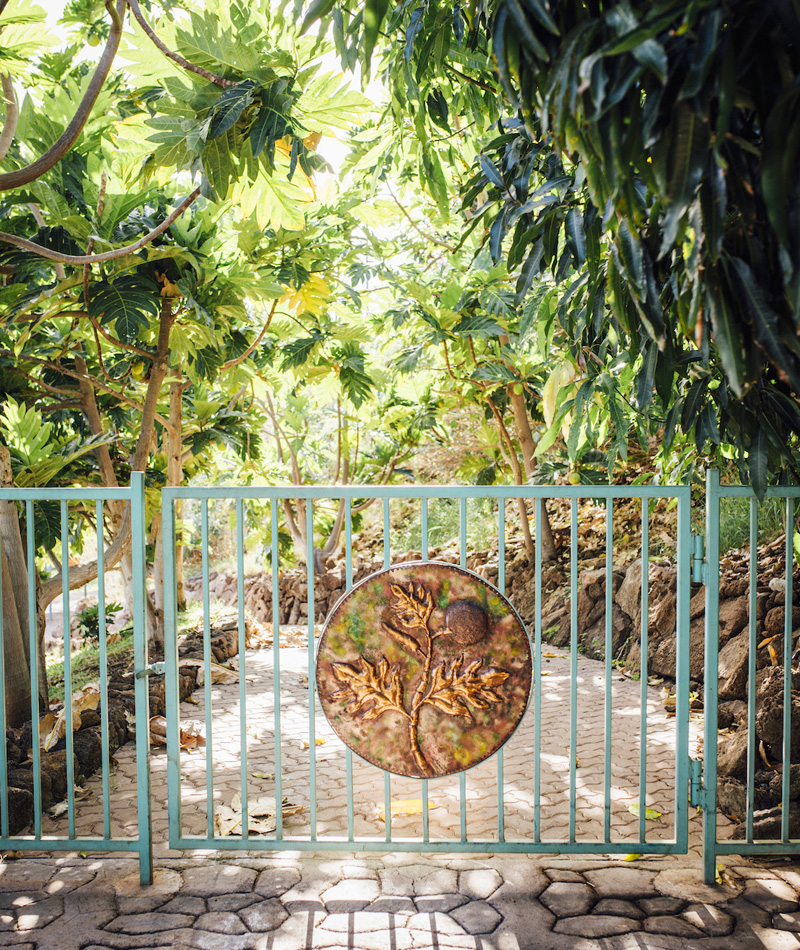 For Sooriya, it has been important to give back to Hawai'i, both through his art and his generosity to the community, because the islands welcomed him with aloha. "I connected with my soul, everything from the mountains to the ocean," he says.
Sooriya aims for "simple living and high thinking." His home is a 10-foot by 10-foot structure at the farm, where he lives the modest life of a sadhu, a Hindu ascetic, as he did in India. At 69 years old, Sooriya is still working, though he is hoping to take it a little slower. For him, "slower" means running his farm, from which he provides food to all who come at no cost; working in Sri Lanka on a village temple and a school for orphans; and writing a book on spirituality and forgiveness.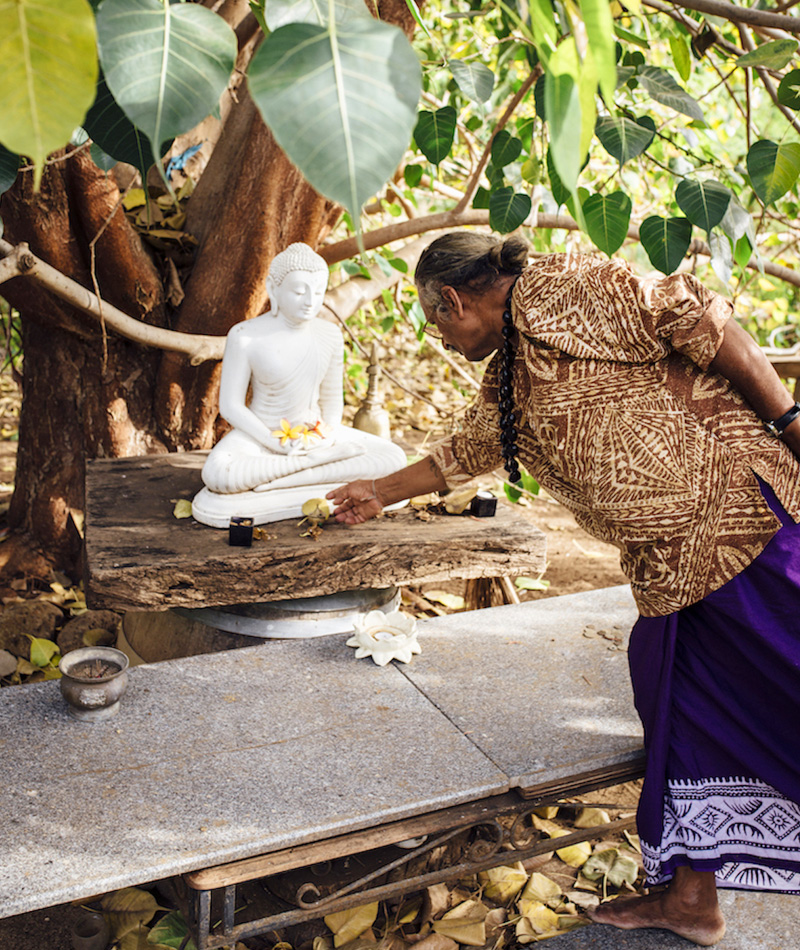 Sooriya also plans to bring together the Leeward community to help him create a new project, Kohola Ola, The Whale That Gives Life, which he intends to be the world's largest mother and calf whale sculpture. He hopes to have it made and displayed at the future Agnes Kalaniho'okaha Cope Community Center in the Nānākuli Hawaiian Homestead. The late Cope was Sooriya's hānai (adopted) mother, and he had promised her he would create something meaningful for the people she so loved.
Visit: sooriyaart.com