I'm a Waiʻanae boy, through and through. But when you grow up on the west side, you have to grow up really fast. You must be self-sustaining and self-sufficient because it's easy to get drawn into the bad crowds and go in the wrong direction. I know this because I lived it. As a young boy, I struggled through my parents' drug abuse. They ended up divorcing and my dad won custody of me.
But things changed fast. During my senior year, my dad and I had a falling out and he kicked me out of the house. I had to live on my own, bouncing between family members while my mom was recovering from her drug addiction.
One day I wandered into the high school gym. It happened to be Recruiter Day and I met with an Air Force recruiter. That changed my life forever.
Although my dad and both of my grandfathers served in the Navy, I had never thought of joining the military myself. But after being homeless, I wasn't sure what to do with my life. So, in 1994, I enlisted in the Air Force and went off to Texas for Basic Military Training. It was intense. I became an Electronics Electrician and then crossed over into training to become an Air Traffic Controller. I fell in love with it and the career possibilities with the Federal Aviation Administration.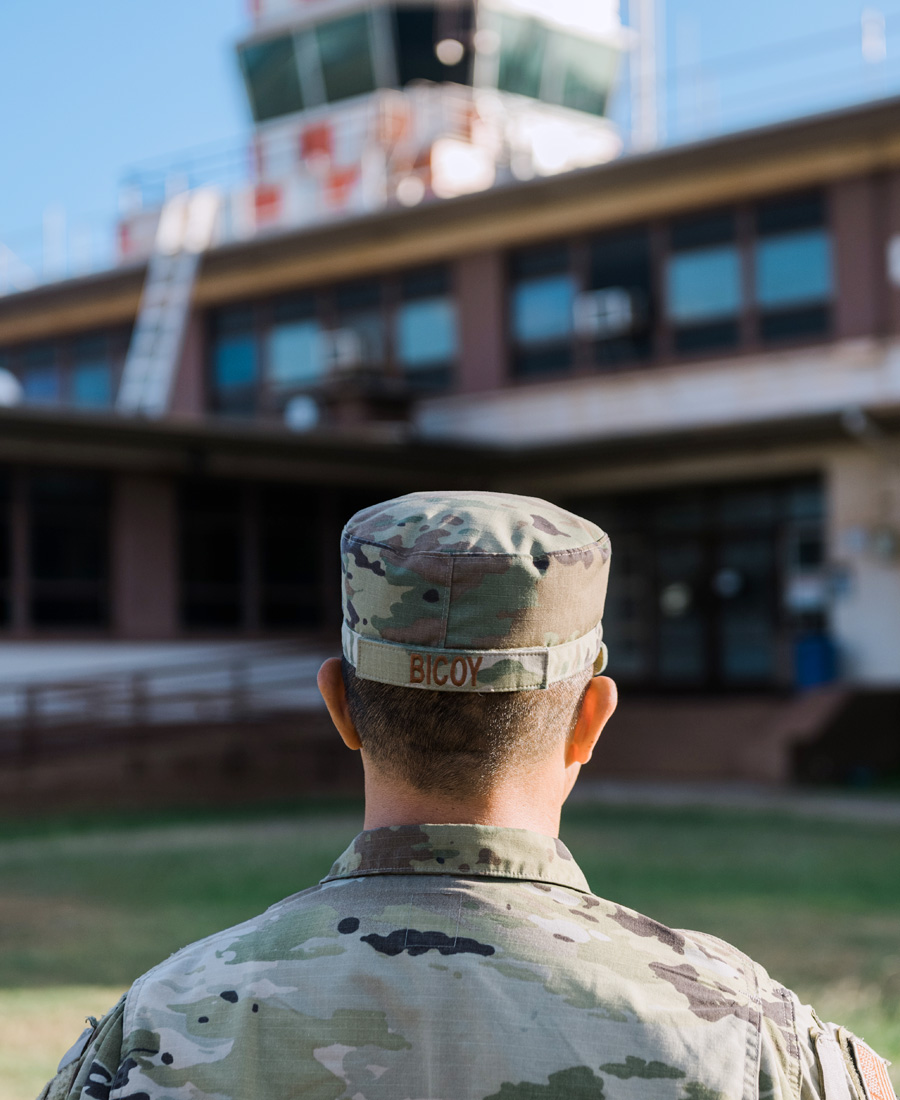 My first deployments were to Bosnia and Hungary. While away, you miss home, but you get wrapped up in doing your job and feel a sense of duty in bringing everyone back safely. As I rose through the ranks, I felt honored to play a role in significant moments in American history. In 2001, I helped guide air traffic in the wake of the tragedy of 9-11. I was also sent to Baghdad at the height of the Iraq war. In 2008, I graduated from Officer Training School as a Master Sergeant. In 2017, I became the commander of the 297th Air Traffic Control Squadron, a role I hold today.
I've been all over the world doing air traffic control, but Waiʻanae will always be in my heart. My job is demanding, but it's rewarding too and so it's important for me to pay it forward to my community. Pre-pandemic, I regularly attended recruiting events at Waiʻanae High School and was involved in the Youth Challenge Academy, a program where high-risk youth are mentored and given skills to help them reclaim their futures. During the holidays, my family feeds the houseless community in Pokaʻi Bay, and we like to take the kids who live there to get ice cream. It means everything to me to give back because I know what it's like to feel lost.
I believe in the beauty of the people and landscape of the West Side. Here, a lot of people struggle, but it's their perseverance in that struggle that makes them resilient. So giving someone hope and direction can go a long way in helping them navigate this world. Whatever the demographics, every person should have a chance to succeed. And if I can do it, anybody can.
Barry Irving Bicoy II has served in the United States Air Force for 28 years and currently works at the 297th Air Traffic Control Squadron in Kapolei. He and his wife Nalani, son Irving Bicoy III, and daughter Isabella live in ʻEwa.