Mākaha Beach on the West Side of O'ahu is home to generations of wāhine surfers who learn from and inspire each other as they make their way in the competition world.
No Mākaha, O'ahu mai nō kekahi mau hanauna o ka po'e wāhine akamai i ka he'e nalu e a'o aku a'o mai a paipai ho'i kekahi i kekahi ma ka ho'okūkū 'ana. E launa mai me nā kaikamāhine DeSoto, Miku Uemura, me Melanie Bartels, na lākou e waele aku nei i ke ala e holomua ai ka po'e wāhine ma ia ha'uki.
Desoto Sisters
In the childhood home of Keānuenue and Puamakamae DeSoto on the west side of O'ahu sits a shining, gobletshaped trophy engraved with the logo of the World Surfing League. In 2010, when the sisters were 6 and 4 years old respectively, their father, Duane DeSoto, raised that trophy high above his head at Mākaha Beach, celebrating his first WSL Men's Longboarding Championship win. Keānuenue remembers the spray of champagne showered on her father and his prize. Her entire family, as well as spectators from the surrounding community, cheered for Duane, who comes from a respected family among West Side surfers. Now in their teens, Keānuenue and Puamakamae glance at their father's commemorative piece displayed in the living room, as they have done a thousand times, before heading out the door to surf. They have their own contests to train for, and win.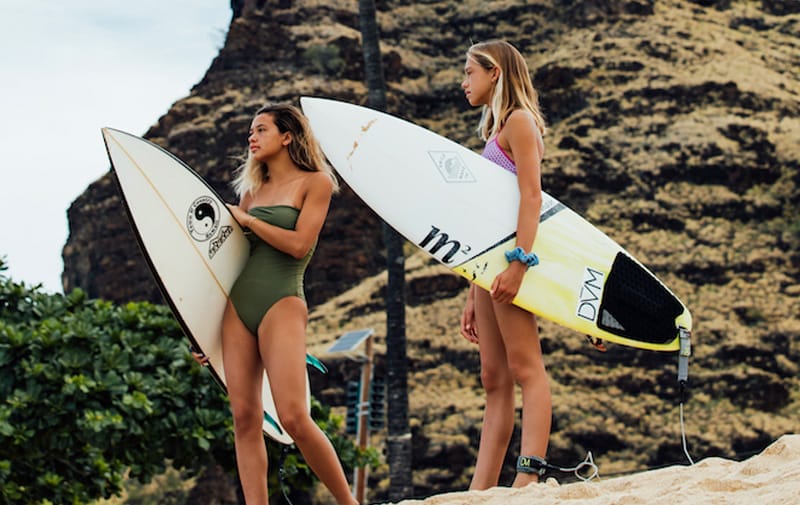 The sisters started surfing when they were each around 5 months old—too young to remember their first waves— under the guidance of Duane and their mother, Mālia Ka'aihue. As the DeSoto and Ka'aihue family grew, the girls witnessed their younger siblings first waves and imagined their own early years in the ocean. "My dad would always take the baby out, whether it was Honua, Hokuwelo, or Wailana, on a SUP board at Waikīkī," Keānuenue says. "He'd just paddle around and catch waves and sit with the baby in his lap." Eventually, as the girls' abilities progressed, they graduated from the soft, ankle-biter waves at Waikīkī to the more powerful waves at Mākaha. Closer to home, in an area far from tourists and hotels, they began to appreciate Mākaha's ocean community. Its beach is a lively gathering place where, every day, uncles and aunties sit on foldout chairs and watch their keiki fearlessly tackle the surf. Out in the lineup, a mix of older and younger watermen and women learn from each other as they bodysurf, shortboard, or longboard. The sisters have shared the lineup with legendary Hawaiians like Buffalo and Brian Keaulana and Melanie Bartels.
"You paddle out at Mākaha and every other person you see is an uncle or an auntie," Keānuenue says, to which Puamakamae adds lightly, "or somebody who knows how to surf." As the girls formed relationships in the water, they began to understand the kuleana (responsibility) of being a Mākaha surfer. With professional surfers like Bartels and Alessa Quizon proudly representing their West Side roots, the girls are aware of their own presence in the surfing world. — K.Y.
Miku Uemura
The ideal wave for longboarding is one which breaks slowly, has a smooth face, and is followed by a lull. When surfer Miku Uemura moved from Japan to Hawai'i at 6 years old, she learned to surf on that wave at Mākaha Beach. But it wasn't long before she learned that this family-populated beach was also capable of producing unpredictable and dangerous conditions. During a tandem surfing contest she entered at 8 years old, a large set of waves unexpectedly broke on the outside. A wall of white wash swept through the lineup of competitors, holding her underwater. This moment was the first time she feared the ocean. Fortunately, it wasn't long before an onlooker rescued her.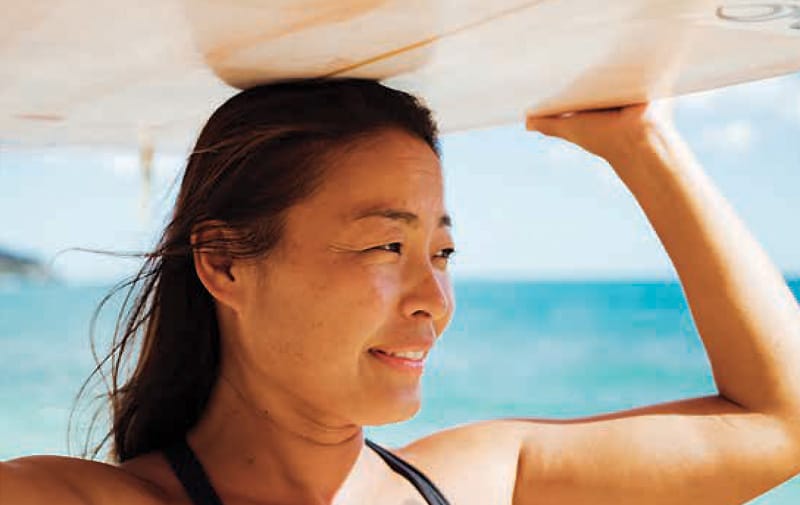 Shaken but determined, Uemura and her tandem partner decided to paddle back out and finish the heat. "It was scary, but at the same time, I knew I was safe here," she recounts. "Because I knew somebody would always come get me." Today, Uemura has three women's longboarding championship titles to her name. Based at Mākaha, she continues to compete on the Japan Pro Surfing Association. In 2014, six months pregnant, she won the Garuda Indonesia Travel Scene Pro in the women's longboard division. Her daughter Minami, now 4 years old, is following in her mother's footsteps as a spirited surfer nurtured by a tightknit community.
"She goes to the beach and she's not afraid," Uemura says. "And I'm not afraid, because I know everyone is watching her. Everyone is family here. Everyone on the beach is auntie and uncle to her." — K.Y.
Melanie Bartels
Melanie Bartels says she was put on this Earth to surf. That's not a mere platitude from the lifelong, Wai'anae born-and-raised surfer—it is a statement honed by decades of passion. "Even during my younger days, I knew surfing was what I wanted to do," she says. Bartels' love for the ocean, and in particular her ability to rein in its energy, arrived through unusual circumstances. Her father, Michael, a City and County refuse collection driver, would bring home scrapped surfboards and body boards that had been discarded curbside. Bartels and her two older brothers capitalized on this trash-turned-treasure, spending hours at Mā'ili Beach, first boogie boarding before graduating to surfing. Bartels took a shine to shortboarding.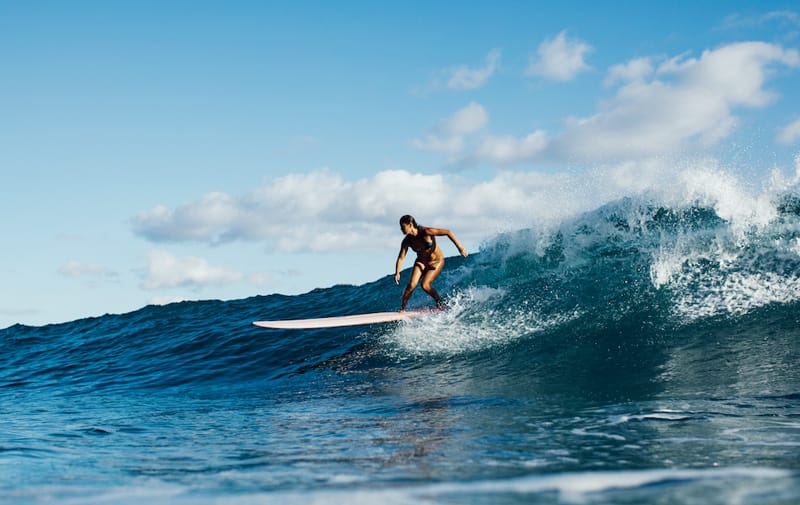 Eventually, Bartels exchanged her secondhand boards for a legitimate quiver and entered contests. At 10 years old, the surf prodigy exhibited a preternatural ability to read waves and not shy away from challenges. Her grit and gift were apparent. "I would always look for ways to whack a section or throw my tail, stuff maybe other people wouldn't want to do," Bartels says.
A well-known name in the surf industry for her brand of radical surfing, Bartels first qualified for the World Surf League Women's Championship Tour at 17. In 2008, she reemerged onto the professional surf circuit, securing a coveted spot on the championship tour once again. That particular qualification was a double-edged sword: It proved Bartels was still among the best, but tour life was more grind than glamour and prohibitively expensive. At this point, she no longer had sponsors to help offset costs; she was a free agent. During a post-contest interview, Bartels jokingly made a request that if Oprah was listening, then maybe her dream of traveling on the pro tour could come true. Someone did answer, only it wasn't Oprah. It was someone much closer to home: a Hawaiian princess.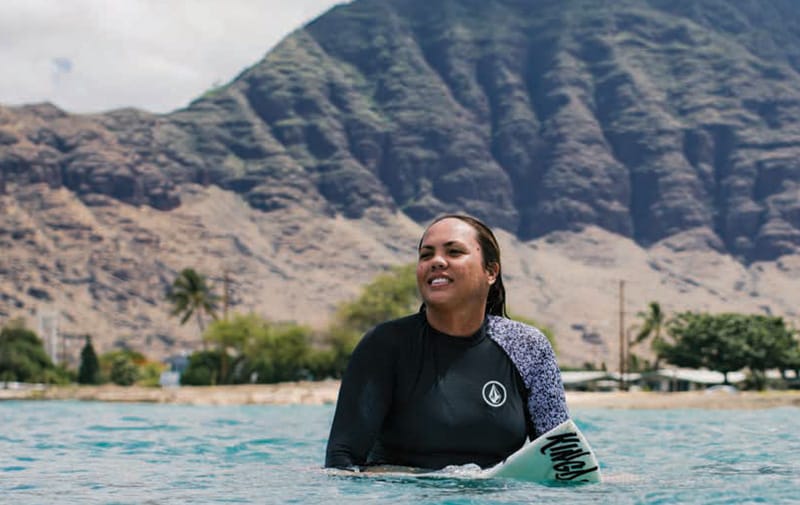 Princess Abigail Kawānanakoa, the Campbell Estate heiress and last remaining descendent of the state's royal family, heard of Bartels' plight and pledged $25,000 towards Bartels' travel expenses for the upcoming year. Bartels was blown away by the generosity. "The Princess was all about empowering women," Bartels says, recalling the moment she received the news. Knowing of surfing's roots in Hawai'i, the gesture made a significant impact on Bartels as a woman, as a surfer, and as a Hawaiian.
Today, Bartels, now 37, is back in the lineup. Alongside her signature powerhouse style is a renewed sense of purpose and clarity. "I want to see how far I can push myself," she says. There are whispers of a comeback, though some argue that she never left, her talent having made an indelible impression in the surf world. "All I think about is surfing, it's always been my first love," Bartels says, "my only love." — R.S.