With each visit, a volunteer organization hopes to reawaken the larger community to the cultural power of one of O'ahu's most legendary of valleys.
It is overcast on this early morning in Mākua Valley. A heavy cloud lingering over the surrounding peaks and ridges releases showers of mist onto the valley's foothills. In a wide, grassy clearing, six tents are pitched around an open pavilion. Inside the structure, men, women, and children of all ages and ethnicities wrap rocks and seashells in tī leaves to present as ho'okupu, or offerings, to the valley. By the site's entrance, a Hawaiian flag flaps in the wind.
"This is really special here," says Vince Kana'i Dodge, who is standing barefoot at the edge of the pavilion looking toward the mountains and the cloudy scene they have harnessed. Dodge considers the land to be a shared ancestor. "You almost never see her like this." In a valley that has been a hot zone of native land rights disputes, the ominous weather is a cool respite for the eldest members of Mālama Mākua, a nonprofit dedicated to ensuring community access to what many consider a wahi pana, or sacred place, in Hawaiian culture. According to legend, it's where man was born.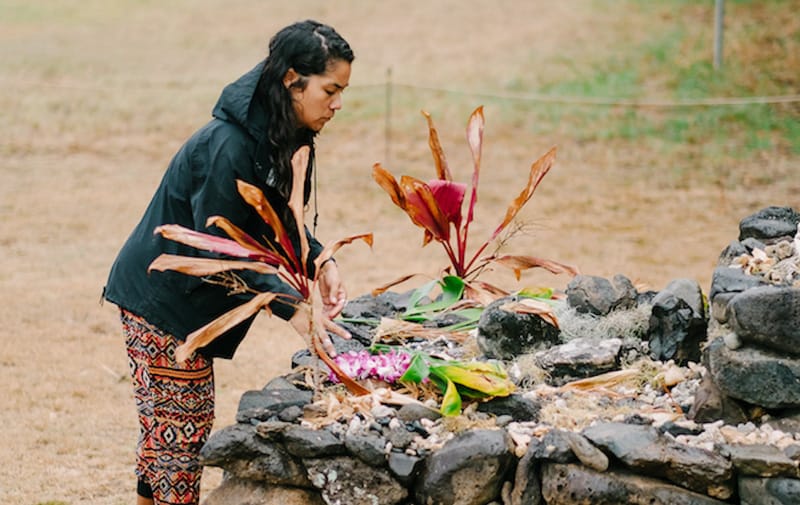 Since forming in 1996, Mālama Mākua and its members have engaged in heated battles over the land's usage with the Mākua Military Reservation, a U.S. Army facility that oversees the military's 4,200 acres. The most significant of these disputes—a lawsuit filed in 1999 by the organization with Earthjustice attorney David Henkin—resulted in the temporary halting of live-fire training in the valley, commitments to more transparent environmental impact assessments by the Army, and a judicial order to clear unexploded ordnance from the region. The Army also spends upwards of $4 million annually to protect the 45-plus endangered species in Mākua Valley, utilizing 20 field biologists and specialists to manage the frail ecosystem.
Both parties also agreed on partnering on a cultural access program—visits with the intent of sharing the valley's historical and archeological significance—to Mākua's sacred sites for two days a month and two overnight stays a year. At their most formal, these free, reservation-only visits organized by Mālama Mākua with the assistance of the Army honor ceremonies like the Makahiki, or Hawaiian New Year, with reverant practitioners wearing traditional regalia like kīhei and malo (capes and loincloths). On other visits, like today, the curriculum is intentionally unstructured, with a few hikes through the valley and time spent huddled together in the pavilion playing card games, participants dressed in rainjackets and ponchos. "Cultural access days are our days," Dodge says. "For us, it's like visiting family. We bust out the 'awa, play music, and just hang out."
All these activities are practiced under the Army's watchful eye—an officer in camoflauge fatigues is always within sight and a certified unexploded ordnance technician accompanies each group visit. Safety is the primary concern, as the military fired munitions ranging from artillery shells to 1,000-pound bombs throughout the area. It was after the Pearl Harbor attack in 1941 that the Army quickly seized thousands of additional parcels in and around the valley for training, evicting ranchers who had been working and living there. Its mountainous, coastal terrain was also considered comparable to Japanese, Korean, and Okinawan beaches, which made the area useful for training scenarios for combat readiness, until the early '70s. The valley is still valued by the military for its insulation from urban sprawl, which enables the simulation of training scenarios.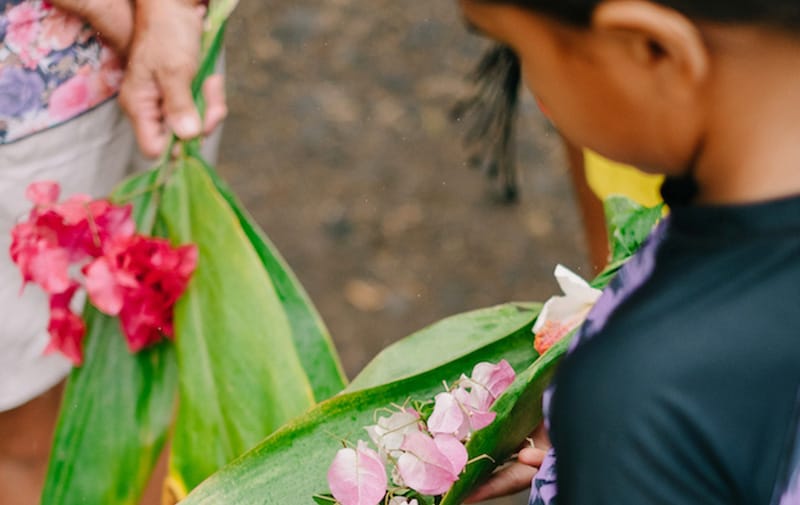 Supporters of Mālama Mākua see things differently. "The valley is a mama," says Lynette Cruz, a longstanding member of the organization. "It's about remembering our ancestors, our kūpuna, wherever they may be." Where Army commanders may have seen a passive target, Mālama Mākua members always saw a living family member. Moving forward, these cultural visits, in cooperation with the Army, aim to strengthen this native connection.
After members and volunteers perform a welcome oli (chant) and present their ho'okupu at an ahu (ceremonial shrine), they head with Army officials to Kumuaku'ōpio. This heiau, a religious structure once thought to have been destroyed during the decades of military training, is situated in a gulch. The complex of rock walls reveals itself, starting with a towering slab of limestone riddled with ancient petroglyphs. The group stands at a distance and surveys the chiseled surface of dogs, lizards, and human figures with awe. A few of these carvings appear to be people with arms raised, as if in defiance, resisting thousands of years later.