Waterman Jacob Kahiapo has spent a lifetime on and in the unmatchable waters of O'ahu's West Side.
When Jacob Kahiapo talks about what it is to be a waterman, he means knowing—really knowing—the ocean. From top to bottom, inside and out.
"It's not about being the best surfer in the lineup," he says. "It's about understanding what the ocean has to offer. I understand the power of the ocean from surfing, I understand what's below from diving. And now, from sailing, I can harness the wind, travel. I don't have to touch land ever again. To me, that's the waterman perspective."
This island boy started surfing in middle school, at Barbers Point just off Kapolei, where he grew up. He spent hours plumbing its depths as a freediver in high school, and sailing it in the years that he attended Hawai'i Pacific University.
"If there were waves, I'd go surf," says Kahiapo, who is now in his 20s. "If there weren't waves, I'd go fishing. I would dive. Basically, my life revolved around what the weather was over the water."
Then came graduation, and a corporate gig at an insurance company. It was responsible, paid the bills, and gave him a good life. But something was missing. Kahiapo realized he belonged at sea—in it, on it, and around it. His passion was the ocean, and his calling was showing its beauty to the world.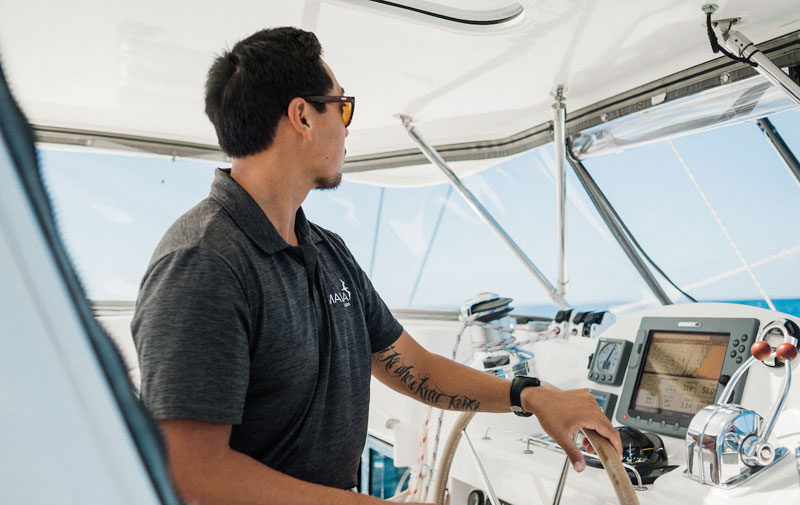 Enter Mana Cruises. Based in Ko Olina Marina, Kahiapo's brainchild takes this lifetime spent in the water, and presents it as a business that allows the entrepreneur to share his experiences with visitors in a meaningful way. Gone are volume-based tourist models and rigid itineraries. Small, intimate groups of six or less are entertained on Mana Cruises, which are designed to be customizable, laid-back, and authentic. These outings are a glimpse into what it means to "go holoholo" (to embark on an easygoing adventure or trip with your 'ohana), what Kahiapo himself would do with a day on the water. "We're doing everything as if you're just our friends," he explains.
He and his watermen crew treat guests as old friends. They serve short ribs and seared 'ahi salad, gourmet twists on their favorite local dishes. They look for dolphins and whales. They take leisurely trips to Mā'ili Point, and linger at snorkel spots. They shut off engines and catch 'ōmilu and weke 'ula off the side of the boat.
It's personal and intimate and everything Kahiapo envisioned: a unique way for guests to see the coastline that is so close to his heart and childhood. It is also an ode to a force, the ocean, that gave him so much happiness, and to a lifestyle that he is blessed to have.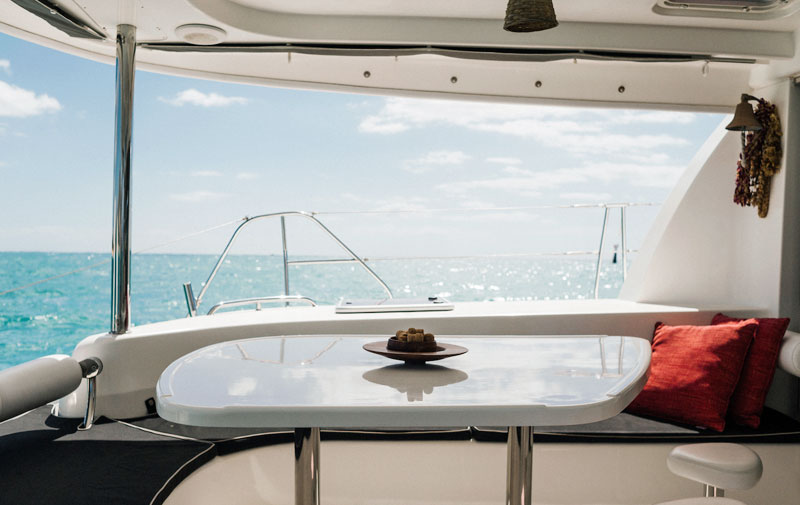 "The holoholo perspective is where we come from," Kahiapo says. "If you're going to holoholo with your family, it's all about that time that you spend together. It's relationship building, and it's sharing—sharing what we do and, literally, what our lives are all about. It's like, we love doing this, we want to share it with you. Let's have some fun."
For more information, visit manacruises.com