'O Nathanael Endo ka haumāna mua o ke Kula Ki'eki'e o Wai'anae nāna i hemo kula mai West Point aku.
Growing up in Wai'anae, fires were frequent during the summer. At age 4, I witnessed firefighters put out a fire behind my house, and I decided that I wanted to be like them. Then, in sixth grade, my older brother, who was in the U.S. Army, told me about military firefighters. I learned that I could become a firefighter at a younger age by going the military route, so that became my plan. I later learned about other service options in the military, like serving as a military officer, and that is what I decided to do.
I joined JROTC at Wai'anae High School to learn about the military and to develop leadership abilities. By senior year, I had become the battalion commander, in charge of over 250 JROTC cadets. I learned about ROTC scholarships and military academy opportunities to earn a college degree. I set my heart on attending the United States military academy at West Point in New York—the Army's academy. I was determined.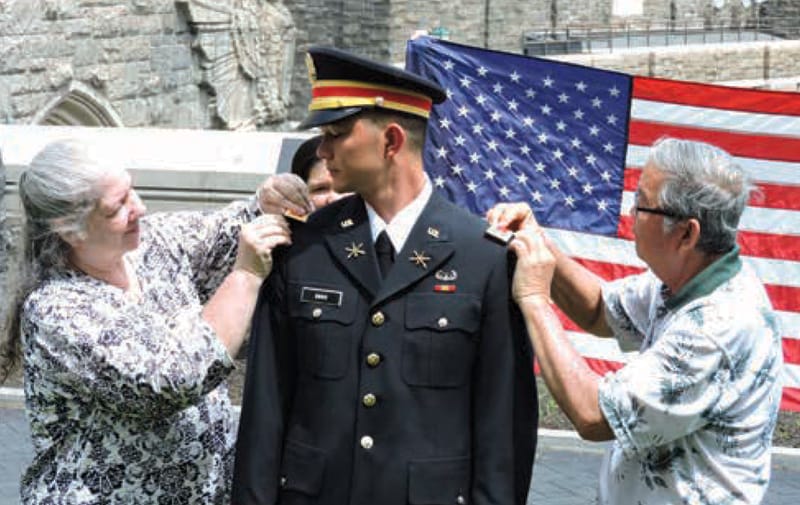 I am the 10th of 11 siblings raised in a Christian home, and an uncle to 37. My strong Christian faith and my family are extremely important to me. Though my parents and a couple of my brothers accompanied me when I first went to West Point, they couldn't afford to visit again until graduation. I could only fly home four times while I attended. Happily, I was able to visit siblings on the mainland during my school breaks and several friends' families adopted me for some holidays.
It was exciting to be at West Point where I was among peers from all over the United States and the world, but there is little free time. We all learned quickly that it would be difficult to make it through the place alone. We learned each other's strengths and weaknesses and helped support each during times of struggle. Besides academics, athletic participation and military training are required, even during the summer. In June before my Plebe (first) year, I had a basic training experience called "The Beast." The next summer, I completed air assault training, where I learned to rappel from helicopters to the ground. Other summers I shadowed a platoon of soldiers in Kansas and worked with unmanned aerial systems and flying drones in Alabama.
On this journey so far I have learned many interesting things, the most important being that the biggest obstacle stopping you from success is yourself. I encourage people to have their keiki dream big and provide the motivation and support needed to help them accomplish their goals. I feel blessed to be from Wai'anae and so thankful for all the teachers and mentors that helped me get to where I am today. I believe I am well prepared to serve my country and I hope to bring honor to Hawai'i to the best of my ability.