Source: maxim.com
Trident Adventures, a company owned by two ex-Navy SEALs, teamed up with the Four Seasons Oahu for a VIP dive package that takes luxury to new depths.
"Are you ready to jump out of a helicopter" isn't a phrase you typically hear at 7 a.m. on a Saturday. But that's exactly what I was about to do moments after having my morning cup of coffee. No, I hadn't gone crazy; I was in Hawaii to try a new Navy SEAL diving experience.
Two retired Navy SEALS, Stephen Kaplan and James Beck, recently decided that they wanted to take their wild adventures in the military and craft a bucket list-worthy activity for travelers. So, they created Trident Adventures and partnered with Four Seasons Resort Oahu at Ko Olina to take luxury to new depths. The result? An array of escapades that you won't find anywhere else in the world. And that's how I ended up hanging on to the edge of a helicopter hovering 30 feet above the ocean.
While they offer a myriad of aquatic opportunities like introductory dive tours and children's PADI Bubble Maker programs in the Resort's serenity, they've also created the Navy SEAL for a Day itinerary that pushes you beyond the limits of what you thought possible.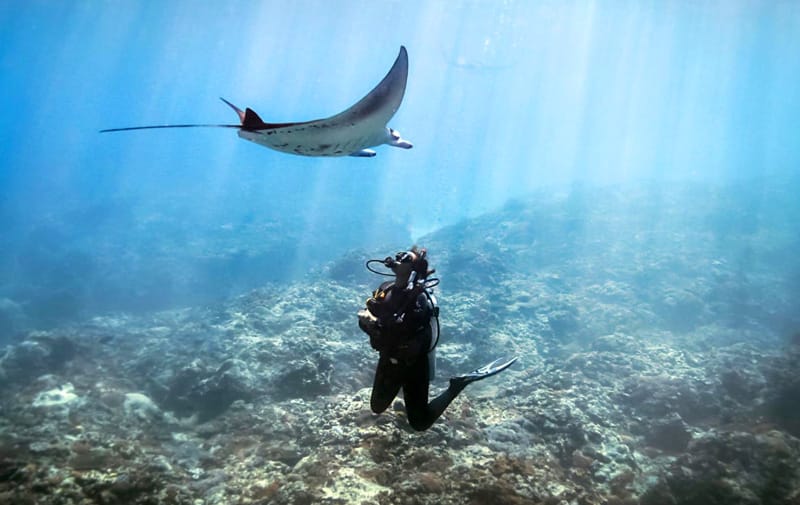 You start the day early at Ko Olina Marina, Oahu's only privately-owned deep-draft marina, where you quickly feel part of a military operation. After Kaplan's enthusiastic welcome, he dives into the "operation" for the day using military terms like "helocast" (aka jumping out of a helicopter) and "cast master" (aka the person helping you jump out of a helicopter). He describes the rest of the unit that includes a combination of the world's best water rescue experts, ship captains, divers, and pilots. Not to mention the two Navy SEALS leading the way.
"We have the best in the industry," Kaplan told me. "We also had a high turnover rate in the beginning because we make sure that our staff is at the right level. Our standards are infinitely higher than industry standards."
It's this "invisible bubble of safety," as Kaplan called it, that made me feel like I could leap out of a helicopter after a couple of dry runs on the ground. "Just sit here and let your leg dangle out while we're flying," Kaplan said as he demonstrated what was about to happen in the air. "That's what we do in the SEALS, just holding a gun."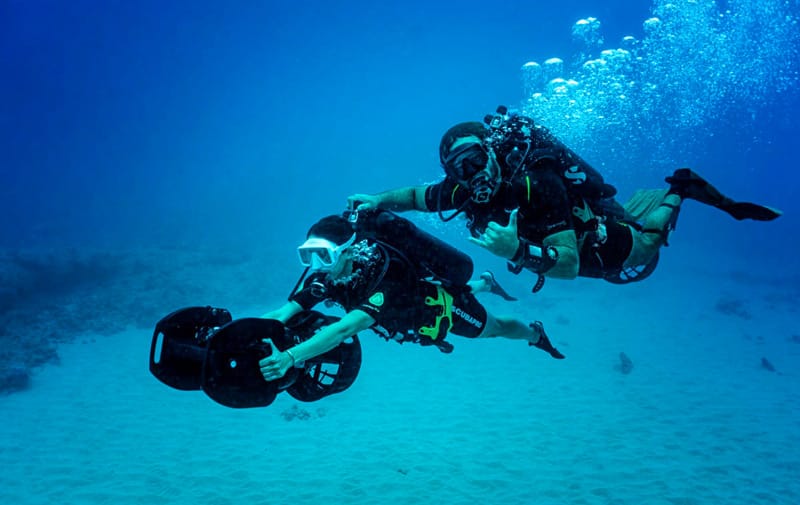 Moments later and after a quick refresher on scuba diving equipment—because I was going diving immediately after jumping out of the aircraft just as a SEAL would do—I was in the back of seatless helicopter leg dangling out the side with nothing but a wetsuit on and my diving mask wrapped around my arm. The pilot lifted off and took us on a wild military-style ride over a Jurassic Park-looking mountain range.
With my adrenaline pumping, we headed back to the dive site where the boat, jet ski, and crew awaited my sky-high plunge. The moment had come. Hovering nearly three stories in the air, Kaplan slid out on to the landing slides, turned to me, and said, "You ready? Seatbelt off." Remembering what I had learned during my on-ground practice session, I too slid out on to the landing sides with my hands grasping where a door would normally be.
Four Seasons Resort O'ahu at Ko Olina
92-1001 Olani St, Kapolei, HI 96707
Contact +1 (808) 679-0079
Visit: fourseasons.com/oahu/