Source: honolulumagazine.com
Plus, lead bartender Mike Milligan shares his go-to Noe cocktail recipe for you to enjoy at home.
With daily life slowly—so, so slowly—inching back into the normal sphere, we're all itching to change things up. To that, I say: Why not take a scenic drive to the West Side?
Four Seasons Resort O'ahu at Ko Olina officially reopened in March, which means its assortment of restaurants are now open, too. Among them is Noe, a fine-dining restaurant that serves traditional Southern Italian cuisine with a modern (and aesthetically pleasing) touch. The restaurant is led by Michelin-starred Japanese chef de cuisine Ryo Takatsuka, who trained in the kitchens of Italy for 10 years before joining Noe in 2016.
Along with local seafood, top-tier meats and homemade pastas, Noe now has something new to rave about (and drool over). Introducing Noe Allodio, the restaurant's brand-new private wine label, which feature elegant and bold flavors that pair perfectly with Noe's Southern Italian coastal cuisine.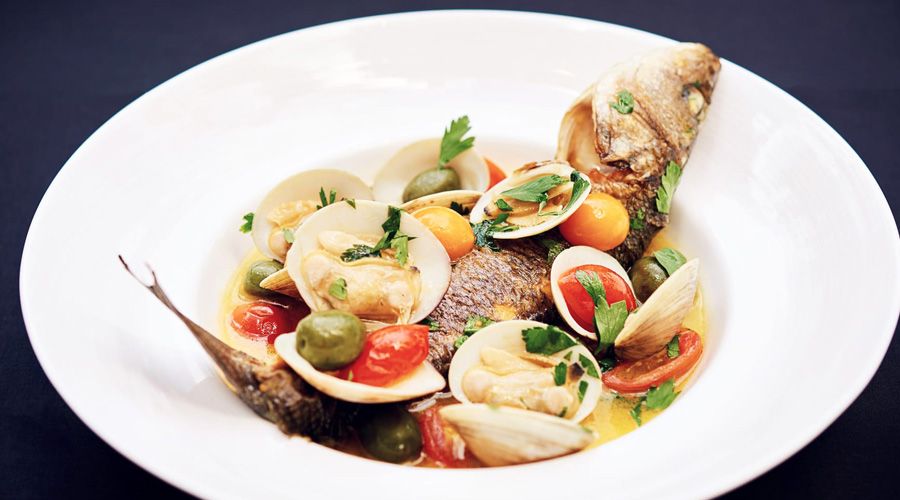 Noe Allodio includes two vintage wines, produced in partnership with Tuscan winery Podere San Michele: a 2015 Sangiovese with an added hint of Syrah, a nuanced red wine aged in French oak barrels, described as power and elegance perfectly combined; and a 2018 viogier, an easy-on-the-palate white wine with an intense aroma of stone fruits and mineral notes.
For those of you who like your drinks mixed, not aged, Noe also has a cocktail program, which has evolved since opening to include a lineup of fresh, light and unique libations guests can enjoy with their meal. Mike Milligan, the restaurant's lead bartender, was kind enough to share the recipe for his go-to Noe cocktail, which we can all now make and enjoy at home.
Noe is open from 5 to 9 p.m., seven days a week.
Noe Italian Restaurant
92-1001 Olani St, Kapolei, HI 96707
Call to book: +1 (808) 679-3347
Online Reservation: Book A Table
Visit: fourseasons.com/oahu/
Four Seasons Resort O'ahu at Ko Olina
92-1001 Olani St, Kapolei, HI 96707
Contact +1 (808) 679-0079
Visit: fourseasons.com/oahu/
Check Room Rates & Offers