In her lifetime, Mākaha local Rell Sunn set a gold standard for surfing and community outreach.
The sport of surfing is like the tide: always in flux. With each competitive season, fresh-faced rookies are ushered in and legends retire. Boards are reinvented to be lighter, faster, and more maneuverable. This summer, surfing will even debut as an Olympic sport. But making a name for oneself in the ebb and flow of the surfing world is about more than winning competitions. It's about creating a legacy. It's about creating a better future for the surfing community. There is no better example of this than the First Lady of Surfing, the Queen of Mākaha, Rell Kapolioka'ehukai Sunn.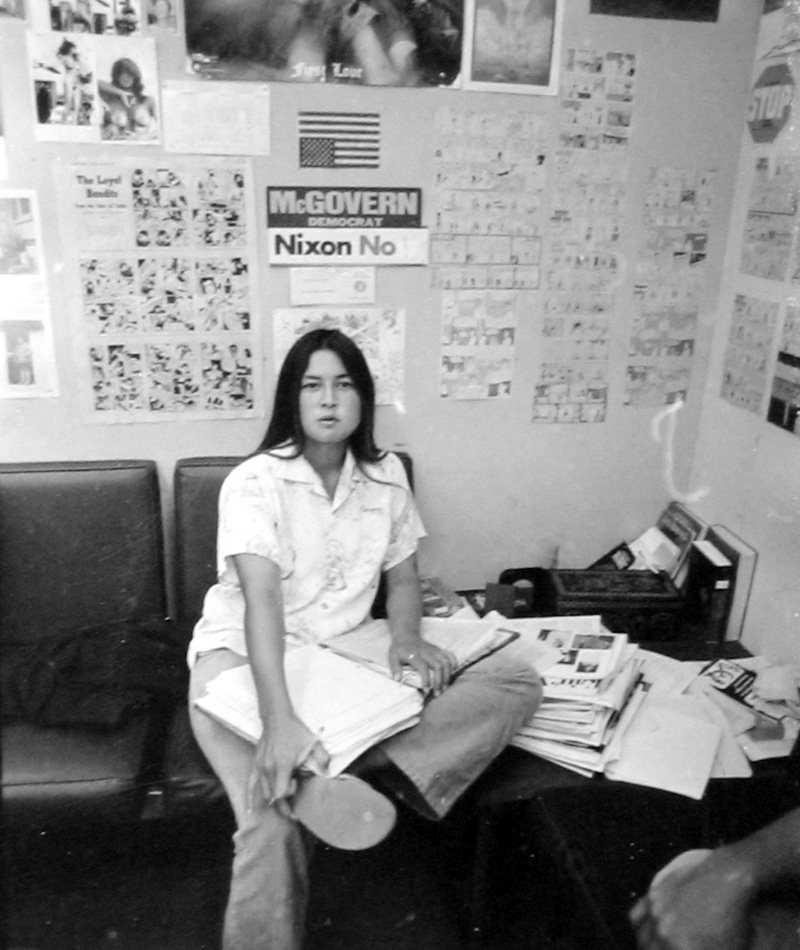 It was in 1954 that 4-year-old Sunn rode her first wave at Mākaha Beach, an increasingly popular surf break among surfers across the globe. In the 2002 documentary Heart of the Sea: Kapolioka'ehukai, Sunn said, "Before I could read, I could read the ocean. I knew the tides; I could read the wind on the ocean. I thought I knew everything I ever needed to know just from being on the beach every day." Her commitment to the ocean made her into a skilled surfer, bodysurfer, spearfisher, and outrigger-canoe paddler. In 1975, she helped start the Women's International Surfing Association and competed with a handful of women. A couple years later, she was named Hawai'i's first female lifeguard, proving that wāhine were just as capable as kāne of handling rough currents and sizable waves. Unfortunately, after becoming a pioneer of both surfing and lifeguarding, Rell was diagnosed with breast cancer in 1983. However, this did not stop her from surfing professionally.
Sunn's style was that of a hula dancer, her graceful hands and sweeping arms exuding fluidity whether she was on a shortboard or longboard. A focused and competitive athlete in the water, Sunn always resumed her genuine smile and welcoming spirit on land. "Professionalism is an attitude," she said in the documentary. "How you feel good about yourself, how you represent your country, how you present yourself to other people, and how you represent your sport. You know, the honor of being a surfer."
Before she became a perennial favorite on surfing's world stage, Sunn was adored by groms in her hometown of Mākaha. She was the cheering auntie on the beach, offering praise to all the keiki vying for her attention. In 1976, she started the Menehune Surf Contest for contestants under 13 years old, an annual event still held in her honor. It was the chance for keiki to win surfboards, leashes, backpacks, and most prized of all, official congratulations from Sunn herself.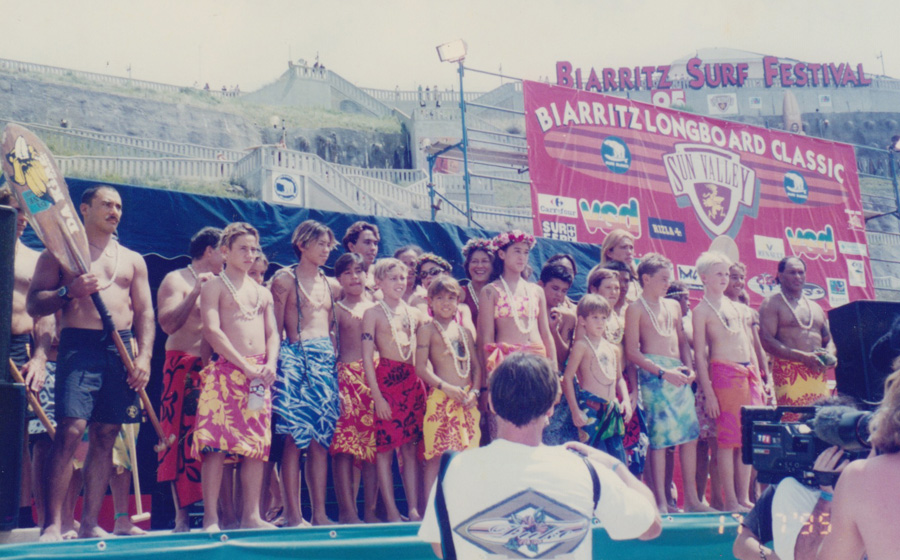 One of Sunn's protégés was Jenny Van Gieson. In 1997, 11-year-old Van Gieson won her division of the Menehune Triple Lei of Surfing, a three-part contest on O'ahu hosted by Sunn. Sunn invited the winner of each division to travel with her to France for the Biarritz Surf Festival. Among the travelers were surf standouts Freddy Patacchia, Melanie Bartels, Joel Centeio, and Jamie Sterling, all of whom later became professional surfers. For Van Gieson, the trip cemented her relationship with Sunn, who gave her surfing tips, handled her sponsors, and arranged photoshoots. The mentor and mentee also both danced hula and thus had similar surfing styles. Sunn called Van Gieson her 'opihi, because one could not be found without the other. At the time, Van Gieson didn't realize how famous Sunn was. She just knew Sunn as "the coolest person ever," who taught her how to pick limu, left her voicemails while she was in school, and invited her over for sleepovers.
It was during the trip to France that Sunn learned that her breast cancer, which she had been battling for nearly 15 years, had returned once more. But, Sunn continued to wear a bright smile. "I feel like [Sunn] always wanted to be around people," Van Gieson said. "Most people withdraw. Kids made her want to live, and I feel like that's another reason she wanted to keep me around."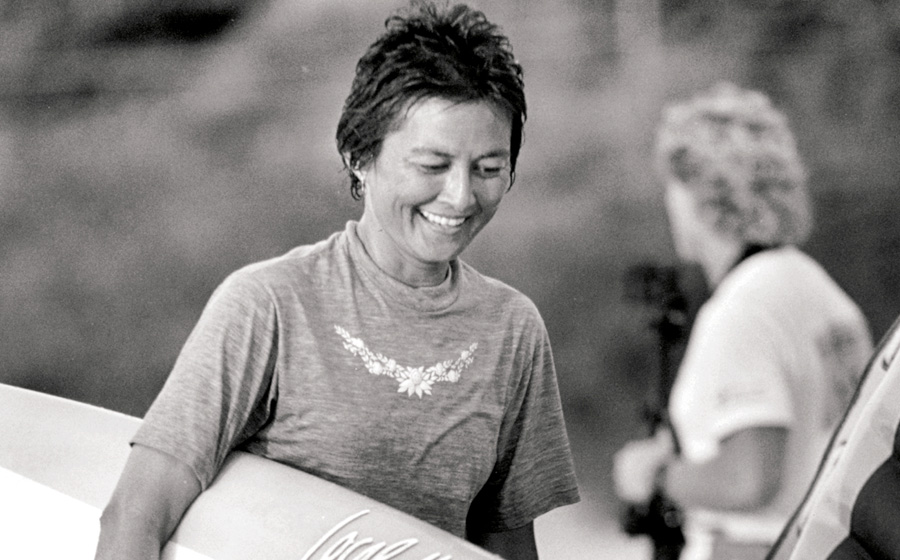 On January 2, 1998, the Queen of Mākaha passed away at the age of 47, leaving behind a legacy almost impossible to fill. Hundreds gathered at Mākaha Beach for her memorial, bringing with them surfboards and paddles. Together, the crowd paddled out to the surf line-up in her honor. Though it was peak season for large surf, the ocean was unusually flat that day, a sparkling, blue lake. Those on the water formed a lei by holding hands, saying their last goodbyes as Rell's ashes sank into the deep. As the crowd dispersed and began to paddle in, a perfect cresting wave formed out of nowhere for everyone to share and ride into shore—Auntie Rell's final push of encouragement.
Learn more about the Rell Sunn Foundation
#QueenofMakaha