Inspired by her kumu, a master craftswoman continues the exquisite art of Hawaiian featherwork.
At Miwako Mulder's countryside studio in Mākaha, the laughter has subsided, and the room has gone quiet. "That's what usually happens when we start the work with feathers," Mulder says. "Everyone concentrate, everything quiet." In one hand, I crimp the end of a rose-pink feather, its willowy tufts swaying in the air like a sea anemone, while in the other, I clench a wire pick that will eventually become a flower. Seeing my clumsy movements, Mulder demonstrates how to affix the feathers to the pick, deftly winding each one tight against the stem.
Ten minutes and a dozen feathers later, Mulder clasps her hands together and beams with delight at the finished flower. Even after more than a decade of fashioning elaborate feather implements, Mulder still delights in completing the simplest creation. "The natural feather, so pretty, no?" Mulder says. "Maybe that's why I keep coming back to it."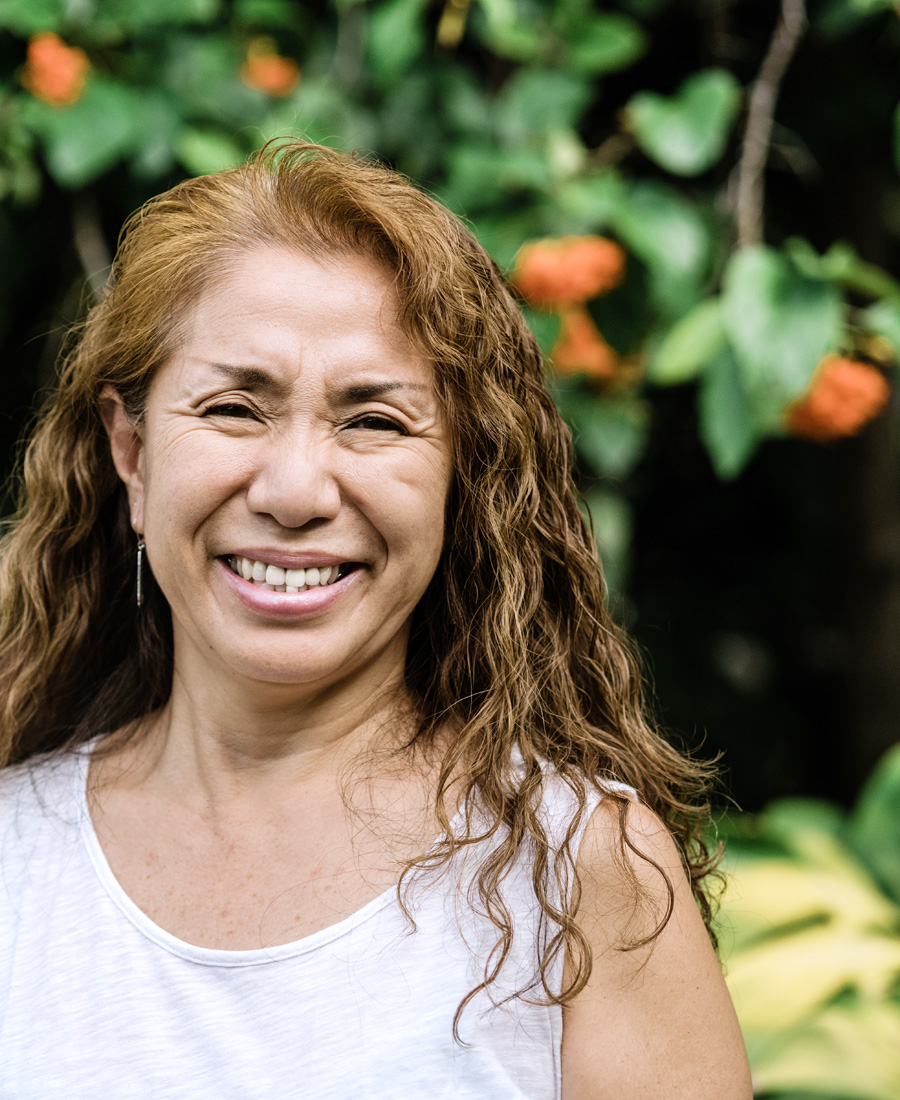 Traditionally, Hawaiians, too, were enrapt with feathers. Believed to be imbued with mana, or power, feathers were fashioned into capes, helmets, lei, kahili (royal staffs), and other implements that were reserved for royalty. The floor-length 'ahu'ula, or cape, of King Kamehameha was a resplendent yellow, sewn from 450,000 feathers from an estimated 80,000 mamo birds. Ancient kia manu, or bird catchers, took great pains to trap the native birds, pluck the required plumes, and apply a healing salve before releasing them back to the wild. Doing so allowed the birds to recover and thrive.
Mulder is a progeny of master featherworkers Mary Lou Kekuewa and her daughter Paulette Kahalepuna, who devoted the entirety of their lives to perpetuating the cultural practice. Mulder's first encounter with feathers occurred in 1999, when she attended a workshop at Bishop Museum on Hawaiian quilting and saw a posting for a featherworking class. She signed up and was hooked. Mulder would attend class once a week with Kahalepuna at her Kapahulu Avenue store, Na Lima Mili Hulu No'eau, until she passed away in 2014.
"It was like they included me in their family," Mulder says. "Even after I had my son, every week I would go down, and Aunty Paulette would babysit for me while I learned the feathers."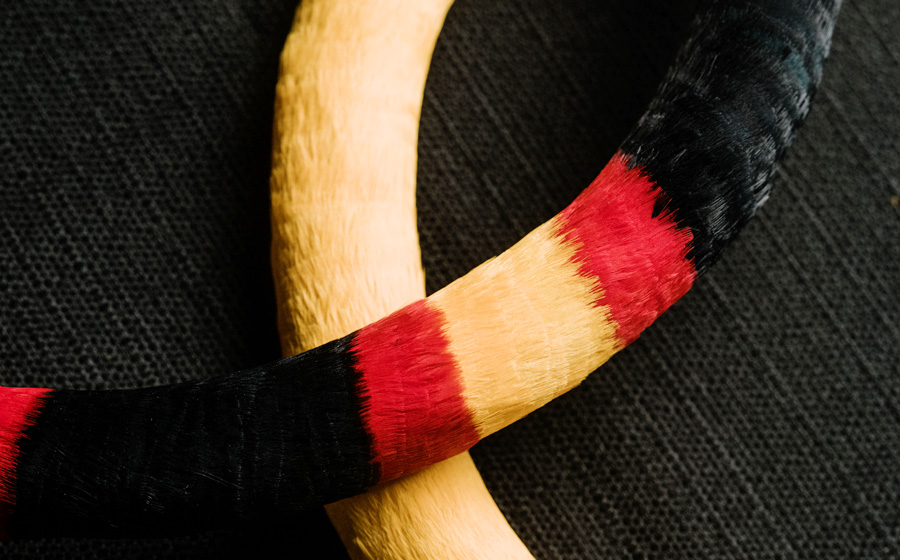 It was a community that Mulder needed. Originally from Kawasaki, Japan, Mulder had settled in Hawaiʻi after marrying her husband—a local boy she had met on the sands of Waikīkī—in 2001. "My husband is a surfer, so when I wake up, he's gone already," she recalls. "I cannot just sit down and watch TV. I always like to be doing something." Mulder dabbled in other Hawaiian crafts, but lauhala hatmaking, with its need for mathematical precision, and quilting, with the large workspace it demanded, became impossible to do with a new baby—and an active son, no less.
Mulder's first lei was in the kamoe style, each feather tied to "lie down" around a yarn base to form a velvety yellow barrel about the width of a thumb. Although the internet has made it easier for crafters to source feathers, the process remains meticulous. Before a lei even begins to take shape, the feathers must be sorted by color and snipped to size if the feather is too large. I run my fingers across the satin-smooth finish of a humupapa hatband made from the dainty feathers that adorn a pheasant's neck, its inky midnight-blue hue accented by bright white lines, like punctuation marks drawing the eye.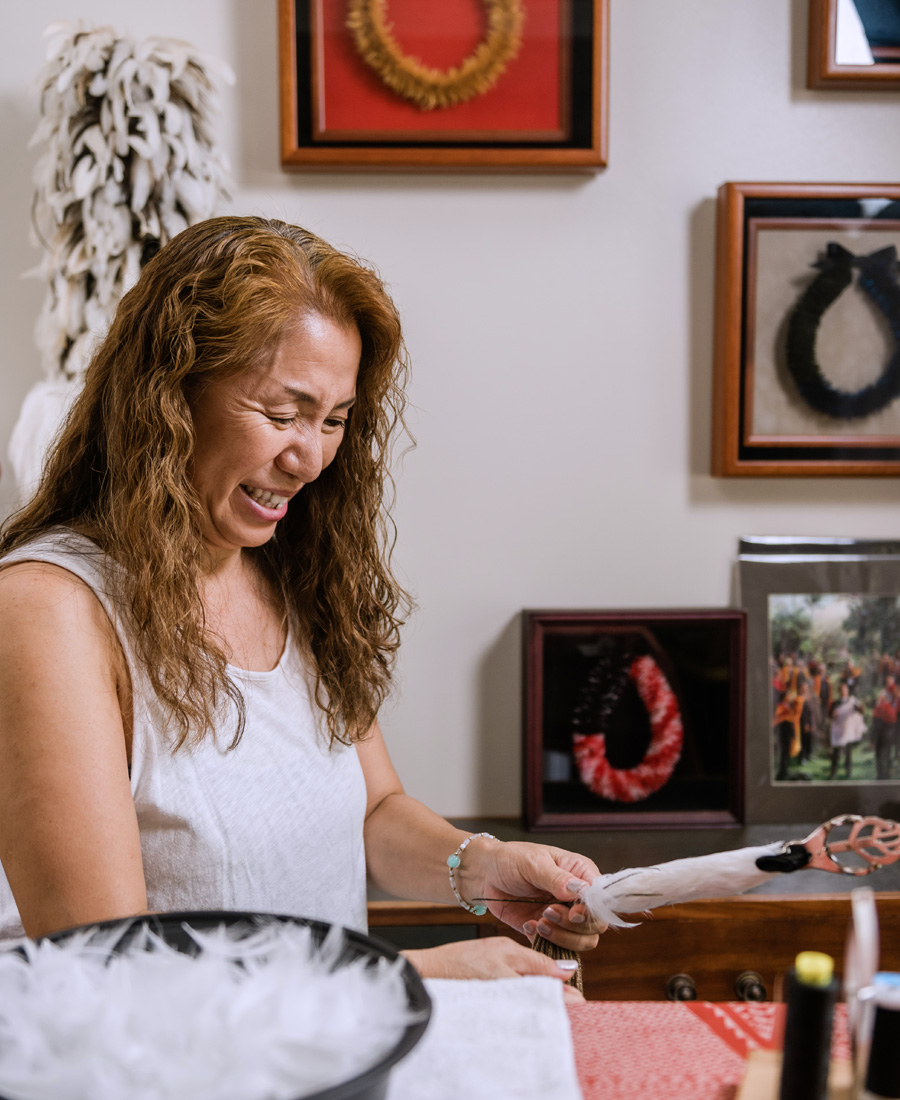 The sorting itself for this particular band took nearly two months, blues and greens separated into individual Tupperware containers. Each feather is then placed with tweezers across a piece of felt, held taut on a custommade stand, and stitched once, twice, three times to secure the pinky-sized feather in place—10 or 11 feathers across to create a single row. In an eight-hour period, Mulder can complete about an inch of work.
"I like the small feathers," Mulder says. "People come here, they have no idea and say, 'Oh my goodness, that's so ittybitty work!' ... My kumu always told me, 'You are the crazy one.' ... But actually, the feathers make me feel calm. When I'm angry, this is like meditation."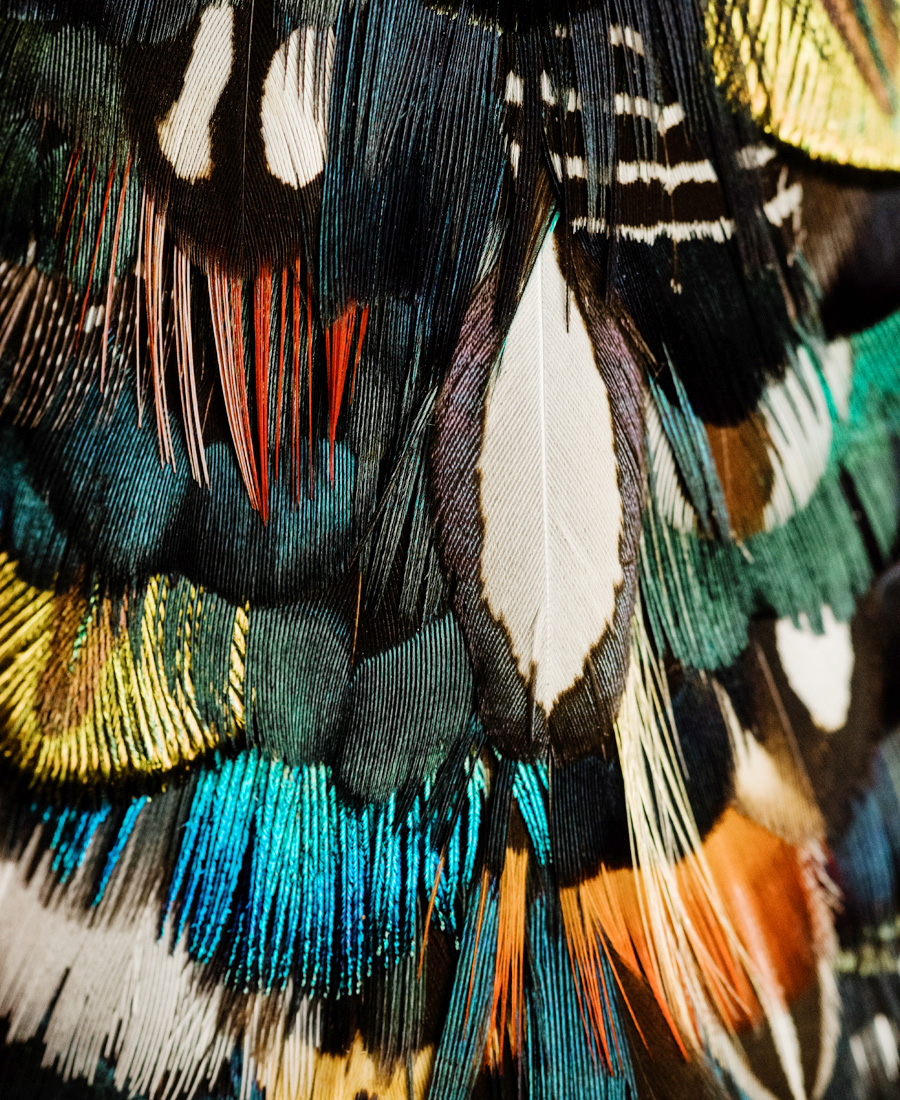 Although Kahalepuna gave her blessing to Mulder to teach and open a store before she passed more than eight years ago, Mulder didn't feel confident enough to host classes until earlier this year. If tackling a hatband or lei seems daunting, Mulder offers something for every level: Something similar to those simple flowers I made earlier can be inserted into clear glass baubles for Christmas ornaments, strung on lei, or assembled into a colorful haku for the head. One of her students is working on a wili poepoe-style lei, a fluffier band where the feathers appear to "stand up" in a way that is, perhaps, more forgiving.
When I asked Mulder for a demonstration, she demurred and insisted I try it for myself—to experience the wispy lightness of each feather in my palm, the discipline required at each step, that exultation upon completion. For Mulder, this engagement in the act of creation is what perpetuates the tradition carried on by her kumu and, ultimately, what brings her the greatest joy. "Talking story," she adds, "that's fun for me, too."
For more information visit: noamakaha.com
Follow us on instagram: @noamakaha