At a Wai'anae educational farm, an awareness about one's relationship to the land starts with the soil.
Near the end of Wai'anae's long highway is a farm, tucked along the outskirts of Mākaha Elementary School. Here, among the goats, ducks, and chickens (including one named McNugget), thousands of students and volunteers have gathered to work, play, and create a place of learning. This place is Hoa 'Āina O Mākaha, which translates to "the land shared in friendship in Mākaha."
The roots of this nonprofit organization were established when Sacred Heart Church's priest Luigi "Gigi" Cocquio was asked to transform the church's vacant piece of land into something other than random shrubs and trees. "We really didn't know what the area would turn into," Cocquio says. In August of 1979, after volunteers helped machete-chop the acreage into a clean slate of soil, Cocquio thought it could perhaps be a garden. Cocquio had made his way to Hawai'i from the Philippines a few months prior, where he had been assigned as a priest. But he was originally from Italy, where he had learned to garden as a child on his grandparents' farm.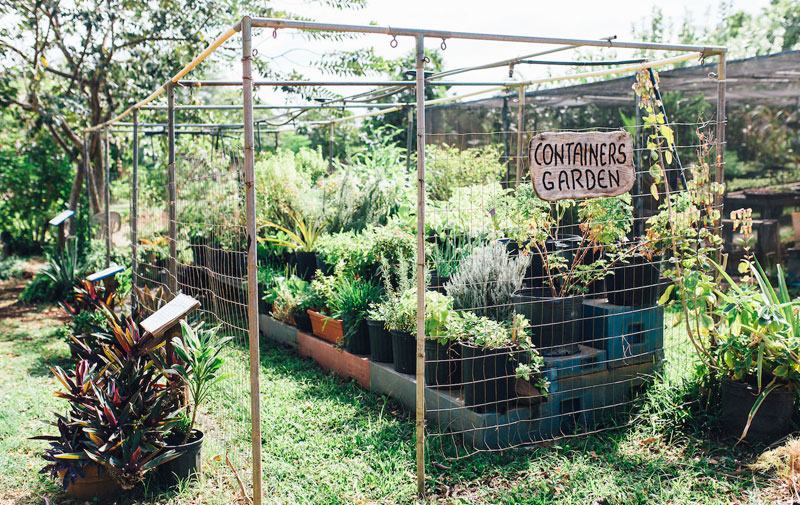 After pipes were laid into the land to water and nourish the seeds, vegetables soon sprouted and were quickly harvested. It became an unintentional but successful plan: feed the community and provide a place where people could learn how to garden. "I was new to the community, so I didn't want to assume what it needed," Cocquio says. "So we started with just a garden. From there, the farm developed on its own."
Families from the community started to maintain their own garden plots on the land. Programs, such as an alternative learning center and an outreach program for women, were developed and housed in the property's old military Quonset huts, providing a place for community members to find support, harvest vegetables, and receive help.
In 1987, the nonprofit formed Nā Keiki O Ka 'Āina to give Mākaha Elementary students an outdoor classroom experience. Native Hawaiian culture is highlighted throughout the farm's collection of educational projects. Students learn about environmental sustainability through ahupua'a, the Hawaiian traditonal subdivison of land. At Hale Haumāna, a large gathering place built in 2000, they are taught the importance of pono, or righteousness, during times of conflict. "This farm provides the best social and emotional learning space," says Danielle Steger, Nā Keiki O Ka 'Āina's full-time garden teacher. A heartwarming Hoa 'Āina O Mākaha tradition for the kindergarten students includes having each child gently cup a seed in their hands, then nestle it into the earth and whisper "goodnight."
"When they learn to nurture the plants, they become more mindful of how their actions can affect those around them," she says. Other programs at the farm are Ke Ala, an outdoor learning opportunity for students from other schools, and the Mālama Mākaha Container Garden Workshop, which teaches families about growing fruits and vegetables at home.
Through the years, Hoa 'Āina O Mākaha has become a place of refuge for the underserved community of Wai'anae and a learning space for anyone who visits. "We are not here to change anything, because people change by themselves," Cocquio says. "And if they don't, that's OK, too. The point is we're here and serve as an opportunity."
For more information, visit hoaainaomakaha.org