In Mākaha Valley, a little indoor microgreen farm has discovered a recipe for growing success.
Ho'oulu 'ia e Mākaha Mountain Farms nā hua'ai a lau'ai kemika 'ole me ka ho'oulu pū 'ana i ka hanauna hou he po'e ho'oulu mea kanu ma American Renaissance Academy.
Step into one of the 360-square-foot shipping containers that house Mākaha Mountain Farms and you'll see rows of neat, vertically stacked trays, each containing bright green sprouts of arugula, broccoli, kale, or radish. Nurtured in a controlled, indoor setting, these nutritious microgreens are grown without any chemicals, pesticides, herbicides, or fertilizers and then harvested at peak flavor, right before they are full grown.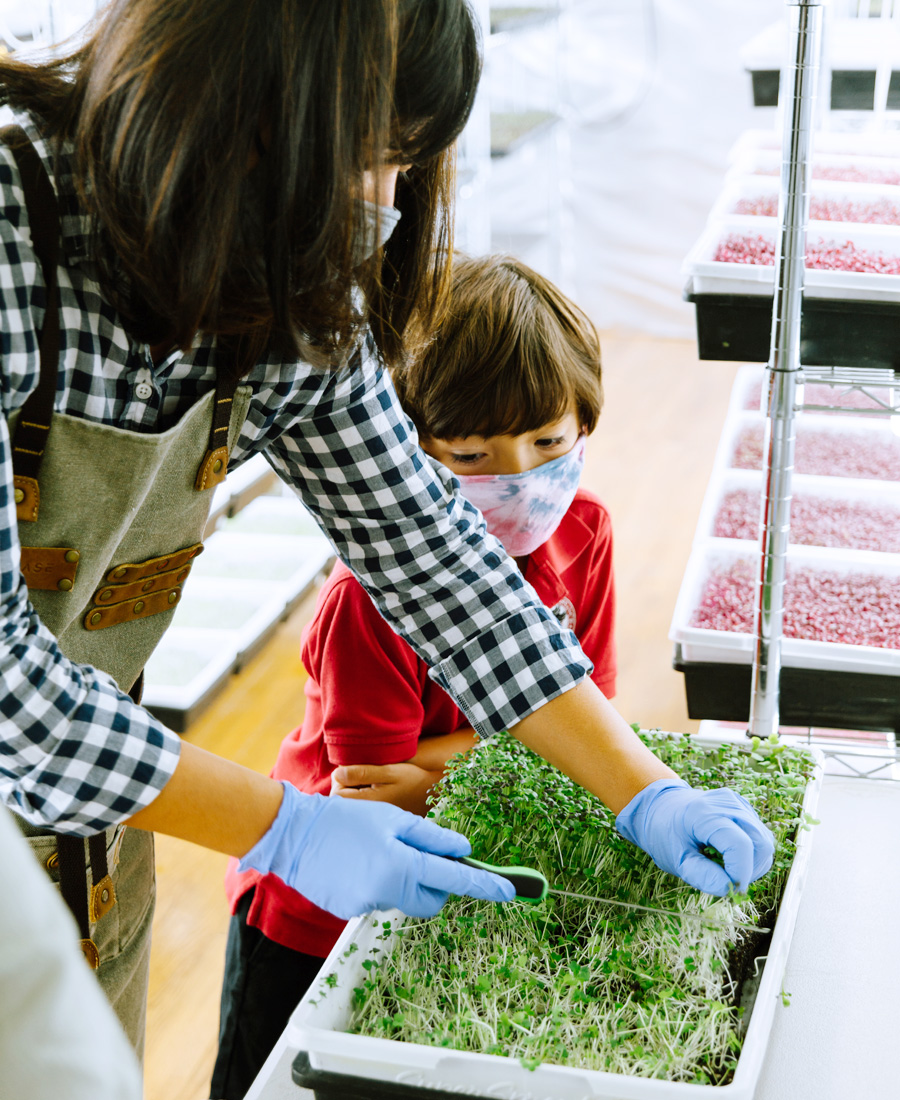 In 2019, when Daimon Hudson, American Renaissance Academy's (ARA) chairman of the board, was first introduced to the idea of a container farming program by an Academy staff member, his interest was piqued. Sustainability and food security were important issues for him, and Hudson believed container farming could add to the Academy's agriculture program. Yurika Suzuki, who is now director of operations for Mākaha Mountain Farms and an ARA agriculture instructor, jumped in with the idea of a microgreen farm and spearheaded the buildout with her fiancé Derek, Hudson's youngest son.
The team converted the first shipping container into a climate-controlled vertical microgreen farming operation and had it running by spring 2020. They began pitching the delicious new product to local restaurants, grocery stores, and produce distributors, and they also hosted stands at farmers markets.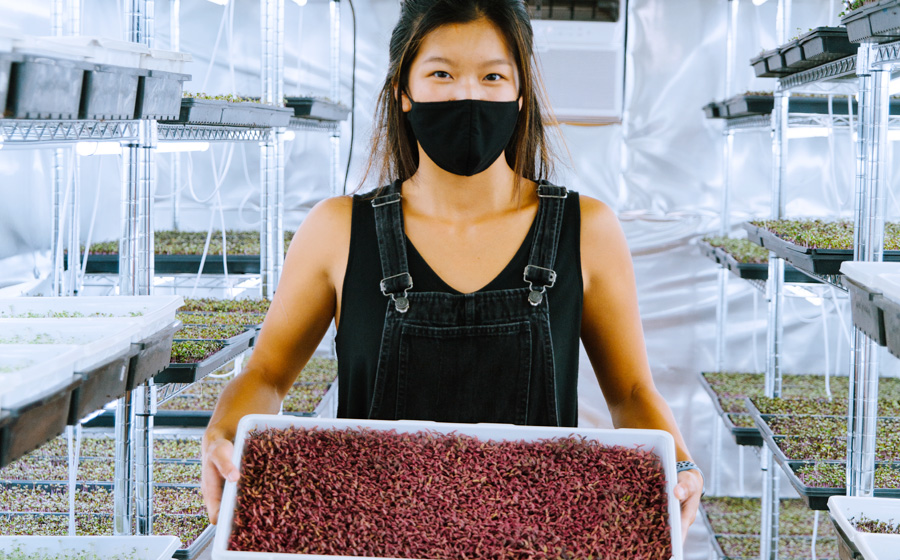 "We didn't know if it would be able to generate income, but we saw the potential," Hudson says. "It is a revenue stream for the Academy—and it's also, more importantly, showing the future of agriculture in the state of Hawai'i."
The farm uses the latest vertical farming techniques, cutting-edge technology, and surprisingly few resources. "We use such little water, it's remarkable," Suzuki says. Careful thought went into packaging the sprouts too: the farm sources plant-based, biodegradable packaging material from a company on Hawai'i Island. The farm is also a part of the school's regular curriculum, available as an elective for students eager to take an active role in growing food for their community. Coursework includes learning about microgreens and planting and caring for seedlings.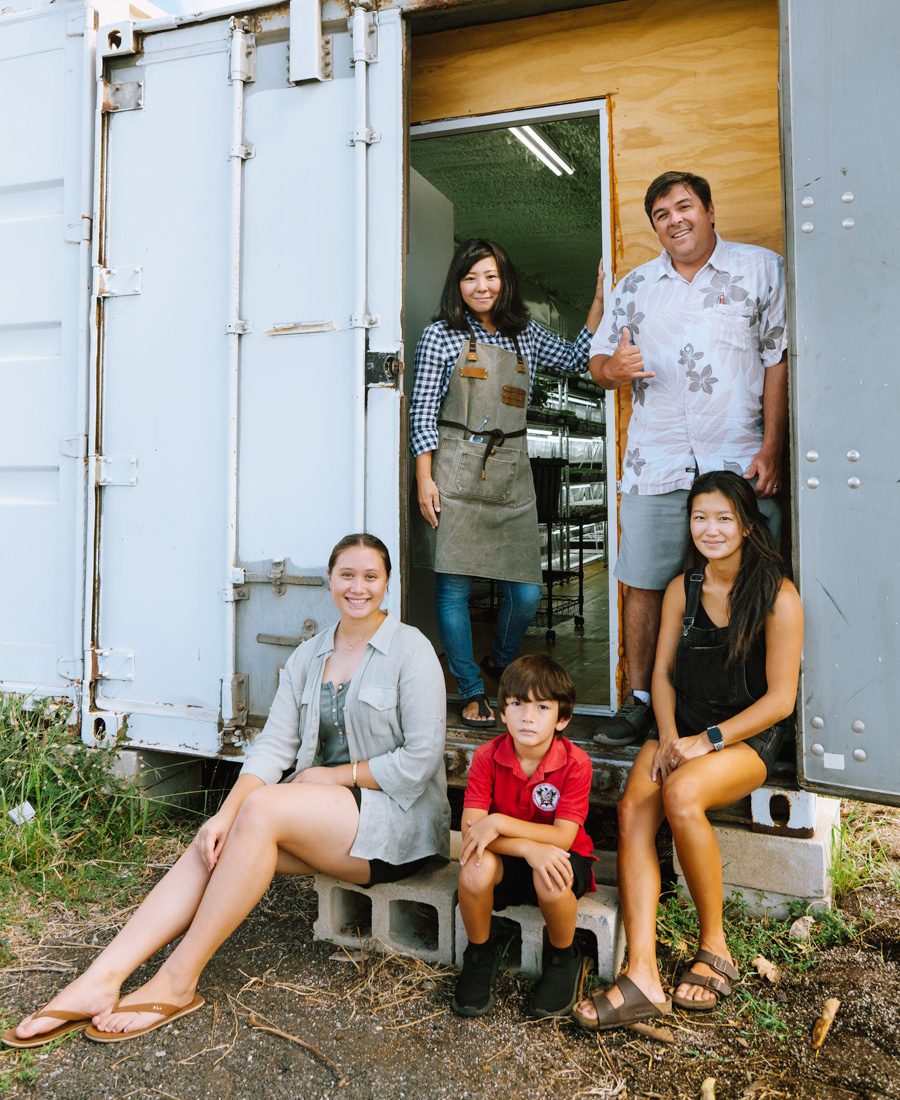 Given that nearly 90 percent of Hawai'i's food is imported, expanding local agriculture is an important focus at ARA. But how to get younger generations interested and involved? "Microgreens have such a short life cycle that the students can see the rewards of their efforts within two weeks, and the excitement stimulates their interest in agriculture," Suzuki says.
Visit makahamtnfarms.com for more information