When a beloved skate park fell into disrepair, a group of teenagers inspired a community to help them restore it to its original glory.
I ka pau loa 'ana o ka pono o ka Pāka Holo Huila o 'Ewa Beach, na kekahi hui 'ōpiopio i hō'eu'eu a'e i nā luna kūlanakauhale a lālā kaiāulu ho'i i ka ho'oponopono hou 'ana i ia wahi e like me kona 'ano hiehie o mua a'e.
"Kids downplay how much their voice really means," Brandon Pagarigan says. "Your voice is more powerful than you think." As a sophomore in high school in 2015, he hadn't planned on being a community organizer. His passion for skating, however, proved otherwise.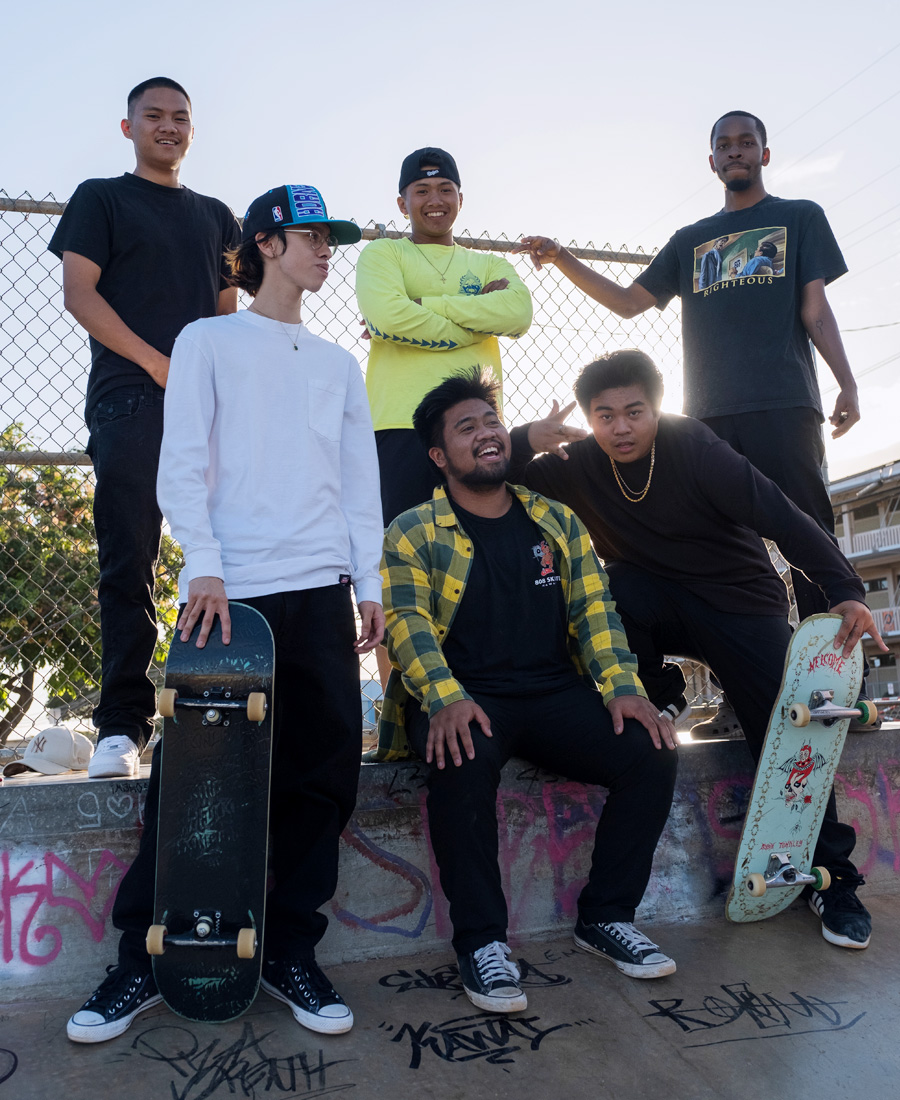 Pagarigan grew up skating in 'Ewa Beach. But the skate park at 'Ewa Beach Community Park, originally built in 1992, had begun showing signs of serious wear and tear in the mid-2010s: derelict ramps, degrading asphalt, weeds growing rampant in the cracks. The facility had become unusable—so much so, claims Pagarigan, skaters had resorted to skating elsewhere, which included trespassing onto the nearby James Campbell High School campus. "The school absolutely hated us," Pagarigan says. "It got so bad, there was after-hour security to watch out for us."
During one particularly tense encounter in 2015, a police officer threatened arrest if the skaters were caught trespassing again. When Pagarigan admonished the officer, insisting they had nowhere else to skate, the officer's reply was blunt: "Why don't you do something about it?"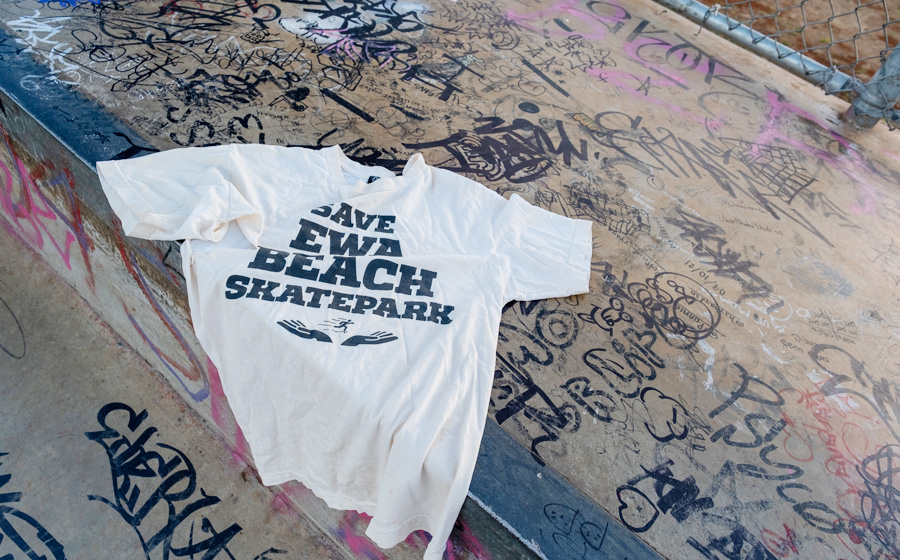 The officer's remark hit a nerve. Pagarigan and his friends decided they would do something about it. And they would start with a pitch to the neighborhood board. The teenagers circulated a "Save 'Ewa Beach Skate Park" petition at school, where it swiftly garnered 150 signatures. Pagarigan approached his chemistry teacher to sign, but the teacher declined, citing reluctance to support "a place where people did drugs."
"That made me feel doubtful," Pagarigan recalls. He was all too familiar with the reputation that skate kids unfairly carried—that they were outcasts, misfits, and troublemakers—but it still stung to hear, especially from his favorite teacher. "I remember thinking, 'Am I doing something crazy?'"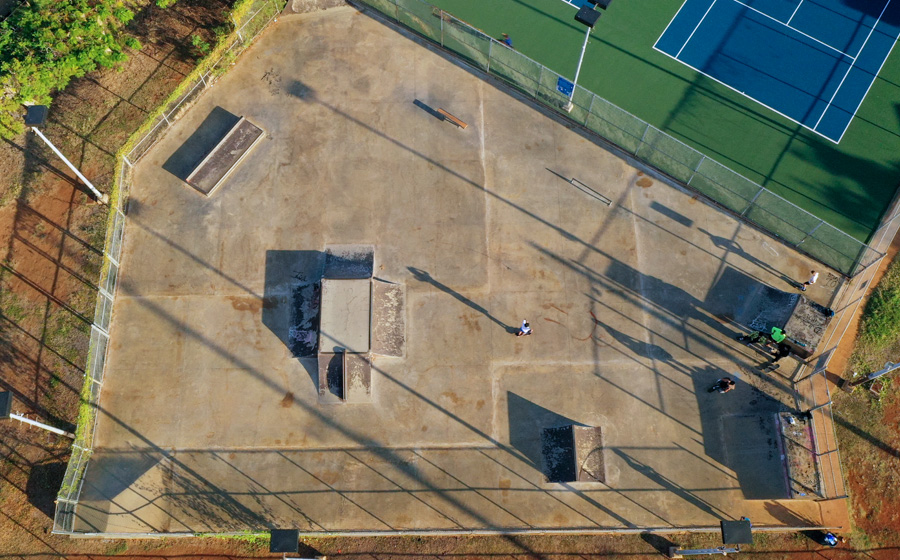 But support for the petition snowballed on social media and soon dispelled Pagarigan's doubt. Within days of appearing online, the petition gained traction among skate groups and on Internet forums, which led local streetwear brand In4mation to donate T-shirts for the cause and prompted skate shops to hold fundraisers. Eventually, the petition swelled to over 1,500 signatures, with support coming in from California and Oregon. To supplement the petition, the teenagers prepared a PowerPoint presentation outlining 'Ewa Beach Skate Park's critical need for repair and improvements.
The night of the neighborhood board meeting, Pagarigan was gobsmacked by the turnout. Supporters of all ages arrived in shirts emblazoned with "Save 'Ewa Beach Skate Park," and the air reverberated with excitement for the cause. "We couldn't fit everyone into the room," Pagarigan says, estimating there were about 100 people in attendance. He was also impressed to learn that their PowerPoint presentation was part of the evening's official agenda. Rather than patronizing or dismissing the young skaters, the board treated them as legitimate members of the community with a legitimate concern. "They really wanted to help us," Pagarigan says.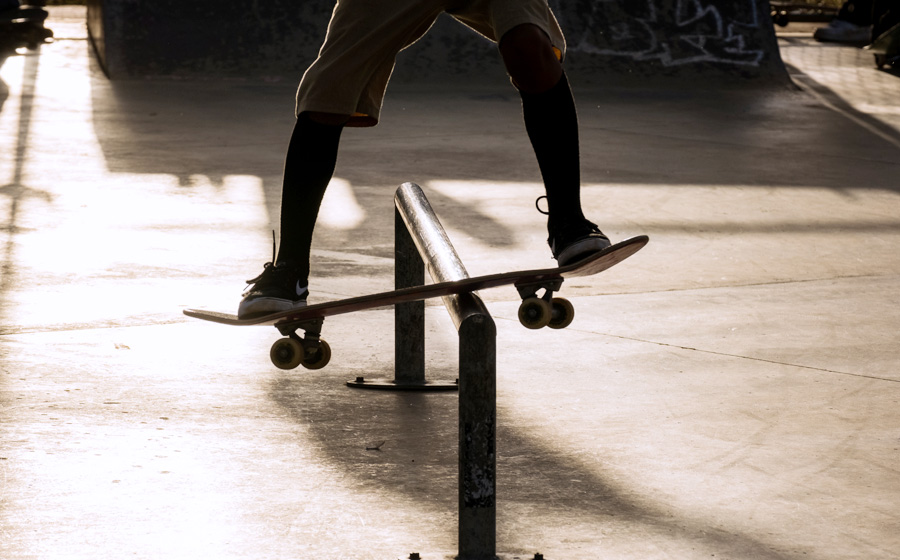 The following morning, the realization truly hit. While in 7-Eleven grabbing snacks, Pagarigan and his friends noticed a newspaper on a nearby newsstand. A photo of the crowd of Save 'Ewa Beach Skate Park supporters had made the front page. The friends looked at each other in disbelief, then celebration. The community was behind them.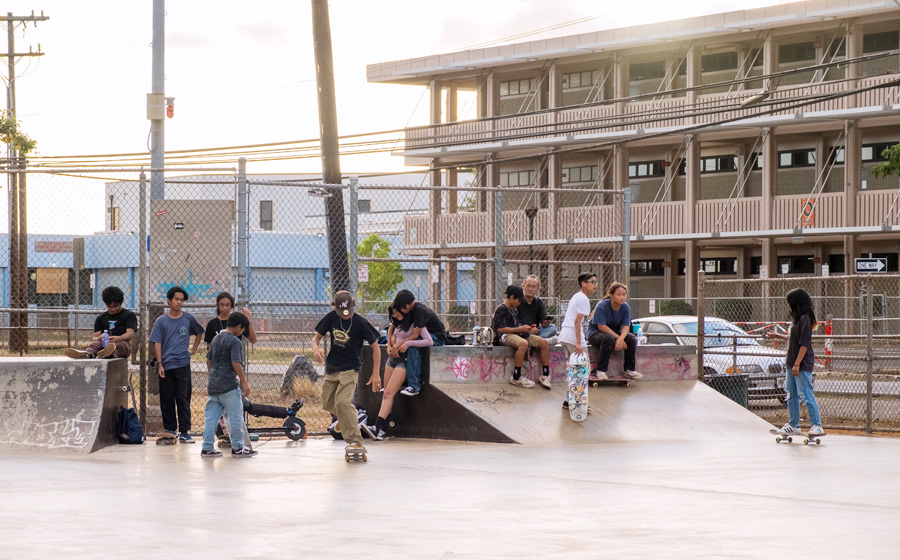 Over the next two years, Pagarigan and his friends worked with city officials and community members to forge a public-private partnership to refurbish the skateboarding area. City Council Chair Ron Menor helped move a bill that allotted $183,000 from the City and County for improvements. Chuck Mitsui, the founder of Association of Skaters in Hawai'i (ASH), helped to raise funds and in-kind donations for the project and coordinated the volunteer efforts. "These kids really took leadership with this," Mitsui says of the teens' willingness to work through the bureaucratic system. Under ASH's guidance, the teens worked long, hot weekends and became a quick study in all things skate park construction: reading blueprints, deciphering dimensions, and building ramps.