With the Japanese art of gyotaku, O'ahu artist Desmond Thain pays respect to the ocean by giving fish and other sea creatures a second life through ink.
One day Desmond Thain is helping spearfishing champion Jon Barretto memorialize the 90-pound ulua (giant trevally) that broke the men's three-prong pole-spear world record. The next, he's imprinting an elusive cookie-cutter shark for professional surfer Mark Healey. But no matter which fish Thain immortalizes in ink, his artwork is always true to life. In a gyotaku style he calls "photorealistic," he paints even the tiniest physical characteristics onto the resulting prints in pursuit of anatomical correctness. Each print that comes out of his home studio celebrates the creature's value—and itsultimate sacrifice. Gyotaku, Japanese for "fish rubbing" or "fish impression," is a practice that dates back to the mid-1800s. The practice, a process that involves covering the fish in ink, making a print on paper, and painting in its features, originated as a method for fishermen in Japan to record epic catches. Today it is regarded more often as fine art.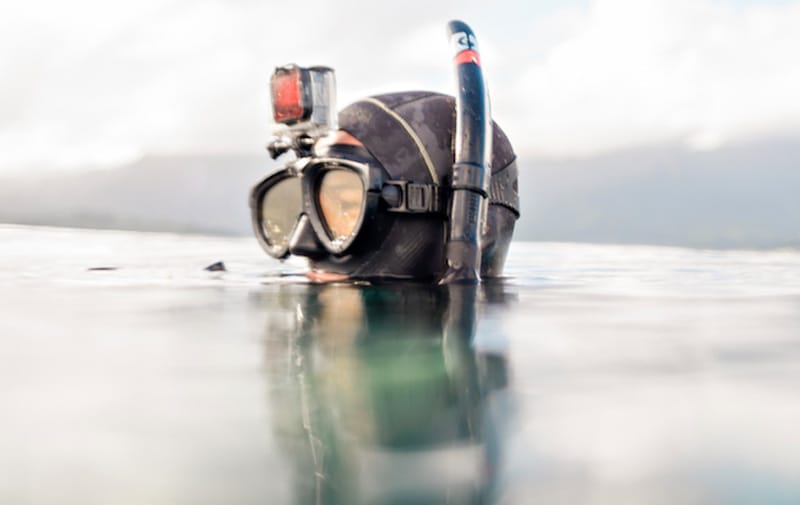 Thain's journey to the artform began with his affinity for the sea and its inhabitants. Growing up on O'ahu and in Osaka, Japan, he learned to surf before he could swim and taught himself how to spearfish at the age of 8. On snorkeling adventures in Waikīkī, Thain and his brothers would venture far out in search of the most eye-catching, colorful fish. One day, a friend showed up with a three-prong Hawaiian fishing sling (a spearfishing weapon similar to a bow and arrow), and the boys took turns flipping floating leaves and diving to shoot small fish. In high school, Thain's love for catching fish fell away as he focused on wrestling and jiu-jitsu. But he never forgot the feeling. "When you hover above the bottom of the ocean, you feel like you're in another world," he says. At 22 years old, Thain found his way back to spearfishing during a trip to Kaua'i. Back on O'ahu, Thain began bringing fresh catch home every Saturday like clockwork, hunting for ono, mahimahi and uku at west side spots like Ka'ena Point and Yokohama Beach. Encouraged by friends to have a gyotaku artist print his catch, he scraped together enough money for an impression of small goatfish. When the print didn't come out as lifelike as he had imagined, Thain decided to try gyotaku himself.
Through trial and error, Thain taught himself the steps of fish printing. When he needed larger subjects to challenge his developing craft, Thain got in touch with Gye Nitta, an avid fisherman who makes fishing lures. Thain offered a free print if Nitta would let him borrow the next marlin he snagged. When Thain got the call that a 12-foot-long, 125-pound marlin was ready, he was at Nitta's door soon after, materials in hand. "His wife and kids were standing there, and I was so nervous because I'd never printed a marlin," he says. "They were so amazed, and I was pretty amazed myself. In that moment I realized if I can print this marlin, I can print pretty much anything. Thain continued to test his printing and painting skills on anything his fishermen friends would donate— octopus, lobster, various shapes and sizes of fish—studying how the ink interacted with textures and perfecting colorations. Traditionally, white or black sumi ink (made from vegetable oil soot) was used to print fish, but it's gritty and easy to smear, so Thain turned to heavy-bodied acrylic ink. Where conventional gyotaku artists tend to follow up the printing step by painting the fish's eyes and skin markings in black and white and shades of grey, he enlists colored acrylics to make the print appear lifelike. It's not uncommon for modern gyotaku artists to finish their prints in color, but few succeed in adding those intricate details born of nature that Thain does his best to replicate.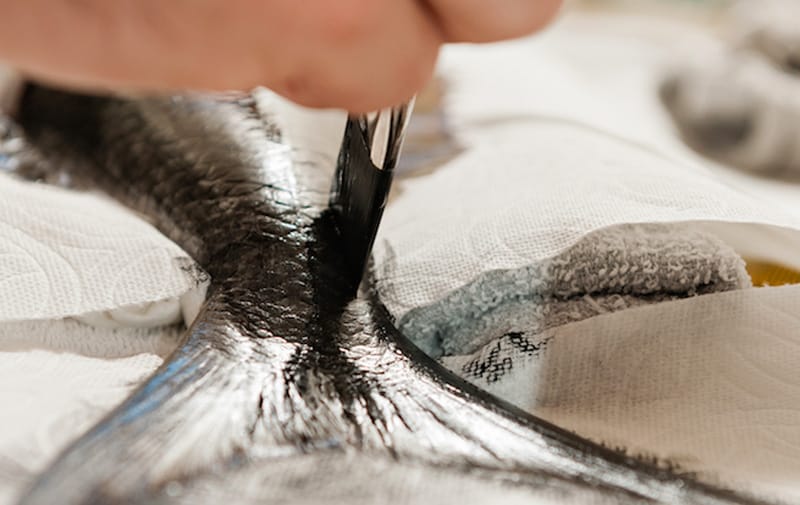 In 2013, a friend posted one of Thain's prints of an omilu (bluefin trevally)—a silvery fish with brilliant blue fins—on the Facebook page of the group Hawaii Spearfishing and Freediving. "I woke up the next morning and had like 30 messages from people saying, 'Where can I get one like that?'" he recalls. He was able to reduce his air-conditioning job to part-time thanks to the spike in demand for his vivid prints. In 2015, he became a full-time artist.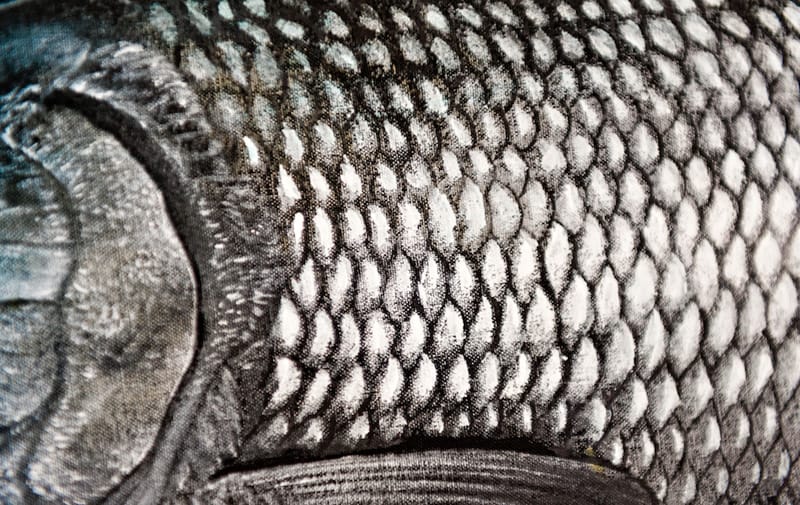 Thain begins a gyotaku print by choosing the foundational scheme— either black ink on white unryu paper (made from mulberry fiber) or white ink on black cotton cloth. After taking the fish off ice and allowing it to warm up until there is no condensation, he lays the fish on its side, props the fins, and positions the mouth. He applies ink directly to the skin using a softbristled brush with a wide tip and then gently presses the paper or cloth onto the fish's body, starting at the center and working toward the edges, after which he slowly peels back the print to check his work. He rinses the fish and repeats the process until a flawless impression emerges. The winning print is hung to dry. Afterward, Thain paints the fish's distinct features atop the print, referencing photos of the catch and images of similar fish to help him fill in flesh damaged by a hook or speargun. In the lower righthand corner, he places the hanko, or stamp of his Japanese name—Kosei Nishio— alongside a signature of his English name. The ink is nontoxic, so his customer will likely cook and eat the fish after it has been printed.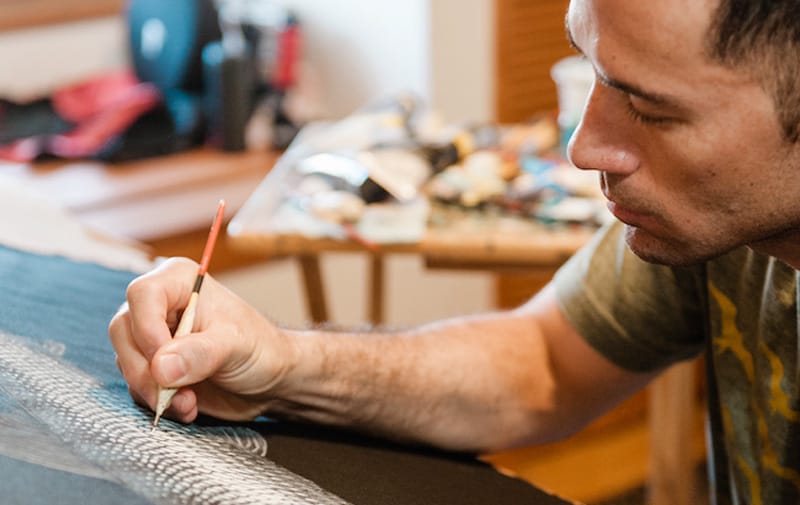 Today, Thain's gyotaku prints grace the walls of homes and art galleries in Hawai'i and around the world, encouraging admirers to regard fish and all marine life as more than objects to be hunted and consumed. In his art shows and social media posts, Thain makes a point to ask spearfishers and anglers to take only what they need and be grateful for whatever they bring home. "At the end of the day, it's not about the thrill of the kill," he says. "It's about feeding your family, saying thanks, and being happy for the fish that just gave its life for you."