Among the sunny, dry setting of O'ahu's leeward side, an unexpected food source is flourishing.
"Kiawe is the mother tree of the desert," says Vince Dodge at his home in Wai'anae, where he is making kiawe-flour pancakes. He spoons the thick batter mixed with kiawe and 'ulu (breadfruit) flour into a hot cast-iron pan greased with a bit of coconut oil. As he flips the fluffy, golden-brown rounds, the aroma of sweet, toasted coconut tinged with molasses wafts from the stove.
In Hawai'i, locals have a love-hate relationship with kiawe (mesquite)—it is prized for its long-burning wood, which is perfect for grilling and smoking meat, but is cursed at for its thorns, which pierce slippers and feet. For Dodge, however, it's all love. "People view it as a nuisance, but it's because people don't understand it," he says.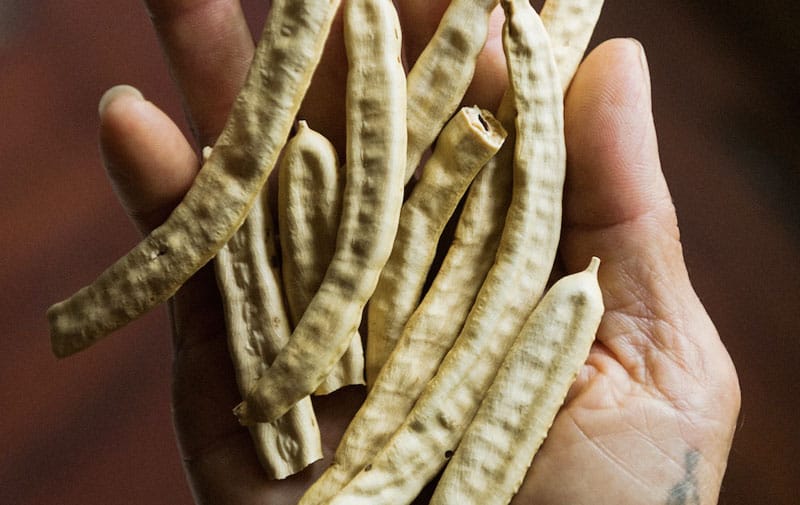 Hawai'i's first kiawe tree was planted in Honolulu in the late 1820s by Catholic priest Alexis Bachelot, who brought a seed from the royal garden in Paris. That seed is thought to have come from Peru, where kiawe trees cling to sand dunes. Requiring much sun but little water, the species also grows widely on the dry leeward coasts of the Hawaiian Islands, even earning the title of invasive species. Its scientific name, Prosopis pallida, hints at either its prolific capacities, or its practical riches: "Prosopis" is ancient Greek for "toward abundance." For Dodge, every part of the kiawe tree is useful—its canopy provides shade; its wood creates fire and shelter; its leaves serve as a poultice for wounds; its flowers have reserves of nectar for bees. But he is most interested in its bean pods, for food.
Once upon a time, Dodge only knew of the kiawe tree for its pesky thorns, and its pods for their use as livestock feed. Then he had a chance meeting in 2006 with a couple from Arizona, who told him he was sitting on a health-food gold mine. Kiawe is a naturally sweet, diabetic-friendly food and a staple of Southwestern U.S. tribes, they said.
"Seriously?" Dodge recalled thinking. "Could it be that the most common wild tree on our coast, where we have the most diabetes of the entire archipelago, is diabetic friendly? Mama 'āina's got our backs like that?"
He traveled to Tucson, Arizona, where he learned to mill kiawe beans. Then he headed to northern Argentina, where a Wichí community showed him how they ate raw kiawe-bean flour. From this, he derived his Wai'anae Gold 'Āina Bar, a dense energy bar of kiawe flour, peanut butter, and honey.
Last year, he produced about 1,700 pounds of the flour, which he sells under the Wai'anae Gold label. In the summer season, he and his team of pickers gather bean pods along the leeward coast, from Kalaeloa to Mā'ili. The pods are dried in a solar dryer until they can be snapped in half. At this stage, they taste like fibrous toffee brittle.
Restaurants across Hawai'i have incorporated Wai'anae Gold flour into their dishes, from the marinated tomatoes drizzled with kiawe molasses at the Grand Wailea on Maui to the kiawe brownies topped with sesame gelato at Mud Hen Water in Honolulu.
Back home, Dodge slides the last of the pancakes onto a plate and serves it with kiawe honey, though the pancakes don't really need it, since the kiawe flour already lends the sweetness and flavor of brown sugar. The stack in front of him melds ancient staples of two native cultures—kiawe, or huarango, from South America, and 'ulu, from Polynesia—which he has combined to create something unique for the Hawai'i of now, and, he hopes, its future.
For more information, visit waianaegold.com.