Lessons learned in his youth at Pōka'ī Bay continue teaching educator Abe Nahulu how to care for his community.
Almost every weekend until Abe Nahulu was in the eighth grade, he and his three younger brothers would fish or dive off O'ahu's west coast. Other times, they would watch mū, ulua, and humuhumunukunukuāpua'a swim beneath their surfboards in Pōka'ī Bay. "Observe the fish," his father would say when out on the water with his sons. "They'll teach you everything you need to know."
The lessons that Nahulu gleaned all those years ago are still with him today in his work as a 38-year-old teacher at Ka Waihona o Ka Na'auao Public Charter School in Wai'anae, and as a football coach at Nānākuli High School. "Fishing gave me a sixth sense, allowing me to observe my students and understand what's going on," says Nahulu, whose family has roots that go back four generations on O'ahu's West Side. Raised as "'ohana (family) in the old way," Nahulu saw how his elders took care of their neighbors, and were always ready to share. Often, after returning from a long day's work, Nahulu's granduncle William grabbed his spearfishing gear and headed back out to catch meals for families in need. His aunties and uncles opened up their homes to strangers, splitting their freshest catches with them.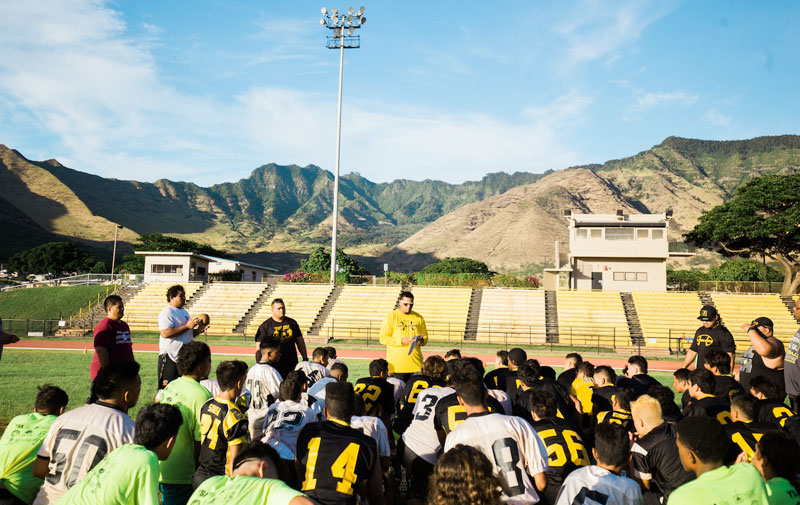 This pilina, or union, to the area gives Nahulu a sense of responsibility.
"I'm just trying to find ways to improve our community, and I think the best way is through our kids," he says. Nahulu recalls a quote by Hawaiian poet Puanani Burgess that he first heard in 2008: "If you're planning for one year, plant kalo; if you're planning for 10 years, plant koa; if you're planning for a hundred years, teach the children."
As the junior varsity head football coach at Nānākuli High School, Nahulu emphasizes building disciplined contributors to the community. As such, the players are required to volunteer. This, Nahulu says, helps them "to think not only of themselves, open their horizon, and know that their actions and choices affect everybody."
Just as certain schools of fish showed Nahulu and his brothers that larger fish were nearby, he hopes the players he coaches will inspire other students who come after them, showing them the path to post-secondary education. "This summer, we've been blessed with the help from five former Nānākuli alumni from our football program who currently attend college," Nahulu says. Some of these players participated in a question-and-answer session with the students, sharing their experiences of life after high school.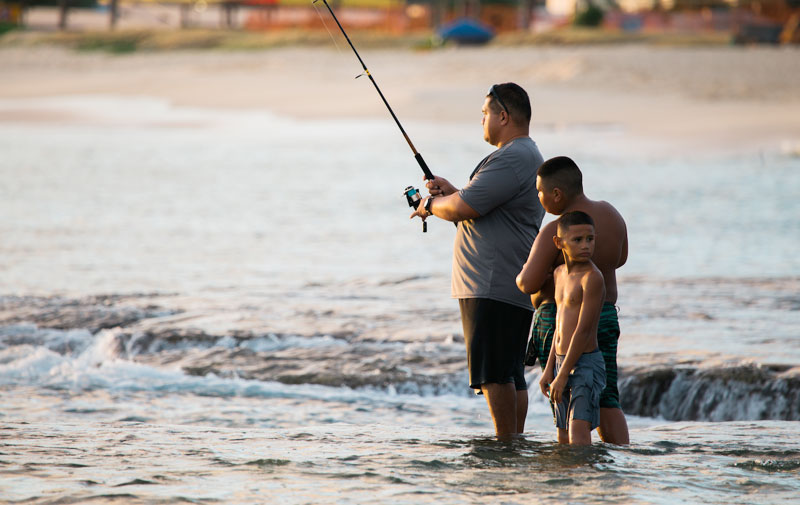 In both teaching and coaching, Nahulu focuses on respect, patience, and compassion, talking to his students about how to do things the pono, or right, way. Respect is also a high priority for Nahulu when coaching, and he and the other coaches have sacrificed wins in order to preserve this. He cites a time when two starting middle linebackers were benched after not wearing the necessary padding on the field, which disregarded safety requirements. "Our defense was left wide open," Nahulu says. "Castle [High School] ended up coming back and beating us 20 to 18."
Although Nahulu doesn't fish as frequently as he once did, he does apply some of the techniques he learned from his father to the classroom. "I'm constantly rotating the type of bait, or lesson delivery, to see which one gets them to bite," he says. If the kids aren't hooked, he returns to his tackle box, just like when he used limu to catch fish off the shore of Ulehawa Beach Park. Eventually, his students engage, but, like fishing, Nahulu says, it takes "plenty patience."