Source: frolichawaii.com
Starting this Saturday, the Four Seasons' signature eatery turns into La Hiki Steak at night.
"I bet you money a butter knife could cut it," says Simeon Hall Jr. as I search for a serrated dagger in the afternoon lull at the Four Seasons Oahu's La Hiki Kitchen. Taking a butter knife from a nearby place setting, the chef effortlessly glides it through a gargantuan Kunoa beef short rib as if it were Jell-O. If I'd had any money on the table, I would have lost the wager with the same ease.
The resort's signature restaurant is known for putting on the island's best brunch buffet. That will remain, but starting July 6 there'll be a new identity. From 5 to 11 p.m. Tuesdays through Saturdays, it will transform into La Hiki Steak, an upscale steakhouse featuring a wide array of local and international steaks and a suporting cast of extraordinary specialties. Maili Moa huli huli chicken with a slew of fixings ($35 for half, $68 whole). Seared line-caught ahi sandwich slicked with wasabi guac and a bitter Sumida watercress slaw ($24).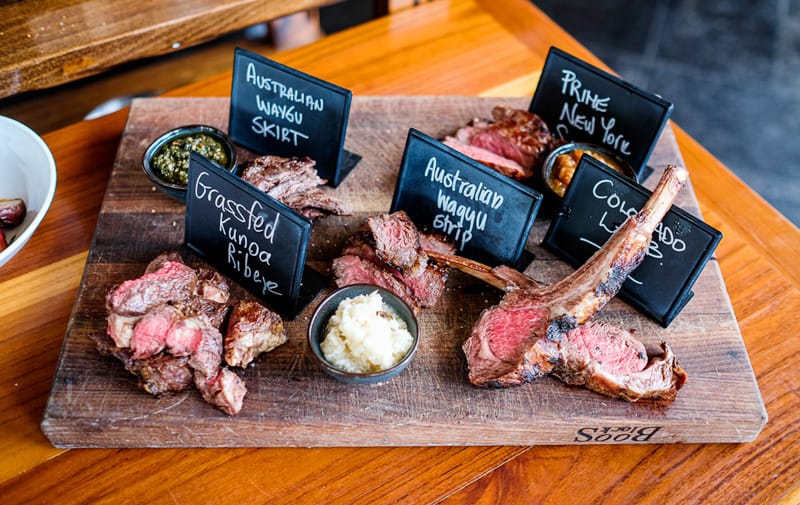 An expansion of its popular Friday steak night tradition and the barbecue action corner from its weekend brunch, La Hiki Steak fills West Oahu's void of a classy steakhouse. And the open-air poolside restaurant comes without the bougieness of a stuffy dress code. Yeah, brah – you can roll up in board shorts and slippahs to pound a $28-per-ounce A5 Japanese wagyu ribeye and they not going turn you away. You'll probably want to slip on your holo-holo OluKais, though – this is the Four Seasons, after all.
Look past the Australian wagyu and Colorado lamb and at its core you'll discover that the La Hiki concept is hyper local: Kunoa Cattle Co. is prominently featured, one of five local farms and purveyors that Hall sources from within 10 miles of the resort. A sixth is Sumida Farm in Aiea, less than a 30-minute drive away.
The restaurant has invited me to preview the offerings. Front and center are seven cuts of beef ranging from a $39 7-ounce Australian wagyu skirt steak to a $78 22-ounce USDA Prime cowboy bone-in ribeye. Grass-fed Kunoa Cattle Co. beef from Kauai is a rotating daily cut listed at market price. Some days more than one is available and I pray that you luck out with the braised short ribs at $90. All the meats are exceptionally tender and worth the price.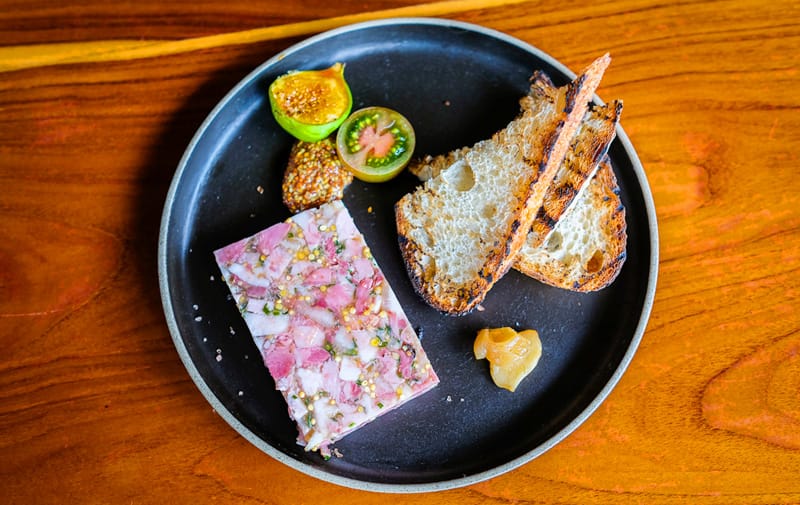 You'll get the full experience when you get yourself and three friends a $290 Butcher's Block designed for four. It's a pedestal of the best beef cuts plus Colorado lamb, all the homemade sauces like bearnaise butter and chimichurri, and your pick of three sides. I've personally got my eye on the Hawaiian fried rice, Kahumana Farm heirloom carrots with mac nut pesto and the steak fries with Bloody Mary ketchup.
Kunoa beef shows up again in the $15 steak tartare, which is prepared tableside along with a number of other dishes including a sizzling Pono Pork bacon slab with lechon kawali-style tomato salad, and a flaming banana flambe dessert. The art of preparing tableside dishes seems to have been largely lost, so it's exciting to me. Not only do see your food come together, you get a greater connection with and appreciation for it.
La Hiki Steak grand opens this Saturday, July 6 and if you reserve a table on Yelp or by calling the hotel concierge, you can save 15% off your check through the end of July.
La Hiki Steak
Four Seasons Resort Oahu at Ko Olina
Tue - Sat, 5 p.m. - 11 p.m. (last seating is 9 p.m.)
Parking: 4 hours of valet parking is free with validation
Call : (808) 679-0079
Four Seasons Resort Oahu at Ko Olina
92-1001 Olani Street, Kapolei, Hawaii 96707
Call : (808) 679-0079
fourseasons.com/oahu/