Source: civilbeat.org
At 88, the legendary Buffalo Keaulana is still celebrating the ocean and life as his 45th annual surfing classic looms on Oahu's West Side.
Hawaii, situated in the middle of the Pacific, 1,800 miles from the nearest landfall on the West Coast, is blessed by its location. Surrounded by the Pacific Ocean and brimming with every wonder of a spectacular marine environment, surfing first emerged as a Native Hawaiian recreational sport dating back hundreds of years. When Hawaii's popularity as a tourist destination began to blossom globally, so did surfing, which led to Hawaii becoming the surfing capital of the world. The legendary Duke Kahanamoku played a pivotal role in surfing's global growth.
Over time, it was embraced as a preferred recreational sport wherever there was a surfing-friendly beach. Then, in 1953 the Waikiki Surf Club made surfing history by hosting the world's first surfing competition "The Makaha International Surfing Championships" for men and women.
This month, one of Hawaii's most celebrated surfing competitions is set to take place at Makaha Beach. This is the 45th year for the Buffalo's Big Board Surfing Classic, an event that brings the surfing and Hawaiian community together to celebrate the living legend lifeguard and surfing champion Richard "Buffalo" Keaulana.
The Classic not only recognizes Buffalo's accomplishments as a life guard and champion surfer but his primary leadership role in establishing a profound sense of community stewardship of Makaha Beach as a place to gather and celebrate the blessings of the ocean, the surfer community, and all ocean users.
The Business Of Surfing
The Makaha International Surfing Championships, which were held from 1953 to 1971, marked the official birth of the sport of surfing as a professional activity that blossomed into a global industry. The heart of the industry is anchored by the heavily marketed surfing contests that draw crowds to competition friendly surf locations around the world.
These contests, like other professional sports, are business enterprises. The competitions, funded by commercial sponsors, are fueled by a spectacular field of athletes demonstrating jaw dropping, and literally, in some cases, death-defying wave riding athleticism. These athletes draw thousands of spectators to beaches around the world and are viewed by thousands more via sponsored media broadcasts.
The annual cycle of globally staged surf competitions ends with the crowning of a male and female world champion. The evolution of surfing as a world sport reached its highest level of recognition when it was officially crowned as an Olympic sport in 2016 leading to the first Olympic surfing competition in the 2020 Olympics held in Japan.
Richard 'Buffalo' Keaulana – The Mayor Of Makaha Beach
To fully appreciate what makes Buffalo's Big Board Surfing Classic held at Makaha Beach anything but a typical surf contest one needs to "nana I ke kumu" — look to the source.
Born in 1934, Buffalo's father descended from King Kamehameha I and his mother from King Kekaulike. Although blessed with a royal genealogy, he faced a lot of challenges growing up on the Waianae Coast and early on the ocean became his rescue tube, his place of refuge, his teacher, his mental health counselor and his spiritual center of gravity.
He spent so much time in the ocean his mother nicknamed him Buffalo. Not the Montana-Wyoming bison we mistakenly refer to as buffalo — but water buffalo as in India. If he wasn't working – he was in the ocean.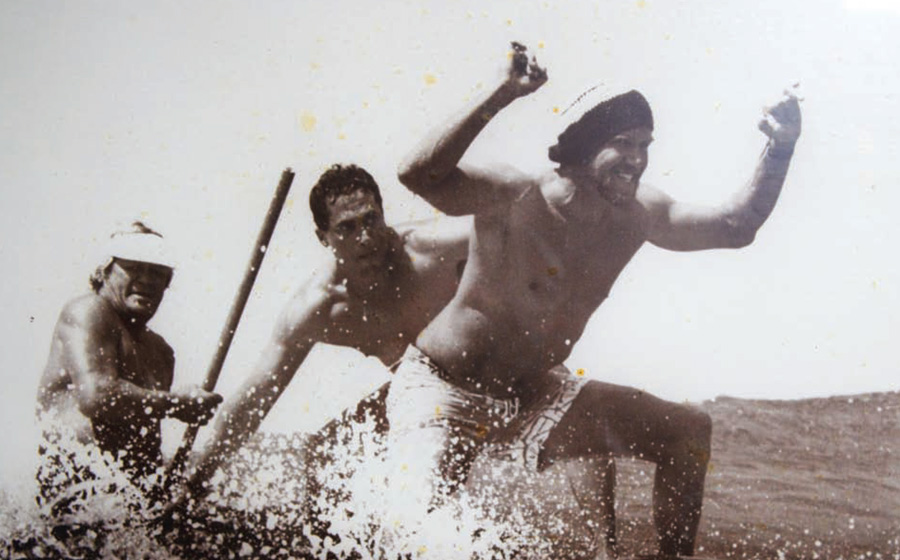 During the 1950s Buffalo hung out with some of the legendary Waikiki Beach Boys that included Rabbit Kekai and Duke Kahanamoku. He met his wife Momi on the beach and in a heartbeat they were married.
In 1960, when he was 25, he was hired as sole park keeper for Makaha Beach Park after several years of job-hopping. There was a modest city-owned two-story A-frame structure on the beach with a bathroom and a kitchen that went with the job and so Buffalo and wife Momi moved in with their four children.
Makaha Beach was not that busy back then and lifeguard service was only available on weekends. Within the first few days as park keeper Buffalo rescued a baby. That was the first of a long string of rescues he performed while park keeper from 1960 to 1968. As Momi points out, his rescues were not limited to a park keeper's hours – he answered the call to save a life no matter the time of day. His incredible record of park keeper rescues finally captured the attention of city officials and he was approached to apply for a lifeguard position.
But Buffalo couldn't read or write well enough to pass the written test. Mayor Neal Blaisdell signed off on an exception to the hiring rules and Buffalo transitioned from park keeper to a full time lifeguard at Makaha Beach. As a Makaha Beach lifeguard Buffalo's rescue record was heroic. But driven by a strong sense of community responsibility Buffalo did not distinguish much between his function as a Makaha Beach lifeguard and other stewardship responsibilities he felt compelled to assume relating to Makaha Beach, however unofficial.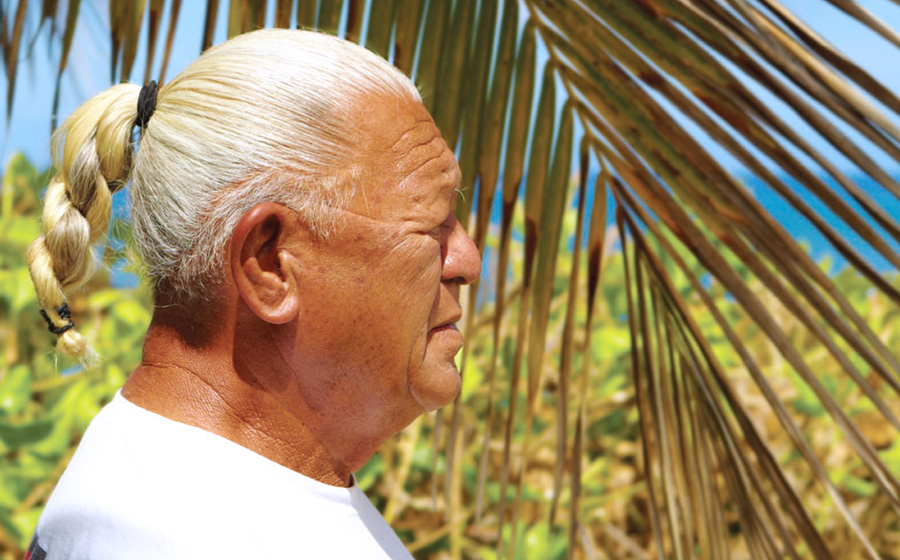 One of these included bringing an end to rampant auto break-ins by personal intervention with support from the local surfers and beachgoers. His evolving vision was to "Malama Makaha Beach" (to celebrate, preserve and protect), as a safe gathering place for families, a nature center with the ocean as teacher, a place for community celebrations, a surfing haven where surfers and other ocean users celebrate a sense of color-blind brotherhood.
Over the years, Buffalo, leading by example (he was not much of a talker), either directly, or by inspiration, triggered the rise of a number of young leaders and organizations following his lead with the ocean as a classroom for all to share. In the mid-'60s, the coconut wireless kicked in and Buffalo was widely acknowledged and celebrated as the Mayor of Makaha Beach.
The Buffalo Big Board Surfing Classic represents all of the above as the house that Buffalo built. One of his most notable accomplishments was bringing people together to take up the challenge and share the sense of responsibility, creating a community based trans-generational leadership structure of fathers, mothers, sons, daughters and grandchildren. This leadership structure is now in its third generation of stewardship.