A surf journalist discovers the heart and soul of Mākaha at the annual Buffalo's Big Board Surfing Classic.
I am not totally positive, but I am 95 percent certain the lowered Toyota Tacoma PreRunner V6 I'm following around Mā'ili Point on O'ahu's west side is headed to the right place. The giant Hui Nalu Canoe Club decal on the tailgate is a dead giveaway, and the halfdozen other bumper stickers, including a comical "I Take Care of My Beaches," also hint to the driver's destination.
Indeed, the Tacoma guides me to Mākaha Beach, ground zero for the annual Buffalo's Big Board Surfing Classic, a two-weekend wave-riding event like none other on the face of the Earth. Sure, there are surf contests in nearly every nation with a coastline, but this is one of those "only in Hawai'i" type of deals. Actually, scratch that—one quickly learns this is an "only on the West Side" type of deal.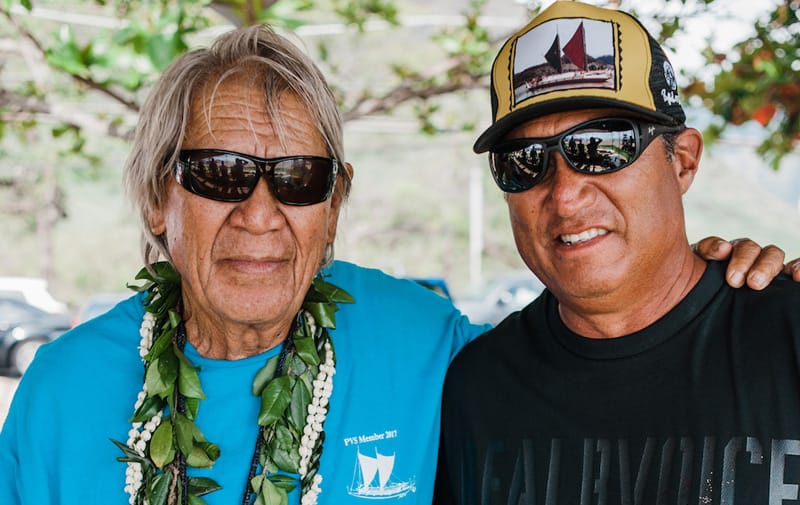 There's a deep level of community commitment at this contest. I realize this shortly after parking, as I enter the small city of colorful pop-up tents lining the shoreline and shading extended families, surf crafts of all shapes and sizes, hibachi grills, massage tables, and fishing gear. This scene stretches south a half mile from the lifeguard station. At Mākaha, the community sets up shop for the weekend of the classic. It's unlike anything I've seen at any other event in the world in more than a decade of covering surf competitions, Vans Triple Crown of Surfing included.
Making my way through the technicolor tent city, I peer out at the brilliant, electric-blue West Side waters and spot a handful of Native Hawaiian surf celebrities, from rising World Tour professional Ezekiel Lau to longboarding legend Duane DeSoto, sliding around on alaia (traditional wood surfboards). Over the loudspeaker, a playful voice talks to the crowd in Hawaiian Pidgin between contest commentary, urging everyone to pick up any trash before they leave. A team of five smiling guys and girls drags an outrigger canoe toward the sea, likely prepping for a canoe-surf heat.
There is a lot going on, but at the moment, I'm searching for Brian Keaulana, a celebrated waterman and the event's organizer. He is also one of Buffalo's—the Buffalo— sons. Richard "Buffalo" Keaulana is the 82-year-old patriarch of West Side surfing, winner of the 1960 Mākaha International, which was then considered the unofficial world championship of surfing. He is often referred to as the mayor of Mākaha. Featured in a number of surf films, and an inductee of the Surfing Walk of Fame in Huntington Beach, Buffalo is a Hawaiian icon and living legend. He even served as steersman on the maiden voyage of the seafaring canoe Hōkūle'a to Tahiti in 1976.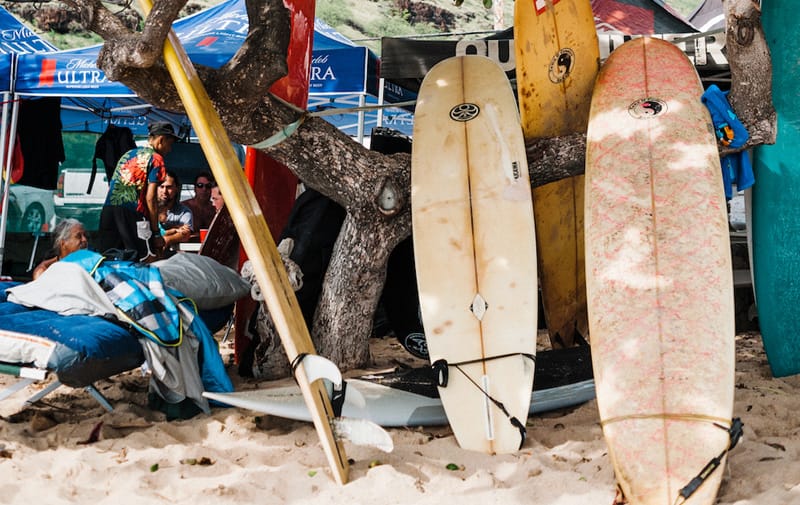 I find Brian Keaulana under a tent, where he is surrounded by nieces and nephews but has his eyes glued to the sea. While we chat, he simultaneously speaks to me and communicates with water safety patrol via walkie-talkie. This display of dexterity shouldn't surprise me; besides his own father, no one knows these waters better than Keaulana. I ask him how this all started more than four decades ago.
"It's just Mākaha," he shrugs, like that explains everything. "That's just how Mākaha is. Duane DeSoto and I talk about this a lot. Both of us in our generations grew up in a Mākaha like this, so we want to keep that and pass it onto future generations. Which is exactly what this event is about. It's about sharing those cultural skills and knowledge and sense of sport. Plus, over here, everybody watches each other's kids. It's so family-orientated. The connection here … it's like: We're not divided by land, we're connected by water."
Over the decades, Mākaha has become a laboratory of sorts for surf-related ocean sports and techniques: The rescue Jet Ski, rescue sleds, SUPsquatch (a standup paddleboard big enough to hold a crew of people), and ocean surf safety itself were all conceived here. Buffalo's Big Board Surfing Classic evolved from a grassroots open-division event with five winners who won 'ipu gourd trophies into a 13-division wave-riding extravaganza stretching over two spring weekends. It is this lineup of events that is perhaps the most unique aspect of the Classic. Beyond the normal men's and women's open surfing divisions, there are the hilarious five-person SUPsquatch and tandem Bullyboard divisions, the body-positive 250-pounds-and-over division (with weigh-ins on the beach), and the more culturally significant divisions, including those that feature traditional wooden surf craft like paipo and alaia, and the event for he'e wa'a, or canoe surfing.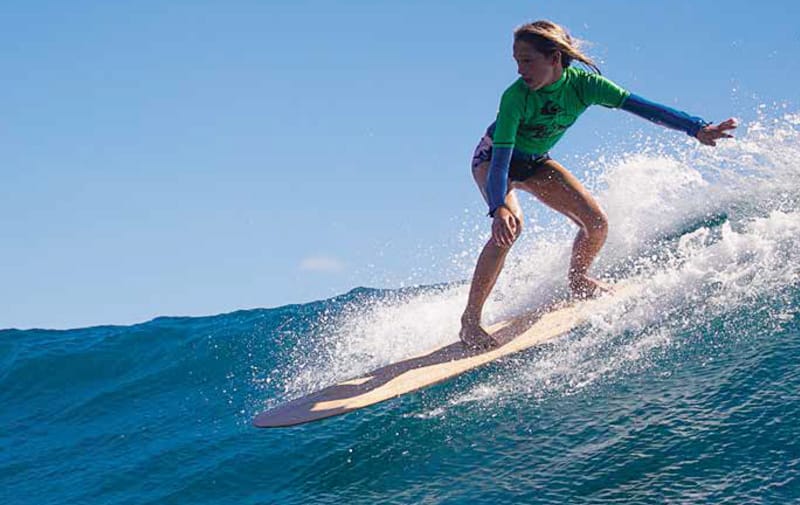 "The canoe division is probably the most prided because it's the most cultural," Keaulana says. The first vessel to actually surf a wave wasn't the surfboard, Keaulana explains, but the canoe. "When the canoes used to go out to catch fish, they'd surf the waves back in, through the break, so this division is both carrying on that tradition and taking it to another level of performance."
When there is a lull of waves in a heat, one of the commentators calls for volunteer competitors for an impromptu coconut-husking event. Two eager young men dart past us to the tent. On the loudspeaker's mark, they furiously husk the fruit using a stake to the cheers and chee-hoos of laughing onlookers. "It's really about the community and family," Keaulana says, with his outstretched arms pointing opposite ways, "and everyone getting together and enjoying the beach. This is what the Leeward side is really all about. Like, the heart and soul of this side: It's right here, right now. And that's a special thing."